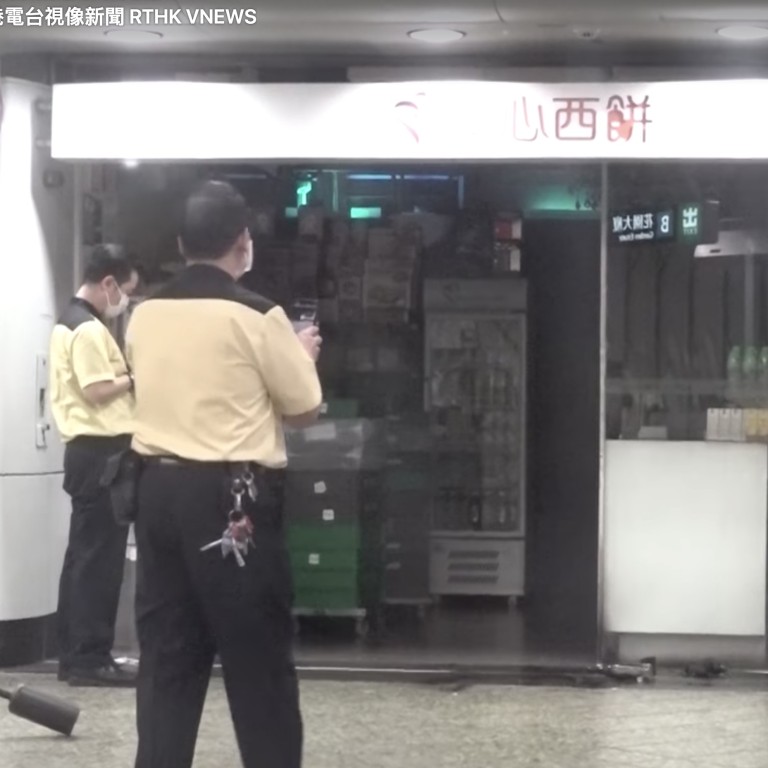 Passengers evacuated after 'rioters' hurl petrol bombs at Hong Kong MTR station
Attack took place early on Thursday at Ngau Tau Kok station with escalators firebombed and ticket machines vandalised
Maxim's Cakes shop also targeted as rail operator condemns 'illegal acts'
Police are hunting for six suspects after petrol bombs were thrown at a Hong Kong metro station in the early hours of Thursday, forcing the rail operator to immediately evacuate the area and close the site about 30 minutes early.
The incident came just hours after police arrested a 29-year-old man, and two teenagers, a boy and a girl, in separate incidents involving KMB buses in Kowloon.
The MTR Corporation said black-clad "rioters" hurled petrol bombs at two escalators and a Maxim's Cakes shop at Ngau Tau Kok MTR station in Kowloon at around 1am. They also vandalised ticket machines and other facilities on the concourse.
"An immediate evacuation and closure were needed at Ngau Tak Kok station," the MTR Corporation wrote in a statement.
"The MTR Corporation expresses strong anger that its rail station has once again been targeted by the attack and malicious vandalism. It strongly condemns these illegal acts."
The suspects fled before police arrived, no one was injured, and rail services resumed as normal this morning.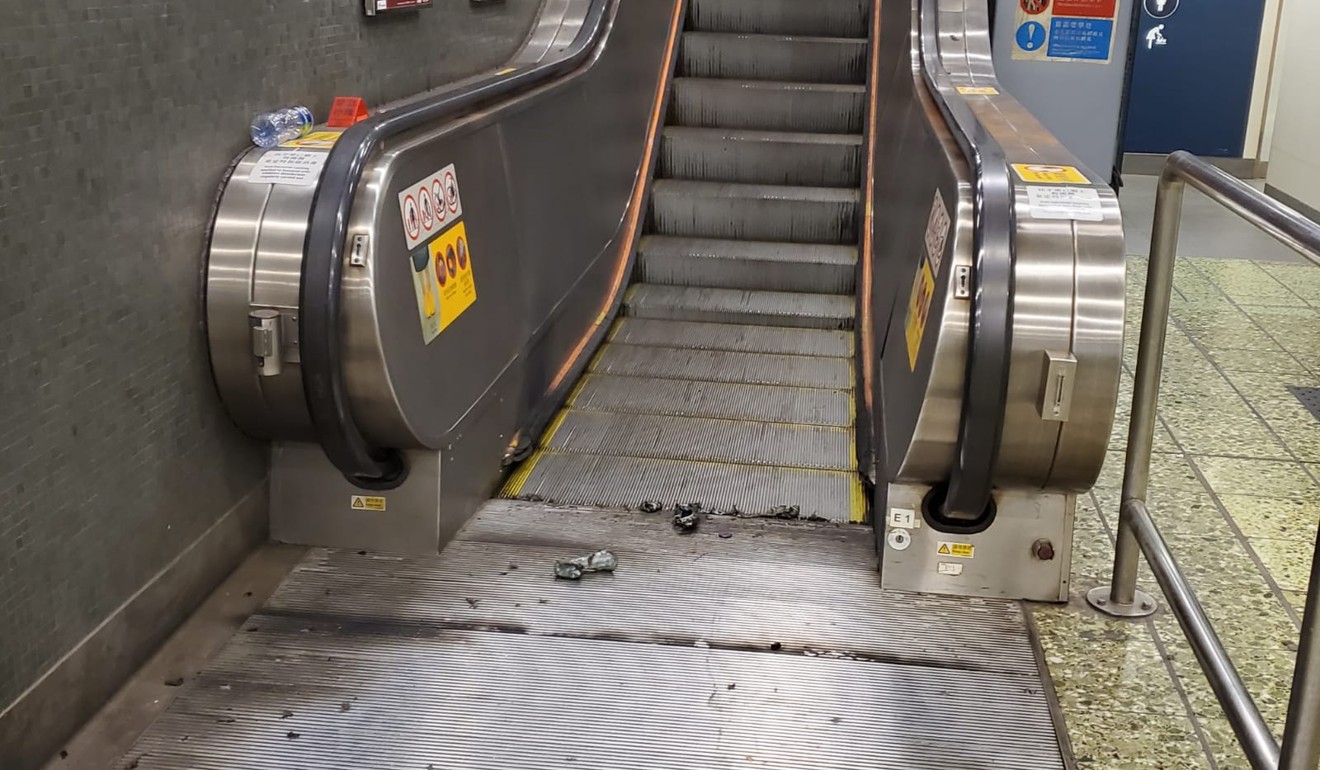 On Wednesday evening, police arrested a 16-year-old boy at 8.14pm on suspicion of pressing the emergency buttons on four KMB buses, forcing them to pull over at the junction of Nathan Road and Argyle Street in Mong Kok.
Officers found a pair of gloves and a hammer on the teenager, who was also arrested on suspicion of possessing an instrument fit for unlawful purpose.
The boy suffered head injuries during the arrest and a police officer suffered minor hand injuries while subduing the suspect. They were taken to hospital for treatment.
Later, a 15-year-old girl and three black-clad men intercepted a KMB vehicle, pressed its emergency button and broke its window in Nathan Road, near the junction with Waterloo Road in Yau Ma Tei.
Officers arrested the girl who fell over trying to escape, her accomplices got away.
According to police, a 29-year-old man tried to stop officers arresting the girl, and after verbal warnings were ignored, police pepper-sprayed the man and arrested him as well.
The last petrol bomb attack on the city's rail network was on December 1 in Whampoa, when protests turned ugly after thousands marched from Tsim Sha Tsui harbourfront to Hung Hom.
Since the pro-democracy camp gained a landslide victory in district councils last month, there have been fewer clashes between protesters and police, and vandalism of railway facilities has also been reduced. But businesses thought to have links with the mainland, like Maxim's, are still not spared from being attacked.
The rail operator emerged as a key target for radicals in August, two months after the anti-government protests broke out, after they accused it of bowing to pressure from Beijing following a scathing attack by mainland media, which said the company facilitated the actions of mobs by laying on extra trains during protests.
Since then MTR Corp has taken a tougher stance against protesters by obtaining a court injunction to prevent disruptive acts on its network, and closing stations ahead of planned protests, but it has denied bowing to pressure from Beijing.
As of November 24, radicals had caused extensive damage to 85 of 94 MTR stations, and 62 of 68 Light Rail stops. Affected facilities include turnstiles, ticketing machines, surveillance cameras, lifts and escalators and rolling shutters.
Last week, the rail giant said it would incur HK$1.6 billion in costs because of lower revenue from train services, repair costs for damaged facilities, extra expenses for bolstering security, and concessions to its retail tenants.
As a result, the corporation warned of a significant decline in profits in the financial year ending December 31 from last year.
This article appeared in the South China Morning Post print edition as: 'rioters' hunted for petrol bomb attack on mtr