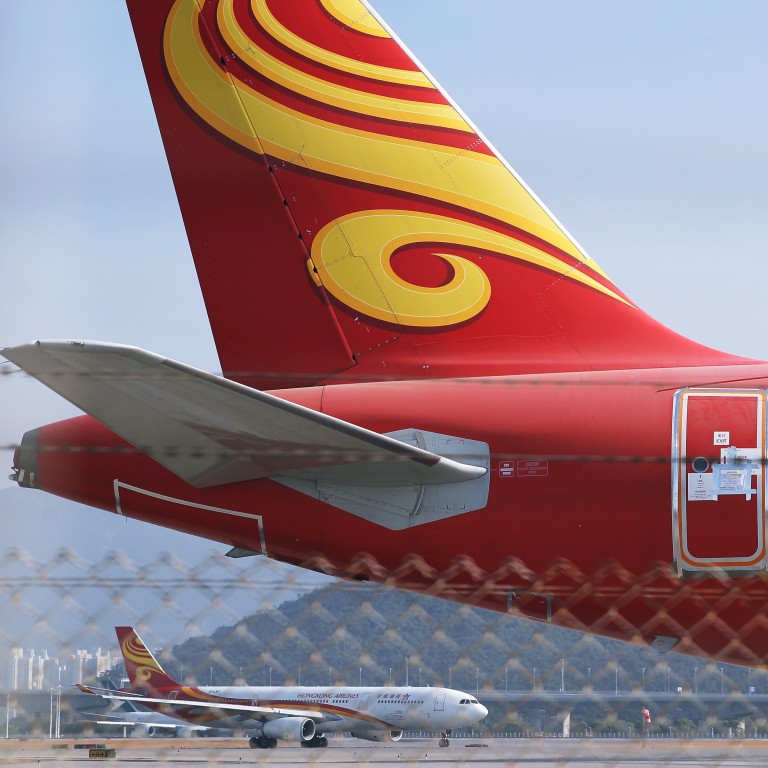 Exclusive
Airport Authority impounds seven aircraft under ailing Hong Kong Airlines to protect its 'financial interests'
Airport Authority Hong Kong confirms it has taken control of planes under the airline
Beleaguered carrier, acknowledging the latest move, says its operations remain normal
Seven aircraft under cash-strapped Hong Kong Airlines that have been idling at Hong Kong International Airport have been impounded by a major creditor in one of the first moves to protect financial interests, the South China Morning Post has learned.
In a statement on Monday, Airport Authority Hong Kong (AAHK) confirmed it had invoked section 40 of the Airport Authority Ordinance to take control of planes under the airline. The section deals with the detention of aircraft.
"The AAHK has acted … to detain seven idle aircraft of Hong Kong Airlines in order to protect financial interests," the authority said.
The beleaguered carrier, the city's third biggest airline, came under heavy scrutiny from regulators over its deteriorating finances, and was on the brink of collapse but
found cash two weekends ago
to narrowly avoid shutting down.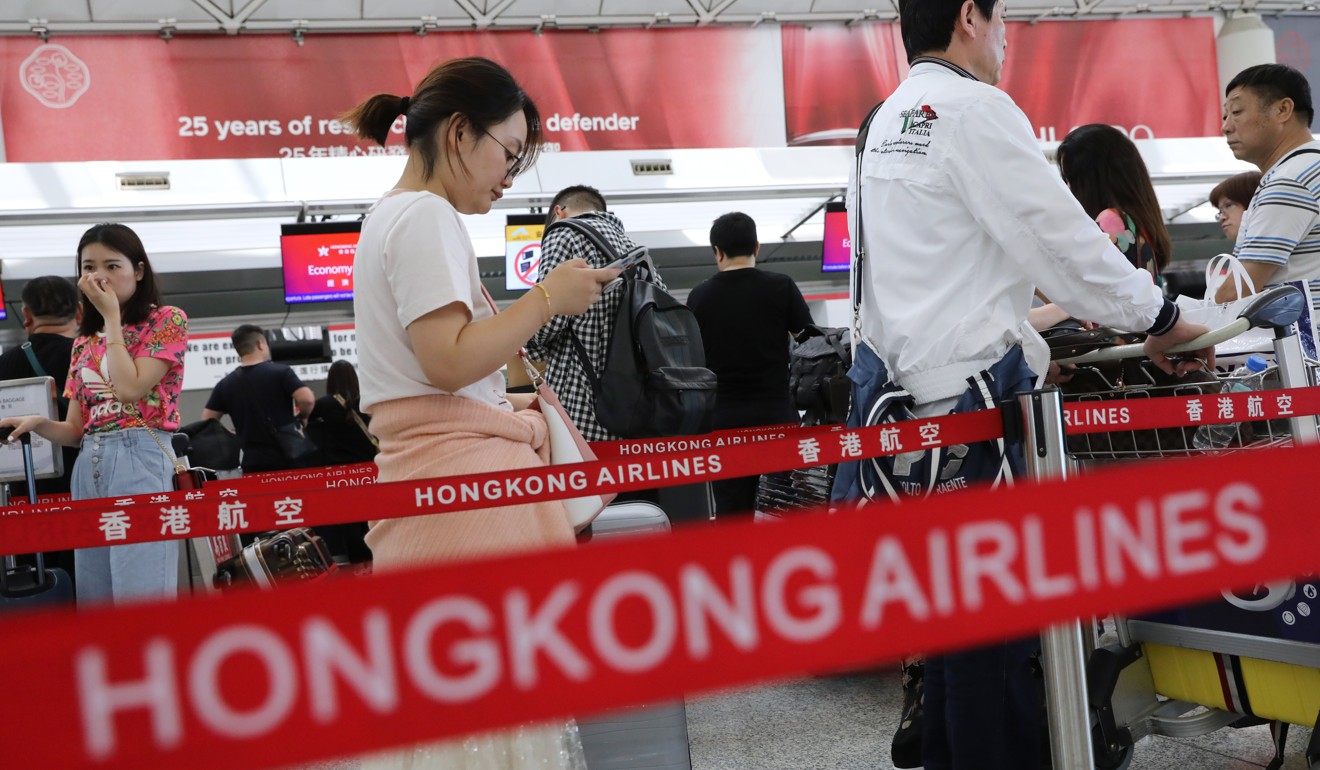 The airline, acknowledging the latest move, said its operations remained normal.
"Due to network consolidation, some of our aircraft have not been scheduled for operation and are currently suspended from service under the Airport Authority's arrangement. Our current operation remains normal," a
Hong Kong Airlines
spokeswoman said.
The aircraft, which have been stored, have not flown for three to 11 months. According to industry data, most of the planes affected are owned by the airline or a leasing company linked to its controlling shareholder, mainland China's HNA Group.
"AAHK's detention action will help protect the financial interests of both AAHK and the government," the Civil Aviation Department said, in response to the action taken by the authority, a statutory body.
The authority charges airlines for every 15 minutes they park an aircraft at Hong Kong's airport. The charges run into millions for those left for weeks and months.
The airline had stored seven planes, ranging from 56 to 318 days, as of Sunday, meaning they had been racking up fees owed to the authority.
According to a calculation by the Post for the seven aircraft, the time parked amounted to 1,220 days or 29,280 hours. The airport charges from HK$94 (US$12.05) per 15 minutes in the cheapest parking area, including the maintenance apron, to HK$147 in remote parking stands.
Based on the two sets of fees, Hong Kong Airlines owes between HK$11 million and HK$17.2 million.
As the financially troubled carrier lurched from one crisis to the next, it cut its workforce by hundreds, reduced the number of planes it flew by a quarter to 27 and axed flights and cancelled routes in a bid to stem its losses. All its long-haul services will end by next February.
The ongoing social unrest in Hong Kong has also taken its toll on the carrier, with fewer travellers willing to visit the city amid more than six months of anti-government protests. But the company's woes started long before that with financial concerns dogging it throughout 2019.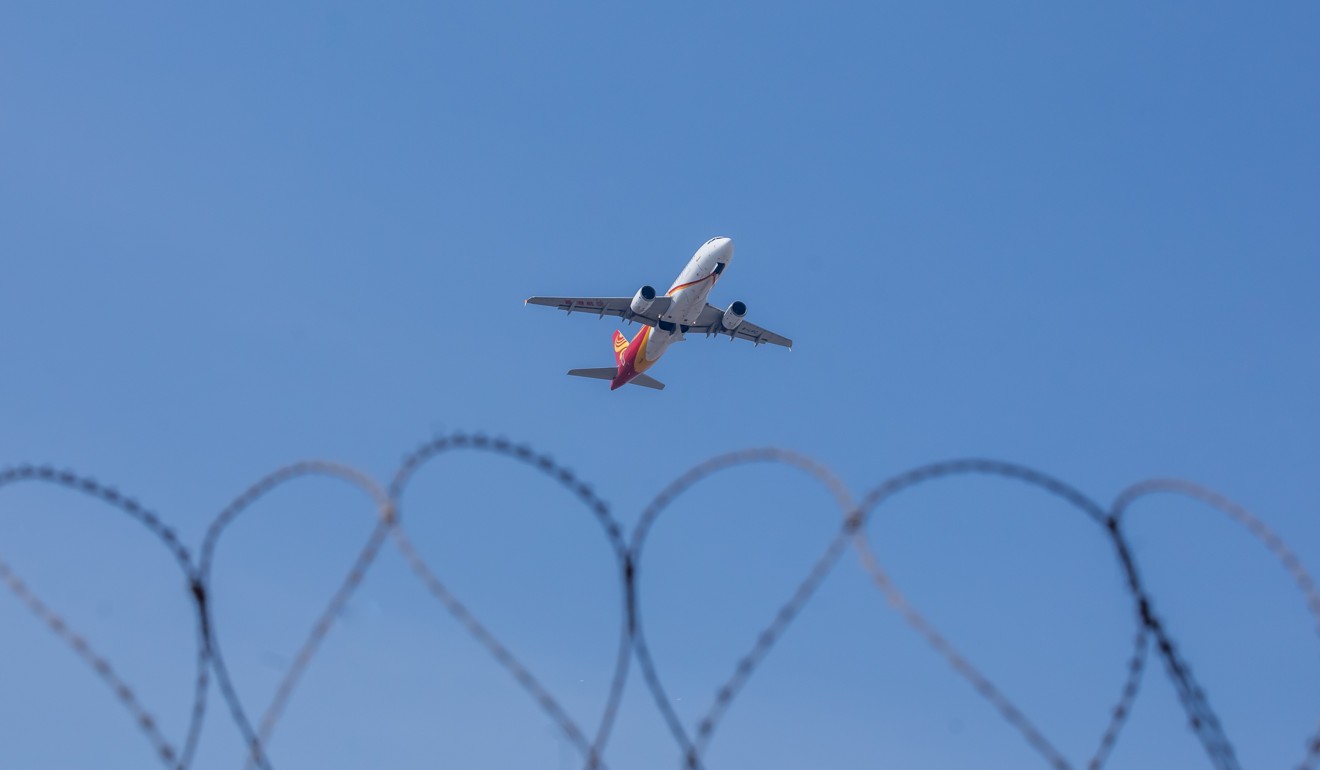 The Air Transport Licensing Authority (ATLA) gave the carrier five days in early December to find emergency funds to prevent it from breaching its licence and being put out of business.
In light of the latest developments, ATLA said in a statement it would not comment on actions taken by the carrier's individual creditors.
The Transport and Housing Bureau, under which ATLA sits, said: "It is Hong Kong Airlines' responsibility to meet its various financial obligations, including to individual creditors."
Transport officials were keeping a watchful eye on the carrier's finances, its promised restructuring and effectiveness. Obligations to creditors would also be monitored.
David Yu, a professor of finance at New York University, Shanghai, said: "There seems to be continued amounts still owed to creditors. This has caused the aircraft's grounding until it's resolved. Creditors normally take action when amounts owed are not of insignificance nor promptly repaid with the aircraft assets as collateral."
An industry source said the Airport Authority's action meant the airline would be hindered from using the planes to make a profit, which would make it difficult to repay its debts and obligations.
"It is a clear signal of what the creditor thinks of the airline," the source said.
Separately, the Post has seen a letter, dated December 12, from the authority to Director General of Civil Aviation Simon Li Tin-chui which said section 40 of the ordinance was used as a result of the default in payment of charges by Hong Kong Airlines.
Two planes affected were Airbus A350s, registered B-LGE and B-LGH, which were leased from Kuwaiti firm ALAFCO, whose Irish subsidiary on December 10 pursued Hong Kong Airlines in the High Court for HK$364 million (US$46.7 million) in unpaid rent on aircraft. One of the planes, which had been grounded since October 20, resumed flying on December 14.
This article appeared in the South China Morning Post print edition as: 7 planes of struggling hk Airlines impounded