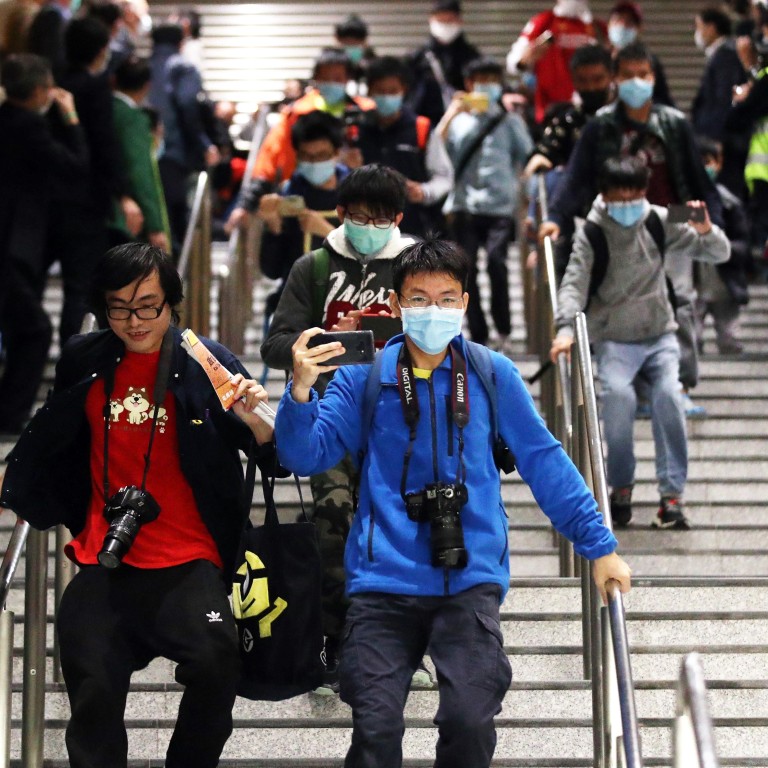 Cheers amid the coronavirus gloom: Hong Kong train fans flock to phase-one opening of MTR Corporation's Sha Tin-Central link
Some queued from 11pm the day before, while others popped champagne at inaugural service on Tuen Ma line phase 1
Rail operator gives out chocolates at historic Valentine's Day event
Rail enthusiasts found reason to celebrate on Friday amid a coronavirus outbreak gripping Hong Kong, cheering and popping champagne at the opening of the first part of the city's most expensive railway project.
More than 100 people queued outside the newly opened Kai Tak MTR station to board the inaugural service on the Tuen Ma line phase 1, departing at 5.45am. The line is the first part of the HK$99.1 billion (US$12.7 billion) Sha Tin-Central link to launch since construction began in June 2012.
Train fans, some of whom arrived as early as 11pm the previous night to witness the Valentine's Day opening, were handed a small box of chocolates, a purse and a free ticket.
They crowded the station with cheers and laughter, despite
an earlier call
by MTR Corporation general manager Alan Cheng Kwan-hing for residents not to rush to try the new service, given the outbreak of the coronavirus which causes newly named disease Covid-19.
As of 5pm, about 11,600 passenger trips were recorded at Hin Keng station, around 9,700 at Diamond Hill station extension and 24,700 at Kai Tak station.
The infection – an outbreak of which follows more than eight months of divisive and often-violent social unrest – has struck down more than 50 people in Hong Kong, one of them fatally. Nearly 1,500 people have died in mainland China.
Blogger Ken Chan, 30, who brought the champagne, arrived at Kai Tak before 3am from Prince Edward. He said: "Today's one of the few happy days during the recent social events. Why not play hard?"
Another fan, 45-year-old Terry Tang, joked that his first ride on the new line could be his last. "It's likely that protesters might come to 'renovate' this place, and who knows if I'll contract the [coronavirus] later?" he said.
MTR facilities have been regular targets of vandals during anti-government unrest, which kicked off in June. The protesters accused the rail operator of siding with the government by suspending services during disturbances and colluding with police by letting officers into stations.
Form Four student Creeper Lam, 14, arrived at the station at 11pm on Thursday. He had with him five smartphones to record videos of the journey – some in slow motion, others fast – which he would upload to his YouTube channel.
Asked whether he worried the new stations would be vandalised, he said: "I believe if the MTR does not do something unpleasant to citizens, the protesters will not vandalise the facilities on a whim."
The first phase of the Tuen Ma line, which connects Wu Kai Sha to Kai Tak through Tai Wai, Hin Keng and Diamond Hill, will shorten travel times between East Kowloon and the New Territories East, and intersect with the East Rail and Kwun Tong lines.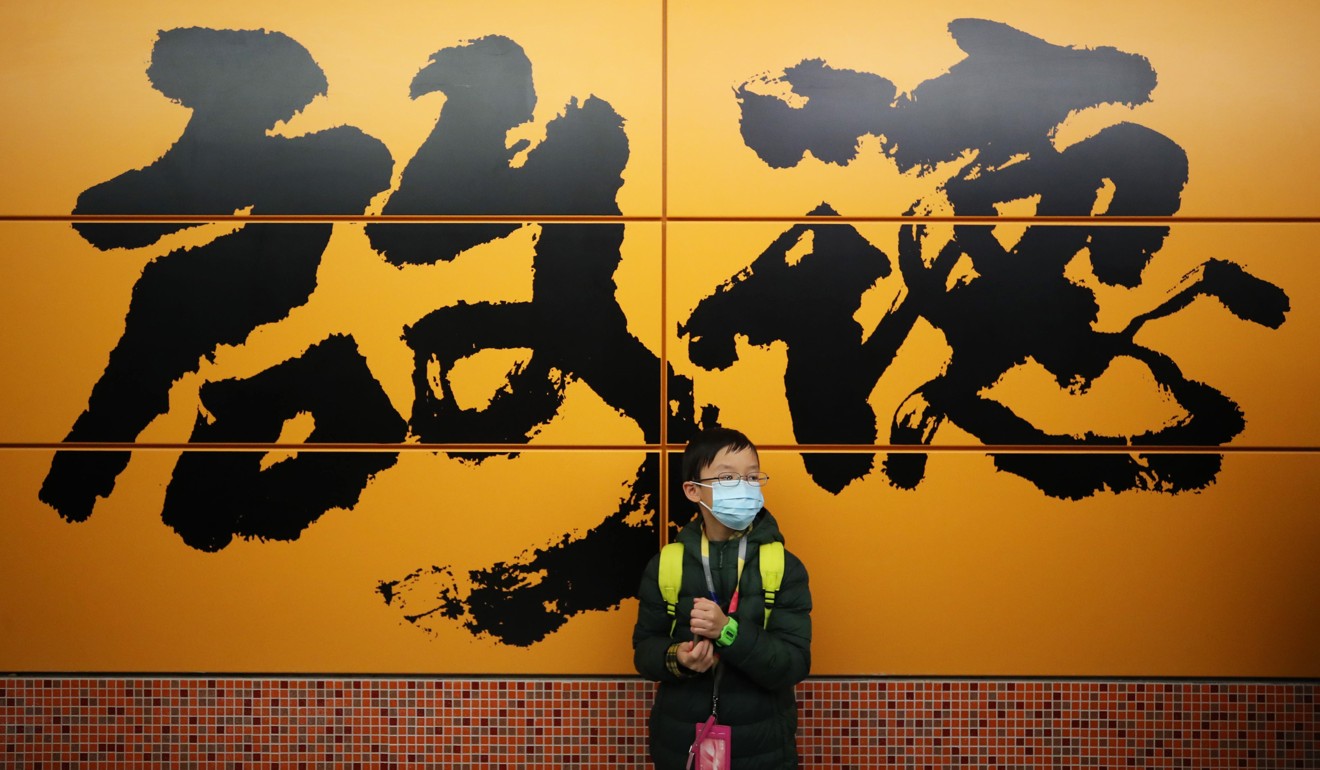 Primary school teacher Crystal Leung, who is in her 30s, said the new service would allow her to cut travel time from her home in Kai Tak to work in Tsz Wan Shan, Wong Tai Sin district. She previously took taxis to school, as no public transport was available near her home at 6am.
Leung, who moved to Kai Tak last summer, said she and her husband – who travels to Hong Kong Island for work – had intended to benefit from the new link when they moved, and had not counted on the project being hampered by multiple delays, mainly caused by
construction problems
.
"It was a miscalculation, as we had planned to match the timing of our family's relocation with that of the opening of the Sha Tin-Central link," she said.
She had brought along her rail-loving son, Micah, to board the first train. She asked the six-year-old: "Which do you think is happier: your birthday or today's opening of the rail line?"
Micah answered: "Today!"
Housewife Amy Wong, 60, who lives on Hin Keng Estate, said the rail line would make her daily trip to Sham Shui Po to take care of her grandchildren a lot shorter, as she previously needed more than half an hour to reach western Kowloon by bus.
Police in riot gear were seen patrolling multiple stations along the line. Assistants wearing fluorescent vests were stationed at Diamond Hill station, the interchange for Kwun Tong Line, from 7am to offer directions to passengers.
The MTR Corp's operations director Tony Lee Kar-yun said services had run smoothly in the morning, adding that extra staff would be deployed in stations along the new line, to ensure smooth operations.
Adi Lau Tin-shing, its managing director for operations and mainland business, said the government would submit a bill to the Legislative Council later this year seeking extra cash for the Sha Tin-Central link. He did not confirm, however, whether the bill would bring the total expenses of the project to more than HK$100 billion.
Legislator Wilson Or Chong-shing, of the Democratic Alliance for the Betterment and Progress of Hong Kong, said the corporation should thoroughly assess passenger flows in the early days of operation, to avoid overcrowding and confusion, particularly after civil servants and private-sector workers – many of whom have been working from home during the health crisis – return to work.
A full journey on the new line takes 29 minutes, and the service will run at 3½-minute intervals during the morning rush hour.
The MTR Corp previously estimated the new section would draw 70,000 to 80,000 passengers a day, but had lowered expectations in view of the virus epidemic.
This article appeared in the South China Morning Post print edition as: Cheers amid the gloom as railway fans flock to opening of new MTR line