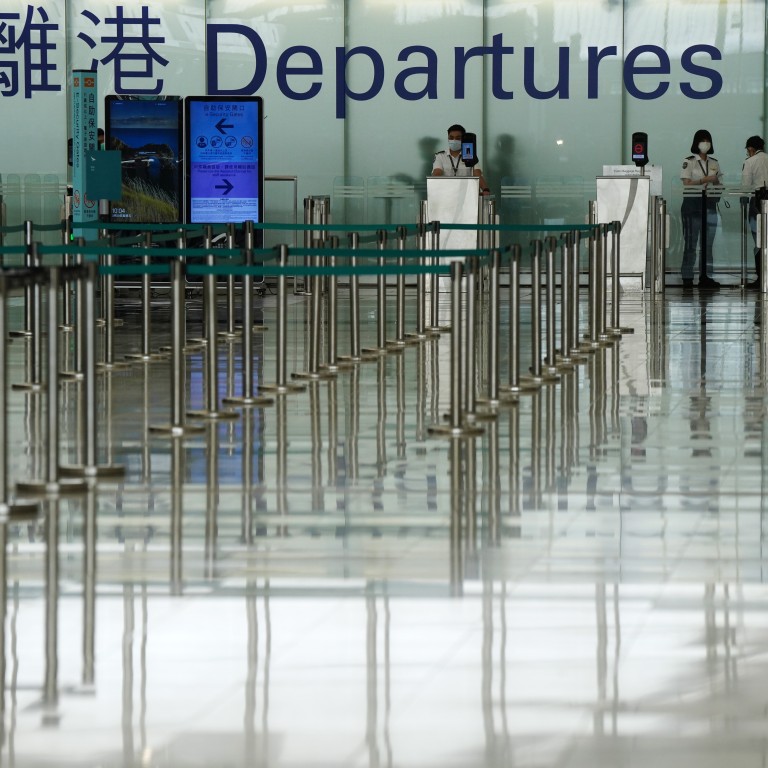 Coronavirus: as Hong Kong's passenger numbers bottom out, daily departures can fit on one plane
As of April 2, the effective average passenger load on flights leaving the city stood at 2.7 per cent
With demand essentially non-existent, carriers around the globe are increasingly using passenger planes to fly cargo instead
There are now so few people flying out of Hong Kong, the daily total can sometimes fit on a single plane – with room to spare.
Average inbound and outbound passenger loads have both fallen to single digit percentages, according to calculations by the
Post
, despite some of the deepest cuts ever to flight schedules due to the collapse in demand amid
the Covid-19 pandemic
.
The number is a far cry from the 86,569 who exited on the eve of Lunar New Year on January 24.
On March 25, the first day of a transit ban, planes with a combined 16,373 seats left the city with just 886 people aboard, an average of 5.5 per cent capacity, though an unspecified number of seats would have been unavailable due to some airlines choosing to fly cargo.
The next day, just 594 travellers flew out of the city. That figure more than doubled on March 27, when 1,314 fliers occupied 9 per cent of available seats, but numbers have gone downhill ever since.
For planes arriving at Hong Kong International Airport (HKIA), loads were in the higher single-digit range, aided by returnees and repatriation flights.
The average loads were calculated by cross-referencing HKIA's daily passenger schedule – stripped of cancellations – with available immigration data, offering a truer picture of just how few people are flying.
Explaining the low numbers, Henry Harteveldt, principal at US aviation consultancy Atmosphere Research, said: "The low load factors reflect multiple factors, including travel restrictions, closed borders, 'lockdown' orders, which usually discourage non-essential travel, and numerous companies around the world banning duty travel."
Harteveldt also pointed out airlines could still be operating too many flights or larger-than-necessary aircraft to either carry more cargo or have the range to reach a far-flung destination.
Brendan Sobie, an independent analyst, said the very low travel numbers were firm evidence of "virtually no demand" for international travel and repatriation flights coming into their likely final phase.
Sobie also said the use of passenger aircraft to carry only cargo "skewed" Hong Kong's figures, something in keeping with a soaring demand for air cargo shipments now that half the world's jets have been grounded, according to Cirium data.
Through March, 391,000 people passed in and out of Hong Kong via the airport, down 68 per cent on the prior month.
While transit passengers are not captured in the immigration data, the low March numbers coupled with deeper flight cutbacks in April could test the record low of 564,000 airport travellers set in May 2003 at the peak of the severe acute respiratory syndrome epidemic.
Cathay Pacific, which normally relies upon transit passengers for half of its business, on Friday said it would cut more flights after carrying just 582 passengers one day last week – a collapse in volume of 99.4 per cent from the average 100,000 daily customers it flies. Because of deep cuts to its flight schedule, its planes were 18.3 per cent filled that day.
Hong Kong's flag carrier and Singapore Airlines have both cut their schedules by 96 per cent. Others from easyJet to Emirates have been forced to ground planes altogether.
Similar trends are playing out across the industry – Air New Zealand carried just two passengers per flight last Thursday – and more airlines are opting to fly passenger aircraft as cargo-only jets to cut costs and generate revenue given the strong demand for air freight.
The International Air Transport Association estimates Covid-19 will cost the industry US$253 billion in lost passenger revenue, equivalent to 44 per cent of 2019's total, necessitating a US$200 billion bailout.
Alexandre de Juniac, the association's chief, declared last week the "air transport industry is in its deepest crisis ever."
This article appeared in the South China Morning Post print edition as: Number of passengers leaving each day can fit on one plane