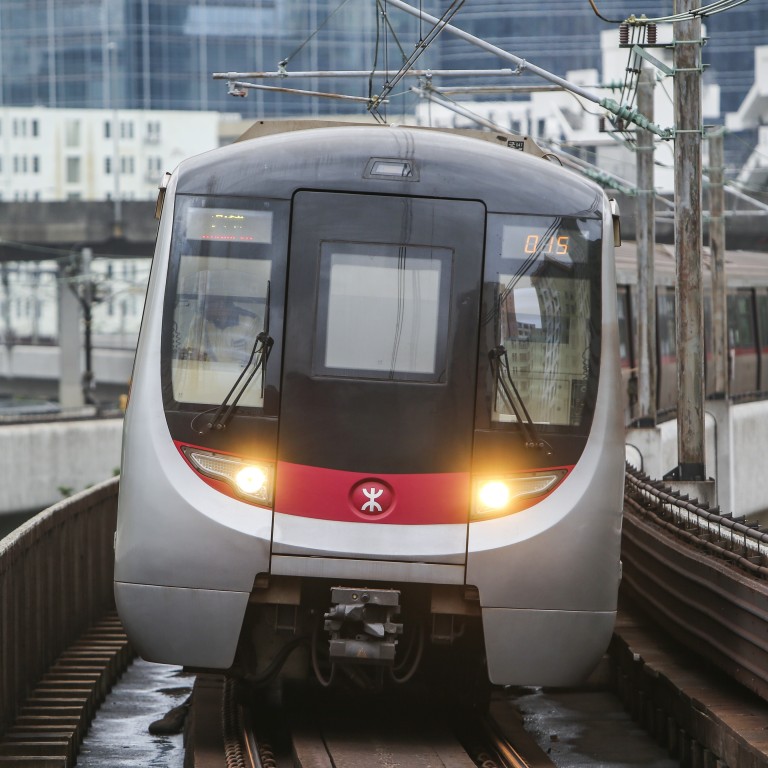 Hong Kong commuters to get subsidy boost after government lowers threshold as part of coronavirus relief scheme
Transport minister Frank Chan says monthly average subsidy amount per person could increase from around HK$75 to HK$99.9
Under first year of the scheme 2.2 million people benefited from the subsidy
Millions of Hong Kong commuters will get a third more in their monthly public transport subsidies after the government temporarily lowered the welfare scheme's threshold under the HK$137.5 billion (US$18 billion) relief package.
With the sector badly hit by the coronavirus epidemic, transport minister Frank Chan Fan said on Saturday that the monthly average subsidy amount per person could increase from around HK$75 to HK$99.9.
The revision of the Public Transport Fare Subsidy Scheme was part of the new relief measures announced on Wednesday to aid struggling businesses and residents during the Covid-19 outbreak.
Under the scheme, around 3.8 million commuters are expected to get a subsidy amounting to one-third of their public travel expenses exceeding HK$200 a month, half of the original threshold of HK$400. The subsidy cap was HK$400.
"If you are talking about [the increase in] ratio, it's a lot. From some HK$70 to HK$100, there is a one-third increase," Chan said on a radio programme.
The monthly average number of people getting the subsidy was around 2.2 million last year, the first year of the scheme.
Under the new relief package, HK$21 billion has been set aside for 16 types of sectors and businesses hit especially hard, from aviation to smaller ventures, such as education and tutorial centres, and school bus operators.
Chan said the transport sector had suffered a heavy blow during the current health crisis. He said the airport's daily passenger flow dropped from 200,000 during the busy period to 1,200 on average recently, causing related revenues to drop 99 per cent.
Road transport businesses experienced a drop of nearly 40 per cent in fare income on weekdays, and 50 to 60 per cent at the weekend.
Under the relief package, taxi drivers are offered special allowances because most of them had not contributed to the Mandatory Provident Fund pension scheme, which would have allowed them to receive wage subsidies from another HK$80 billion plan like other 1.5 million workers.
Chan said drivers who had proof they had rented a vehicle for the previous three months, and would be doing so for two further months, would be eligible for a monthly subsidy of HK$6,000 for six months.
Other taxi drivers that did not qualify could be eligible for a one-off grant of HK$7,500.
"We hope to try our best to simplify the application procedures," he said. "Helping those in urgent need is like putting out a fire, speed is the most important. thing"
He said the government would try to distribute the money to drivers within a month after their applications were filed, but the longest wait could take around two months.
The Hong Kong Airport Authority, which runs the city's airport, will fund a HK$2 billion purchase scheme for half a million air tickets, as well as buying back airport services equipment, bringing the total package of the authority's support to HK$4.6 billion.
Chan said the tickets could convince visitors to come to Hong Kong and offer an opportunity for locals to travel. That would help revive the city's aviation and catering sectors, tourism and consumption activities.
"Don't underestimate [the effectiveness of buying] these 500,000 air tickets, because when you can get that ticket then maybe you will buy a few more to travel with your family."
Meanwhile, a radio audience questioned Chan about why the government decided to use public money to partially fund a 20 per cent fare reduction for passengers taking the city's railway services for six months from July.
Under the plan, the estimated expenditure would be around HK$1.6 billion for more than five million passenger trips. The expenditure will be shared equally between the government and rail operator MTR Corporation, in which it owns a 75 per cent stake.
"You can see it from a different perspective," Chan said. "It shows the government is willing to take the responsibility, the government is the major shareholder of the MTR Corp.
"You can take it as we are putting part of the dividend into it. The money comes from the public and we use it on the public. Is it a different angle to look at it?"
This article appeared in the South China Morning Post print edition as: Millions to get cash boost in travel subsidy