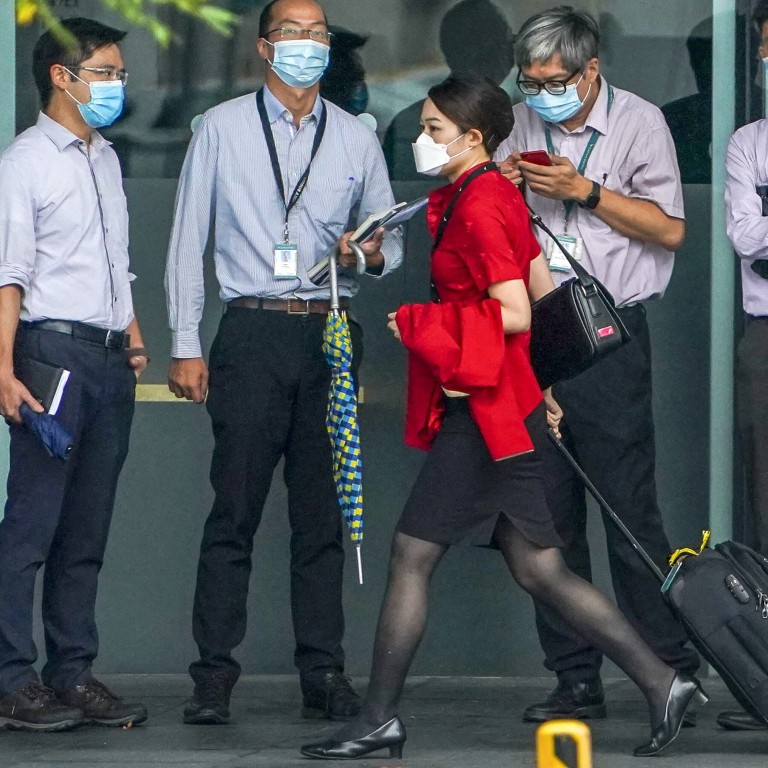 Exclusive

|
Cathay Pacific 'to axe 6,000 staff and Dragon brand' in bid to stay afloat, with most cuts aimed at Hong Kong workforce
Reductions, which sources say will be announced on Wednesday, are a quarter less than expected and smaller than industry average
About 5,000 employees in Hong Kong could be let go, with future lay-offs possible if pandemic not brought under control
Cathay Pacific Airways
has agreed to scale back planned job cuts by 25 per cent to around 6,000 globally, and will axe its Cathay Dragon sister airline brand, according to multiple sources.
Hong Kong's flagship carrier was eyeing global lay-offs of up to 8,000, but has now reduced the number to about 18 per cent of its total workforce, including about 5,000 in the city, after government intervention.
While Cathay's local workforce will bear the brunt of job cuts, the overall scale is still smaller than the industry average of about 20-30 per cent staff reduction.
The job cut announcement is expected to be made on Wednesday, at the end of trading on the stock market, following a board meeting on Monday.
A Cathay Pacific spokeswoman said the company would not comment on "speculation", despite several informed sources confirming the action plan.
"It's unnecessary to keep the two brands given the dire financial situation, but Cathay will not give up flying to mainland destinations," one source said. "The carrier will not give up the mainland market and it will maintain its major role in the regional aviation hub."
Another insider said the carrier would try to retain as many Cathay Dragon pilots as possible, most of whom were locally trained and considered Hong Kong talent.
Sources said exit packages for staff made redundant would be more generous than stipulated by labour regulations.
Globally, the group has 33,000 staff, with 26,500 working for Cathay Pacific and Cathay Dragon.
The size of the redundancies is smaller than the 20 per cent cut Singapore Airlines has made and the 30 per cent for Qantas.
Cathay Pacific is the group's largest airline, with 132 passenger planes on long-haul routes and serving key Asian cities. Cathay Dragon has 48 aircraft primarily flying to mainland China and other regional destinations.
The scale of the restructuring is based on an anticipation of how quickly the air traffic market will recover from the
coronavirus pandemic
. The company earlier said the discovery and effective distribution of a vaccine would play a role in that revival.
Cathay Pacific lost a record HK$9.87 billion (US$1.27 billion) in the first six months of the year, and continues to burn through HK$2 billion a month, which is down from as much as HK$3 billion when the pandemic first broke out.
When the Hong Kong government offered the company a HK$27.3 billion rescue package in June, one condition was that the airline would add two government-appointed observers to the board to oversee the investment and protect taxpayers' money.
Sources said although the Cathay Dragon brand, with at least 3,000 employees, would be sacrificed, staff and resources of the two airlines would be merged.
"Given the epidemic situation in Hong Kong, the mainland government cannot help by reopening the border with the city and increasing flights, so Hong Kong has to rescue its flagship airline by allowing its restructuring," a source close to the board said.
"In principle, the restructuring should be done in one go. But the carrier cannot rule out future cuts if the pandemic is still not under control or vaccine productions are delayed."
Cathay Pacific on Monday said it would operate at less than half capacity throughout next year compared with pre-crisis levels, underscoring the slow pace of recovery. It could take until 2024 to return to normal if industry predictions are accurate.
But a high-level source warned that Cathay would still have a significant staff surplus next year despite the lay-offs.
Bocom International transportation analyst Luya You said: "A cut of 17 to 18 per cent does not fully reflect Cathay Pacific's [operational] needs. Cathay could be willing to eat the high costs of staffing for next year if they reliably expect significantly rebounding demand for 2022 perhaps. But that doesn't seem like a forecast anyone is qualified to make at this point."
Connie Leung Pui-wan, vice-president of the Hong Kong Dragon Airlines Flight Attendants Association, defended the brand, saying its operations and dedicated frontline staff could justify its continued existence.
"We are more familiar with Asian customer needs," Leung said. "That is why it is more valued flying in Asia and mainland China."
Additional reporting by Olga Wong
This article appeared in the South China Morning Post print edition as: Cathay to axe dragon brand and cut thousands of jobs