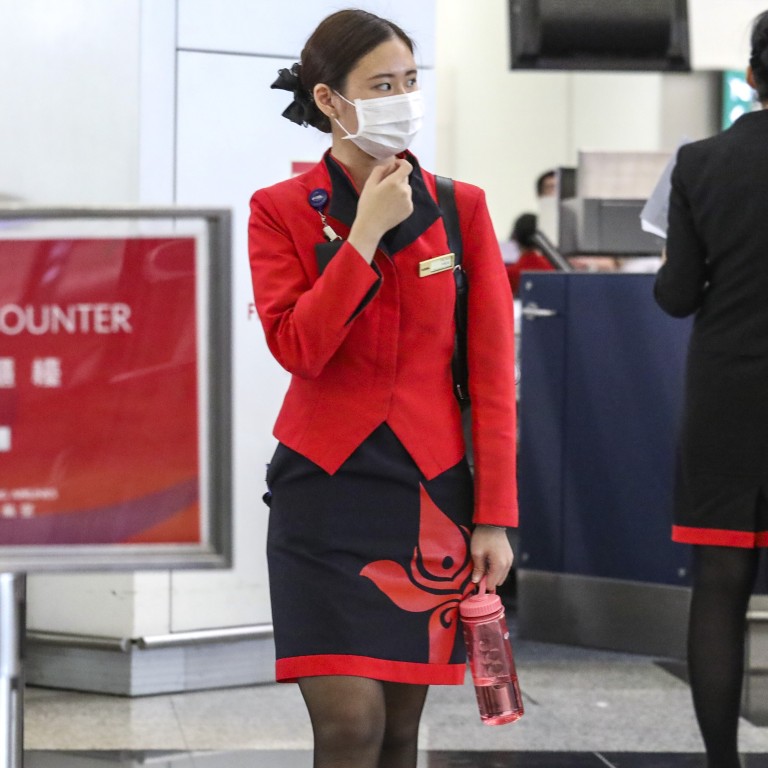 Coronavirus: Hong Kong Airlines to cut 250 flight attendants in stricken carrier's latest round of redundancies
City's third-largest carrier tells employees extended grounding of planes during pandemic forced a rethink of staffing levels
It had already slashed jobs and wages at the start of the crisis, far earlier than rivals
Hong Kong Airlines will cut 250 flight attendants in the latest round of coronavirus-related redundancies to hit the carrier and the local aviation sector.
As a member of the cash-strapped Chinese aviation conglomerate HNA Group, the city's third largest carrier had already axed jobs at the start of the
Covid-19 crisis
, far earlier than other airlines, and made steep pay cuts to keep salary costs in check.
Chris Birt, the airline's director of service delivery, told staff in a memo on Friday that the company's extended grounding of most planes and passenger flights had forced a rethink of its future staffing needs.
"These ongoing adjustments have not only drastically affected our revenue but also reduce our operating crew and staffing requirements in the foreseeable future," the memo said.
"Following a review of our medium-term cabin crew requirements, we have made the very difficult decision to permanently reduce our cabin crew numbers."
The airline's redundancies followed major job cuts at
Cathay Pacific Airways
, which received a HK$39 billion bailout,
and the closure of its rival Cathay Dragon.
Confirming the cuts, a Hong Kong Airlines spokeswoman said: "The compensation package offered to all affected cabin crew will be in full compliance with the employee's conditions of service and local labour laws."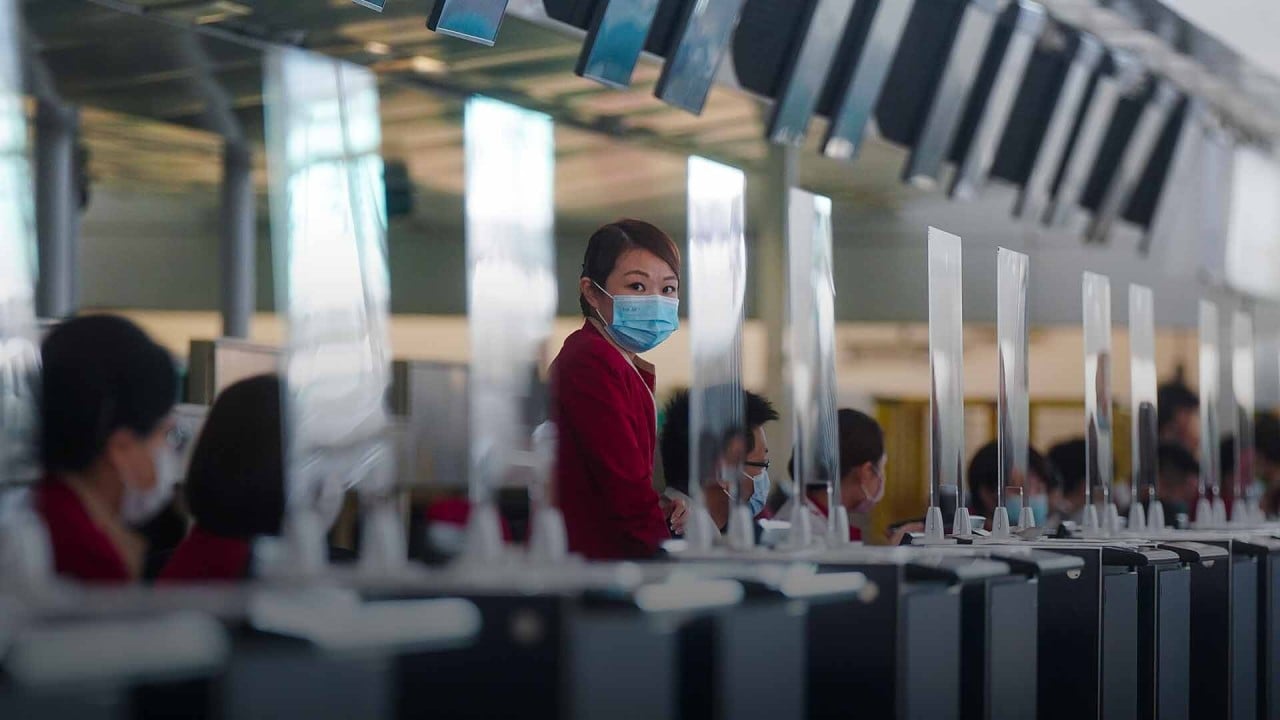 01:46
Hong Kong's flagship carrier Cathay Pacific to axe 5,900 staff and immediately drop Dragon brand
Hong Kong's flagship carrier Cathay Pacific to axe 5,900 staff and immediately drop Dragon brand
The 20 per cent reduction would leave the number of flight attendants employed by the airline at 1,000. Before the pandemic, the carrier employed 1,500 cabin crew.
In total, its workforce stood at 2,300 staff, down 34 per cent from its peak.
Some 400 jobs across the company were cut in February and almost 170 of them were flight attendants.
As part of earlier attempts to slash costs, the airline reduced the pay of its more than 1,200 cabin crew members by 30 per cent over four months.
Captains and first officers saw their salaries and allowances reduced by 60 per cent for six months. Pilots originally took a two-fifths cut on fixed salary and allowances from March through to September.
The airline has also sought a second round of support under the government's
coronavirus relief scheme
to cover a portion of wages from September until the end of November.
It received HK$77.1 million (US$9.9 million) to help cover the salaries of 2,940 employees in the first phase of the scheme from June to August.
Hong Kong Airlines has also received more than 1 billion yuan (US$153 million) in extra funding from Chinese banks since January to help repay maturing debt.
03:25
Hong Kong airlines operate 'flights to nowhere' for aviation enthusiasts
Hong Kong airlines operate 'flights to nowhere' for aviation enthusiasts
Carol Ng Man-yee, chairwoman of the Hong Kong Confederation of Trade Unions and a former flight attendant, said the airline industry was handling job cuts badly.
"Compared to other countries, the Employment Support Scheme in Hong Kong did not help the aviation industry's situation and it has been manipulated to delay redundancies," Ng said.
She berated Hong Kong Airlines for axing staff at a time when the city's unemployment rate stood at a 16-year high of 6.4 per cent and well-paid jobs were hard to come by.
"The remaining staff are watching on in horror as there is no guarantee they won't be made redundant in future," Ng said.
"With Hong Kong Airlines lack of transparency in funding, nobody knows what is happening and [ staff members] don't think the company can withstand Covid-19 for much longer."
Ng urged the government to approve the launch of
Greater Bay Airlines
so it could merge with Hong Kong Airlines, which still holds long-haul air traffic rights.
The union chief said there were overlaps in the ambitions of the newcomer carrier and the ailing airline.
This article appeared in the South China Morning Post print edition as: carrier axes another 250 workers