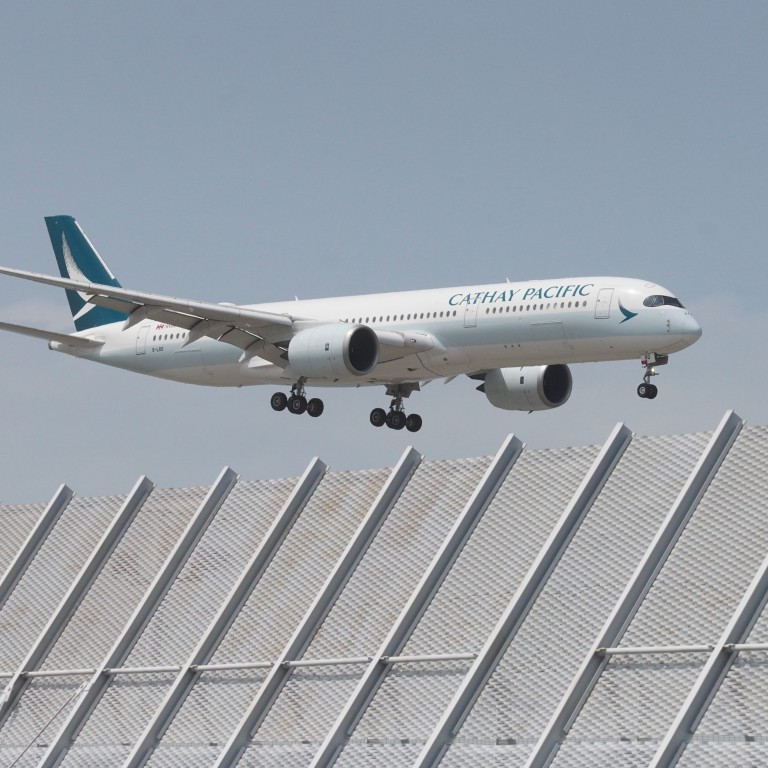 Coronavirus: Hong Kong to axe quarantine exemptions for aircrew on all passenger flights except mainland China routes
Cathay Pacific is at risk of widespread flight cancellations in coming days, as it is unable to secure enough hotel rooms to meet new quarantine rules
All non-mainland flights to and from Hong Kong must be operated by closed-loop aircrew, who will be required to spend up to two weeks in quarantine
Airlines in Hong Kong have been told that crew working on non-mainland China passenger flights will lose all quarantine-related exemptions effective midnight on Wednesday, the Post has learned.
The government told airlines of the latest changes to its
coronavirus
rules earlier on Wednesday, going much further than the previous day when it instructed aircrew operating cargo flights to quarantine in a hotel for the first three days after returning to Hong Kong.
Cathay Pacific is already at risk of widespread flight cancellations in the coming days, as it is unable to secure enough hotel rooms to accommodate the new rules.
The city's flag carrier said the latest tightening of aircrew quarantine restrictions would continue to constrain its ability to operate flights as planned.
"We are making further significant changes to our flight schedule, including cancellations of passenger flights to and from Hong Kong from now to tentatively the first quarter of 2022," the airline said in a customer notice posted on its website at 10.15am on Thursday.
The company said it was communicating with affected customers and would make alternative flying arrangements for them. They can also opt for a full refund on their tickets.
The carrier told freighter customers there would be cuts to long-haul freighter and cargo-only passenger flights, but did not specify the scale of reduction.
Cathay's lucrative cargo business has propped up the airline during the pandemic, aided by its status as the fifth-largest cargo carrier in the world, and benefiting from global demand for air freight capacity with seaports choked.
Among the latest, significant changes, all non-mainland flights to and from Hong Kong must be operated by closed-loop aircrew, who will be required to spend up to two weeks in quarantine.
This means even regional passenger services cannot be operated as "turnaround" flights without staff stepping foot off the plane at the destination. Under that rule, passenger aircrew could isolate at home.
Cathay operates many of its long-haul services under a closed loop – which will be extended to Asian flights – further placing stress on the beleaguered carrier.
The airline's closed-loop arrangement means most crews operate flights for three weeks and then spend up to two weeks in hotel quarantine before returning home. Such work patterns are voluntary and not popular with crew, amid concerns over the strain on their mental health in isolation.
"Overnight, the CHP [Centre for Health Protection] released the latest update to 599H and we went into overdrive to cover the changes, however, since then we have been advised of a further, fundamental change," the airline's flight operations general manager Mark Hoey told staff in a memo, referring to local health regulations on quarantine.
"The biggest immediate changes are the three days quarantine for crew following a layover [who operate under medical surveillance rules and not quarantine] and the removal of exemptions from all passenger flights, except turnarounds to mainland China."
The extent of the changes means, specifically for Cathay, it cannot operate flights from Hong Kong for passengers and then return to the city as cargo-only to skirt quarantine exemptions.
The airline is understood to have secured around 150 rooms so far for the three-day hotel quarantine requirement for cargo-linked operations. But talks are under way to allow Cathay to use more dedicated hotels to ensure its operations do not buckle under the lack of resources.
As the highly transmissible Omicron variant reaches Hong Kong through imported cases, Cathay has been under fire as several aircrew have tested positive upon returning to the city recently.
With Hong Kong pushing to get the border with mainland China reopened, the authorities on Tuesday ordered cargo aircrew to undergo hotel quarantine for the first three days back in the city.
Two Cathay flight attendants exacerbated the situation after being suspected of flouting the company's strict rules on home isolation. The revelations prompted the airline to investigate the pair's activities over the first three days of returning to Hong Kong – when they were not supposed to leave home except for testing.
The Transport and Housing Bureau defended its tightening of measures on Tuesday, saying it was seeking a better balance of rules alongside "the health risks while maintaining the essential air services and supplies into and out of Hong Kong".
Meanwhile, under separate rules tightened just before Christmas that punish airlines for carrying too many Covid-19 cases, four key Cathay routes, London Heathrow, Toronto, Los Angeles and New York, have been banned for two weeks for breaches.
For the past two years, Cathay has been crushed by the pandemic, racking up HK$29.2 billion (US$3.75 billion) in related losses, with thousands of staff leaving the company.
The airline carries about 1 per cent of the passengers it did every day before the pandemic. It remains one of the outliers among global airlines – operating in a zero-Covid environment – and with no clear recovery in sight.