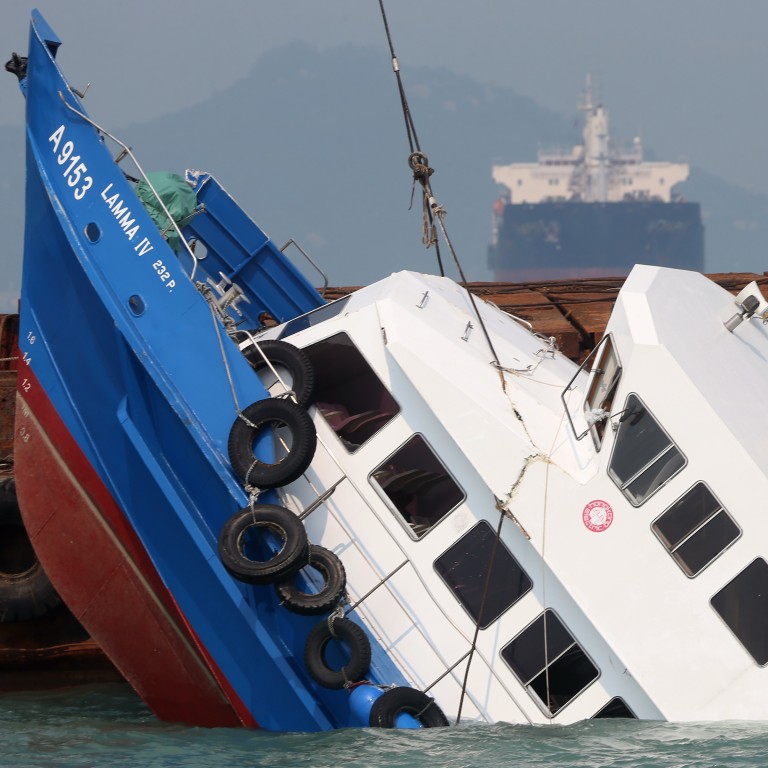 October 1, 2012: Deadly ferry crash off Hong Kong's Lamma Island kills 39
Some 124 people on the Lamma IV were thrown into waters near Yung Shue Wan when it was hit by a passenger ferry travelling from Central
This article was first published in the
South China Morning Post
on October 2, 2012. It has been republished online as part of
Hong Kong 25
, which looks at how the city has changed since the handover, and what its future holds.
By Joyce Ng, Stuart Lau, Danny Mok and Ada Lee
At least eight people died and about two dozen were missing after two ferries collided off Lamma Island last night.
Some 124 people on the Lamma IV, a vessel owned by Hongkong Electric, were thrown into waters near Yung Shue Wan when it was hit by a passenger ferry travelling from Central.
Rescuers pulled 101 out of the water and were searching through the night for the others.
The accident happened at 8.23pm when the power company's boat was heading to Central with staff and their families to watch the National Day fireworks display. The vessel was half sunk in the water with the bow pointing up at an angle of 90 degrees.
The Hospital Authority confirmed at midnight that eight of 53 people admitted to four hospitals were dead. The number was expected to rise as 23 were still missing.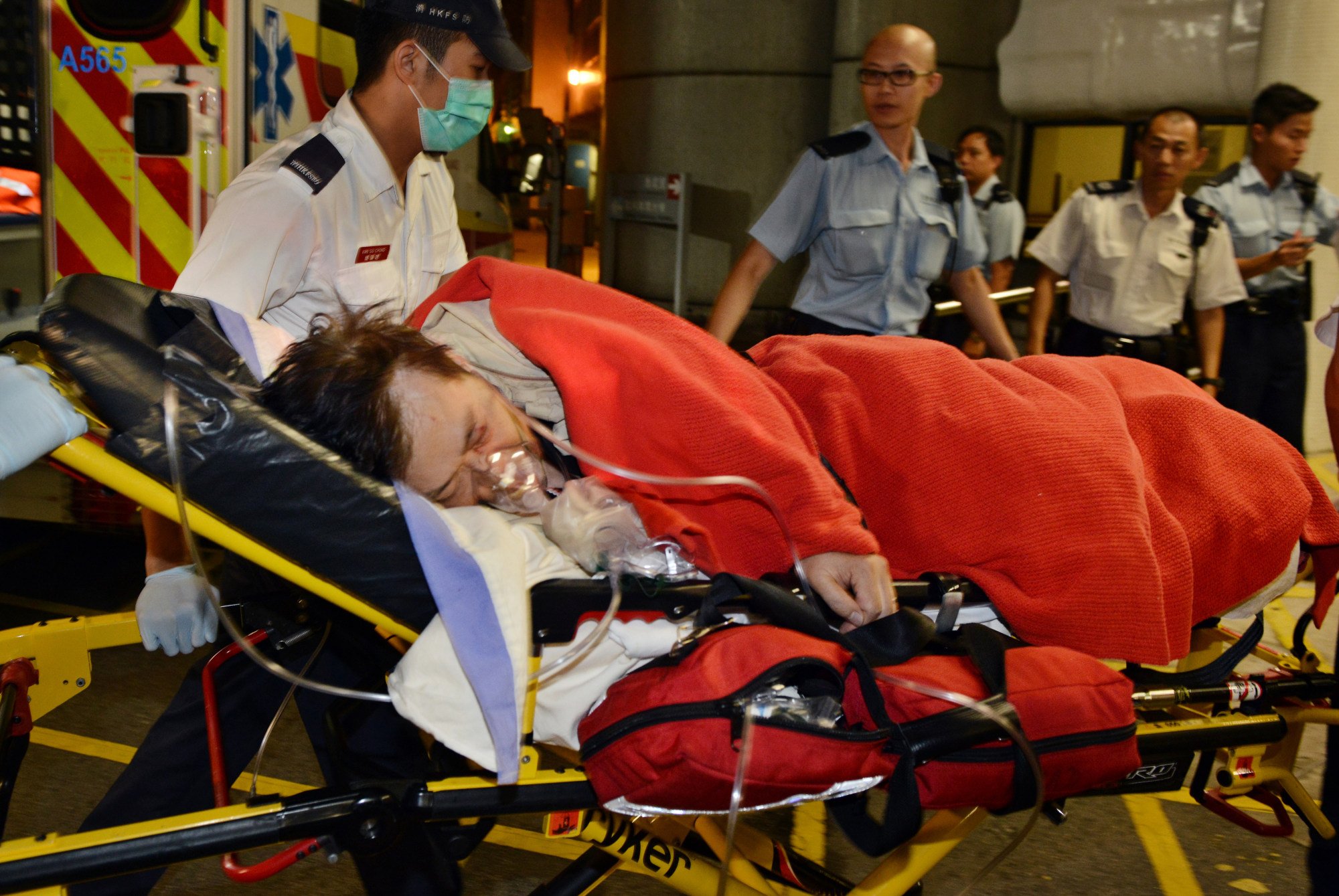 A man brought ashore at the pier near South Horizons in Aberdeen said: "After 10 minutes out a boat crashed into ours from the side at very high speed. The rear of the ferry started to sink. I suddenly found myself deep under the sea. I swam hard and tried to grab a life buoy. I don't know where my two kids are."
Another woman at the pier said: "I swam for a long time to reach the surface and swallowed a lot of water. Then I found a rescue boat."
Some of the 101 rescued were taken to Queen Mary, Ruttonjee, Queen Elizabeth, and Pamela Youde Nethersole Eastern Hospitals for treatment, with some on stretchers and unconscious.
While they earlier waited for ambulances at the Ap Lei Chau pier, they were wrapped with blankets or aluminium foil to keep warm. A paramedic at Queen Mary Hospital said some of the survivors were suffering hypothermia and four had to be resuscitated.
Without naming Hong Kong and Kowloon Ferry, Yuen Sui-see, Hong Kong Electric's director of operations, blamed the other vessel for the tragedy.
"The ferry rammed the side of our boat. They didn't bother and just left," he said.
Yuen said the power company's captain was experienced and sailed in the waters daily. He said there was no problem with safety or overloading as it was able to carry 200 passengers.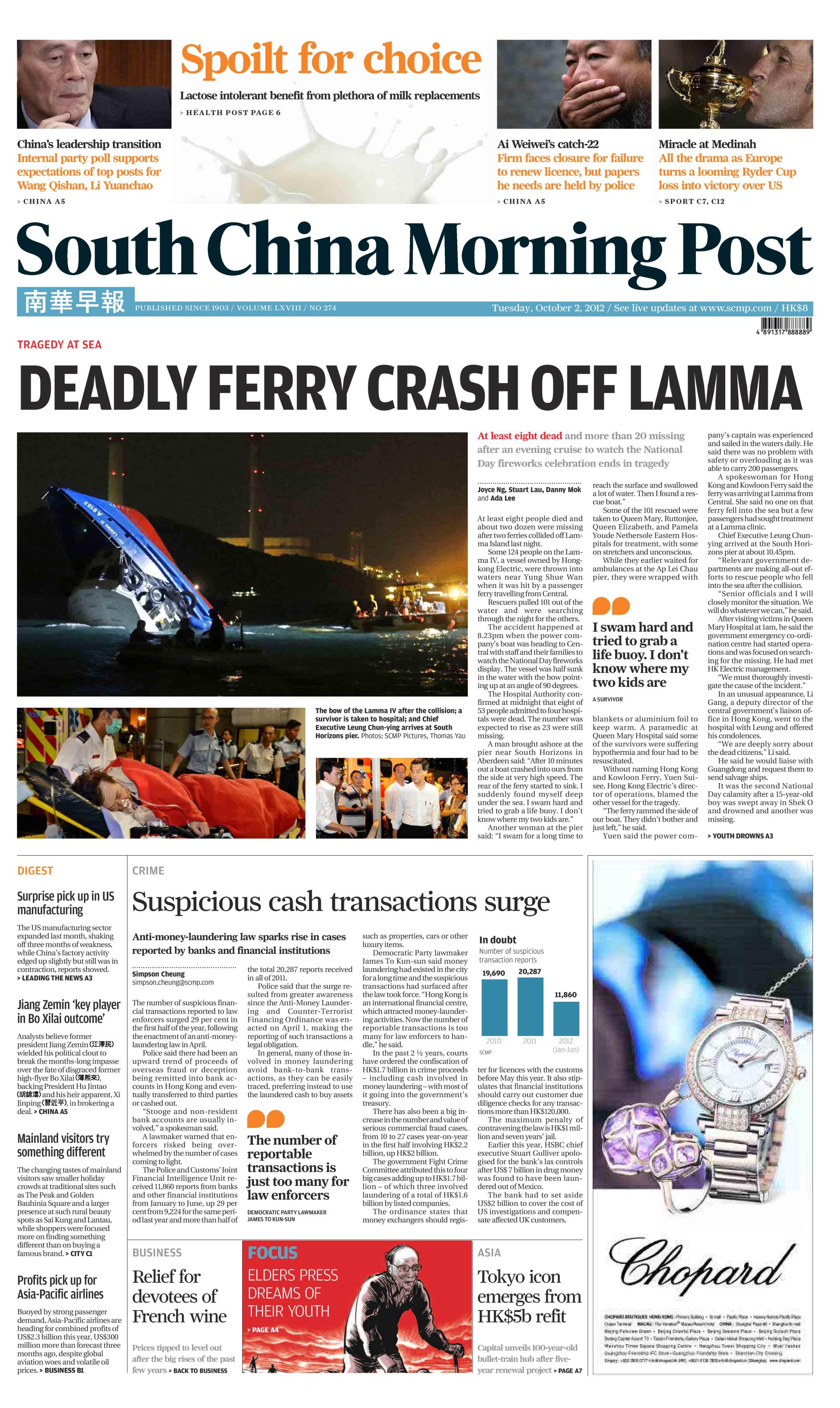 A spokeswoman for Hong Kong and Kowloon Ferry said the ferry was arriving at Lamma from Central. She said no one on that ferry fell into the sea but a few passengers had sought treatment at a Lamma clinic.
Chief Executive Leung Chun-ying arrived at the South Horizons pier at about 10.45pm.
"Relevant government departments are making all-out efforts to rescue people who fell into the sea after the collision.
"Senior officials and I will closely monitor the situation. We will do whatever we can," he said.
After visiting victims in Queen Mary Hospital at 1am, he said the government emergency co-ordination centre had started operations and was focused on searching for the missing. He had met HK Electric management.
"We must thoroughly investigate the cause of the incident."
In an unusual appearance, Li Gang, a deputy director of the central government's liaison office in Hong Kong, went to the hospital with Leung and offered his condolences.
"We are deeply sorry about the dead citizens," Li said.
He said he would liaise with Guangdong and request them to send salvage ships.
It was the second National Day calamity after a 15-year-old boy was swept away in Shek O and drowned and another was missing.
Seven ferry crew arrested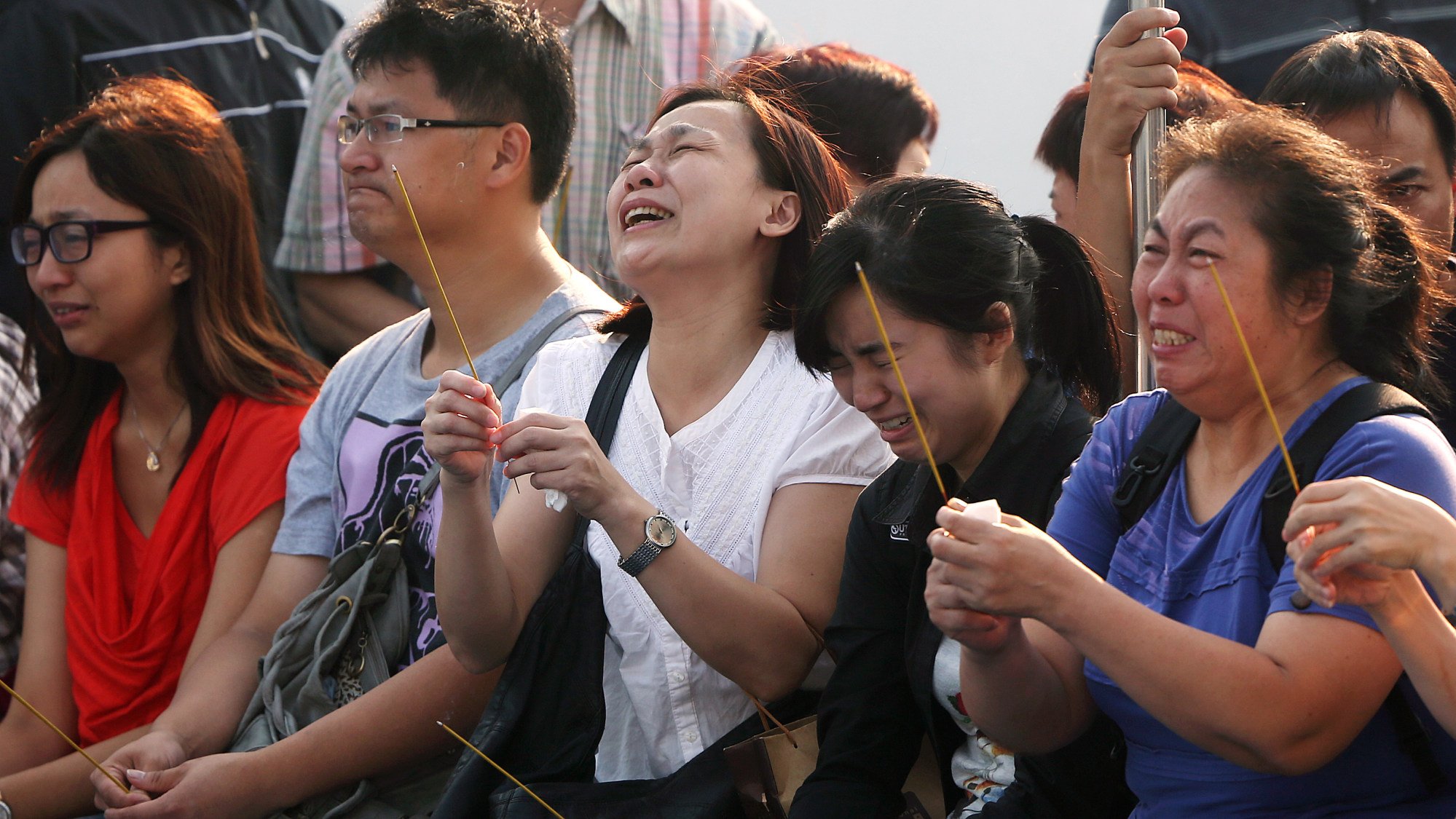 By Clifford Lo, Simpson Cheung, Olga Wong, Ada Lee and Lo Wei (Published on October 3, 2012)
Police yesterday arrested seven crew members - including the skippers - of the two vessels that collided off Lamma on Monday night, as Chief Executive Leung Chun-ying declared three days of mourning and promised a thorough investigation.
From tomorrow Hong Kong's flag will fly at half mast on government buildings in memory of the 38 killed in a disaster that also injured 100 more and left an unknown number still missing by 1am this morning.
Leung made his announcement as an air and sea search for the missing extended off southern Hong Kong Island, after the National Day collision between the Sea Smooth and the Lamma IV, the city's worst maritime disaster since 1971.
Yesterday, President Hu Jintao, Premier Wen Jiabao and Vice-President Xi Jinping expressed their condolences and, in an unprecedented move, instructed the Hong Kong government to spare no efforts to rescue the missing and comfort the victims' families.
Leung, who led a minute's silence for the dead at a media briefing, declared that no effort would be spared to find anyone still missing.
"Irrespective of whether it is the biggest sea tragedy in Hong Kong history, there were more than 100 people on the boat and every single life is precious," he said. "The government will use all resources we have to save lives."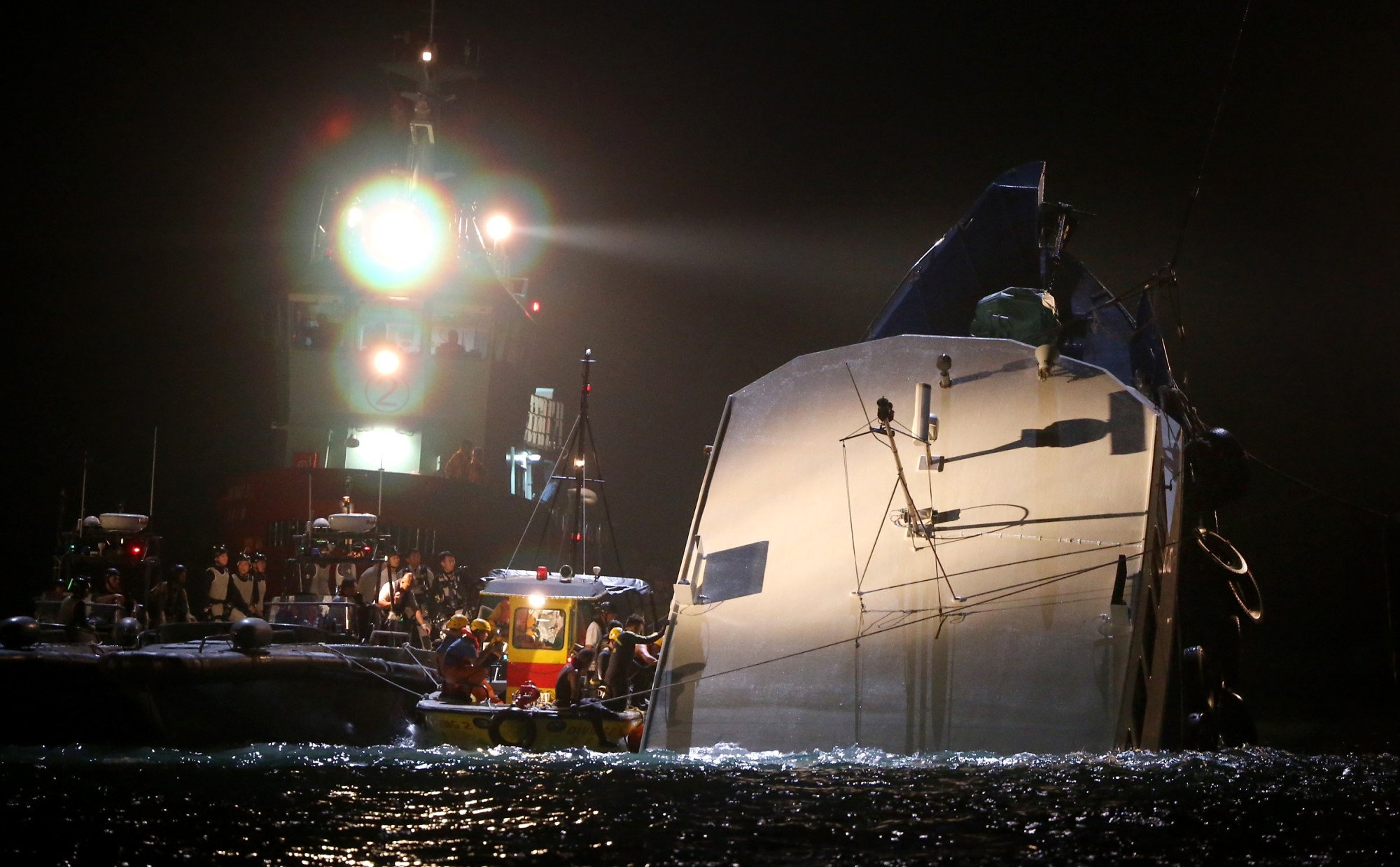 Leung also promised that an independent committee would be established to conduct a thorough investigation into the disaster, which occurred when the vessels collided at 8.23pm near the harbour at Yung Shue Wan.
He said the committee would be tasked with making recommendations to prevent similar accidents. Condolence books would be opened at government offices.
Hongkong Electric, which operates the power station on the island, said the Lamma IV was carrying at least 124 people - employees, their families and crew - to view the National Day fireworks off Central.
Seven crew members, aged 50 to 63, from both vessels, were granted bail after their arrest on suspicion of endangering the safety of others at sea - an offence which carries a maximum penalty of four years in jail and a HK$200,000 fine.
The captain of the Lamma IV, a 56-year-old mariner with more than 30 years' experience, was arrested in Queen Mary Hospital, where he was able to give a statement to marine officers despite suffering a broken arm and cracked rib.
Small Craft Workers Union chairman Ching Ngon-lai, who visited the captain in hospital, said he recalled rolling from one end of the boat to the other.
Louis Szeto Ka-sing, an expert in marine and naval architecture at the Hong Kong Institute of Engineers, said both vessels were struck on their left, or port, sides, indicating that the two skippers had not tried to avoid each other until it was too late to avoid a collision, causing the bow of one to strike the stern of the other.
Chan Yuk-wah, head of maritime studies at the Hong Kong Sea School, said that under maritime rules vessels should give way to boats on their right, or starboard, if they were approaching each other at an angle.
A government source said the disaster might have been avoided if the crews of both vessels had paid attention to sea traffic visually and by radar.
Yesterday afternoon four survivors were in a critical or serious condition and 23 were in stable condition in five hospitals.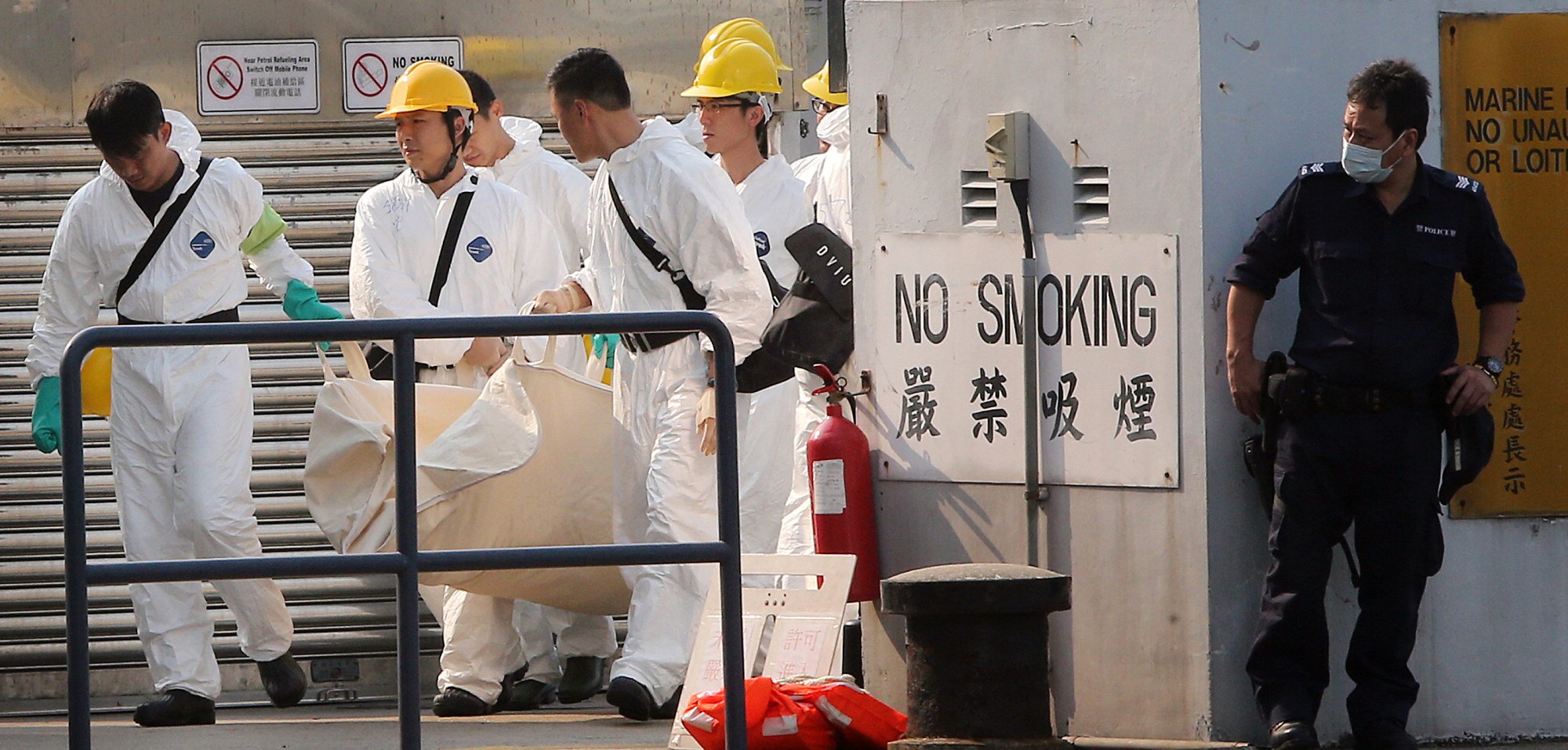 The 38 who died included five children. Only 16 of the dead have been formally identified. Hongkong Electric, which is owned by billionaire Li Ka-shing, confirmed last night that seven of the dead were its employees.
"Definitely I am upset," Li told reporters after visiting survivors at a hospital. "I left Hong Kong last night but this morning, after knowing about it, I dropped everything and rushed back. There is no need to ask about the feelings. Everyone is saddened."
Nelson Ng Siu-yuen, general manager of Hong Kong and Kowloon Ferry Holdings, the Sea Smooth's owner, said he had yet to speak to its captain to understand what had happened.
Ng said the Sea Smooth did initially remain at the scene after the collision but he believed its captain had decided to head for the harbour as it was taking on water and had begun to list, with a number of passengers injured.
More than 1,000 rescuers, from the police, fire services and other departments, have been deployed so far in the rescue.