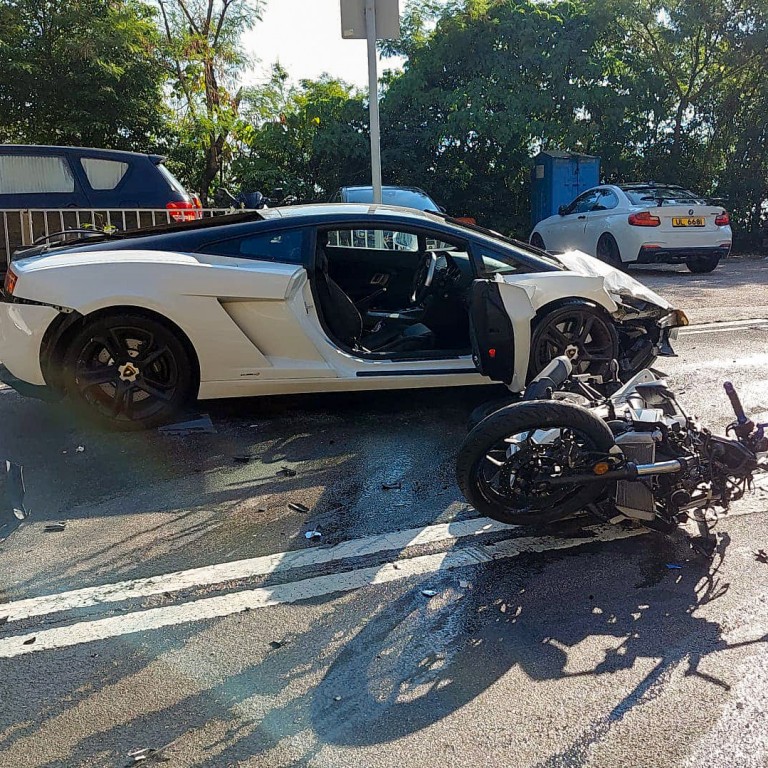 Hong Kong motorcyclist seriously injured in head-on collision with Lamborghini on Shek O Road
Female rider, 26, thought to be holder of learner's licence, rushed to hospital with limb and hip injuries after being flung into air from force of impact
Two-way road near scenic Shek O Beach notorious for sharp turns
A motorcyclist was seriously injured on Sunday in a head-on collision with a Lamborghini near Shek O in Hong Kong.
The 26-year-old female rider was travelling along Shek O Road at 8am when she crossed into the opposite lane and hit a white sports car at a sharp bend, according to preliminary police investigations.
A white L-plate was found near the motorcycle at the scene, indicating that the rider was likely to be a holder of a learner's licence.
The woman suffered injuries to her limbs and hip, and was sent to Pamela Youde Nethersole Eastern Hospital in Chai Wan. She was later identified as in serious in condition, while the 32-year-old Lamborghini driver suffered minor injuries and received treatment at the same hospital, a police spokeswoman said.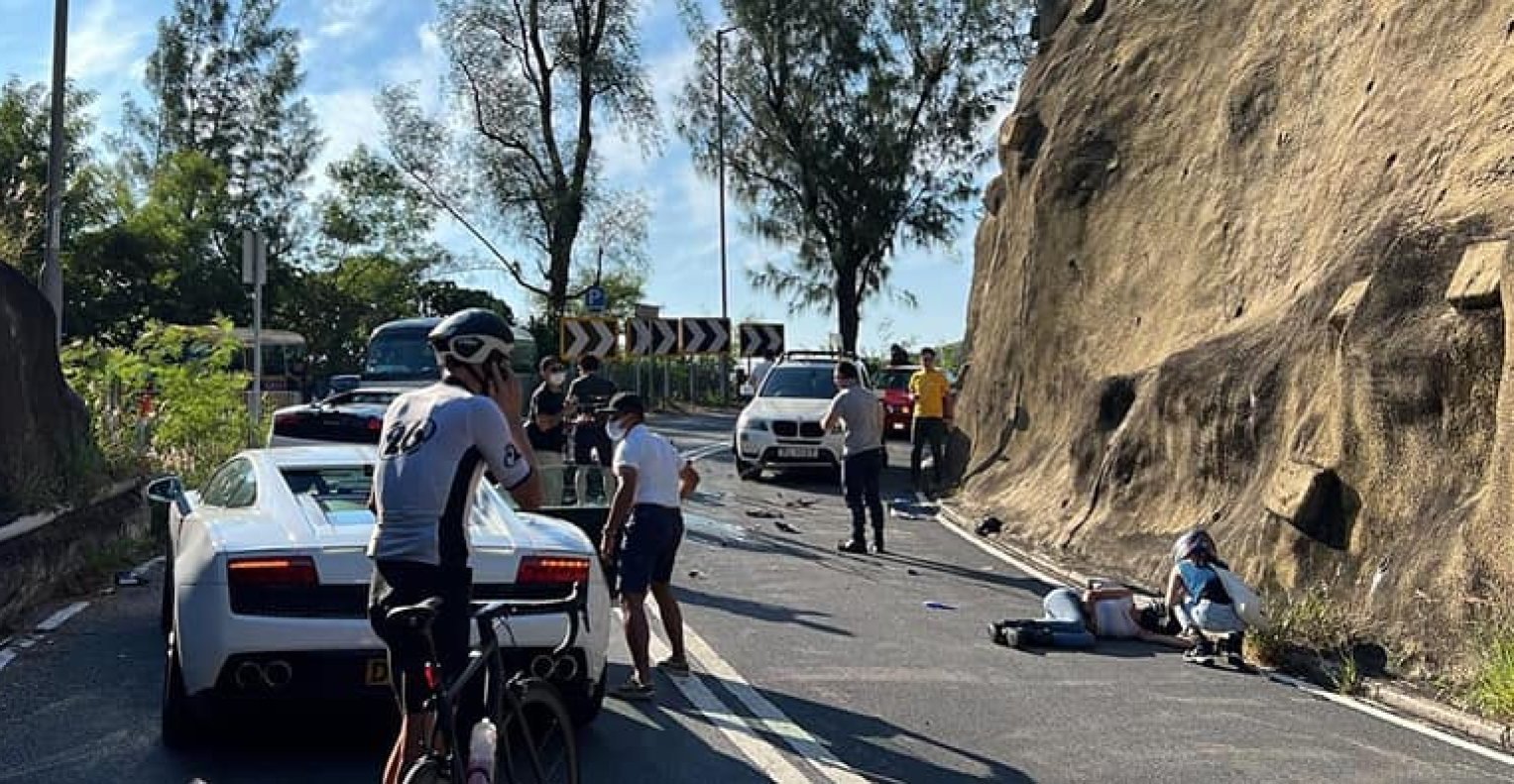 Dash camera footage from other vehicles and posted online by users showed that upon impact, the rider, who was travelling at high speed, was thrown into the air before landing on the road. The damaged motorcycle was then hit by another white car behind it. Drivers and passengers nearby immediately stopped to help out at the scene.
The two-way road near the scenic Shek O Beach is known to be narrow and with many sharp turns. It is also a popular place for photographers to capture pictures of speeding motorcycles during holidays.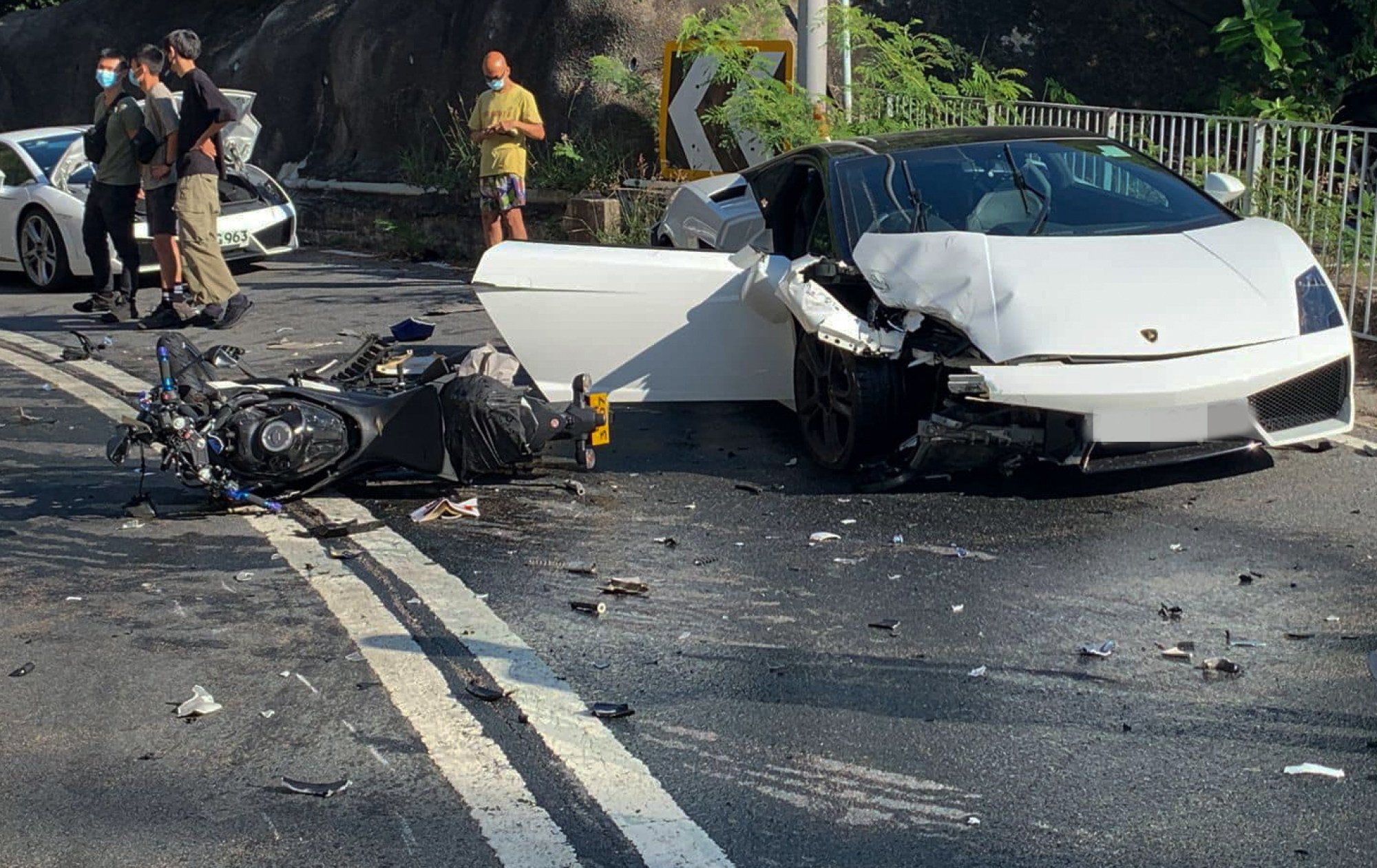 In Hong Kong, motorcyclists can obtain such learner's permits after passing a written test. Unlike car drivers who must be accompanied by a qualified instructor when behind the wheel, learner motorcyclists can operate solo.
They must also follow a strict set of rules including not carrying any passengers, as well as not riding during rush hour or on any highway.
Ringo Lee Yiu-pui, chairman of the Hong Kong Automobile Association, said riders could also rent motorcycles from agents and use them on their own.
"I'd strongly encourage learners to follow motorcycle instructors who teach in driving schools in small groups. This will be much safer," he said.
"Shek O Road is narrow and has many bends. Although it is not a highway nor a banned road for learners, it is still not suitable for them to drive on. Due to their minimal driving experience, accidents there happen easily."
Police are investigating the accident.
The Transport Department urged motorists to always exercise caution, prudence and alertness and maintain a safe speed and distance while driving.
Last December, a motorcyclist died after his vehicle smashed into a car travelling in the opposite direction, also on Shek O Road.