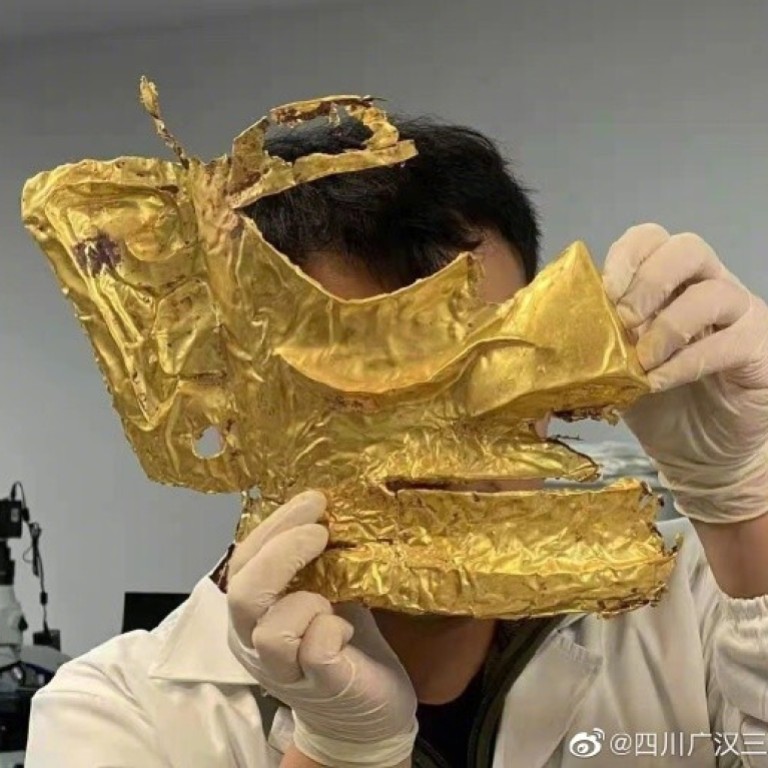 People think remarkable discoveries are aliens but Chinese archaeologists hope they reveal ancient text
The Sanxingdui ruins have already produced incredible artefacts, such as a broken gold mask that awed the world
Archaeologists hope to find examples of ancient text, but some scientists do not think it ever existed
It was over three decades ago when Lei Yu, a recent graduate of archaeology studies at the time, joined a mission to excavate two pits full of bronze age treasures accidentally discovered by a group of kiln factory workers in 1986.
His only tool was a small shovel, and the team had to share one camera to document the trip. They relied on bicycles for transport.
"
Archaeology
was difficult at that time because it was salvage excavation due to the many brick factories around. Farmers dug up soil to make bricks and we did our excavation wherever they dug," Lei said.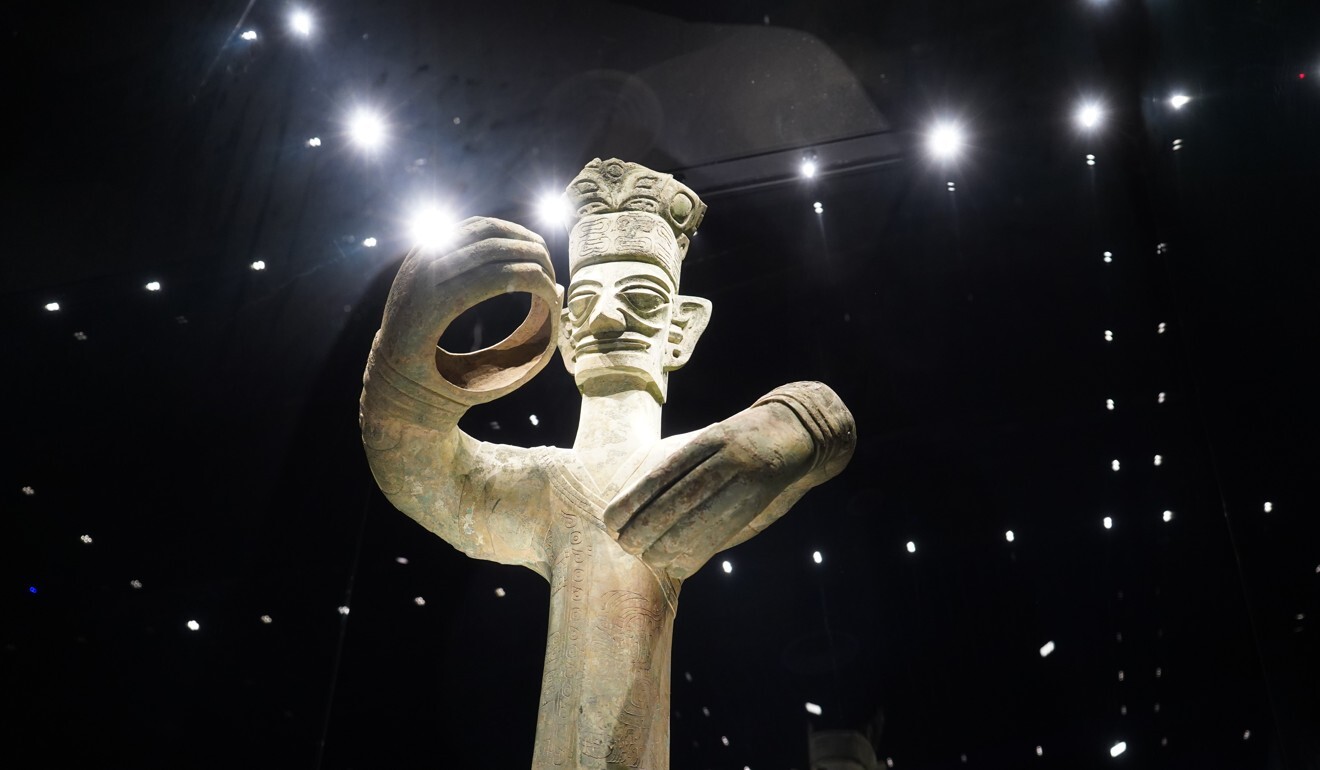 The pits are thought to be a sacrificial burial ground, but nobody has confirmed this theory.
Lei has devoted his entire career trying to solve the mysteries of the Sanxingdui ruins.
Were the human-shaped bronze statues, with their protruding eyes and large ears, used during a sacrificial ritual to worship gods? Why were these artefacts battered and burned but then buried in an orderly manner in layers inside the pits?
The answers to these questions could be found if the archaeologists could find ancient writing that might provide insights into ancient civilisation's culture. But, so far, no such text has been discovered.
Lei, now a researcher with Sichuan Provincial Institute of Cultural Relics and Archaeology, is hopeful a new excavation project in the Sanxingdui Ruins might help find text with the help of technology.
"If text is discovered in Sanxingdui, it would be found on organic carriers such as fabrics, lacquerware or woodworkings. Because these people could create advanced and developed bronze, there must be text in such a high level of civilisation. We need to find it," he said.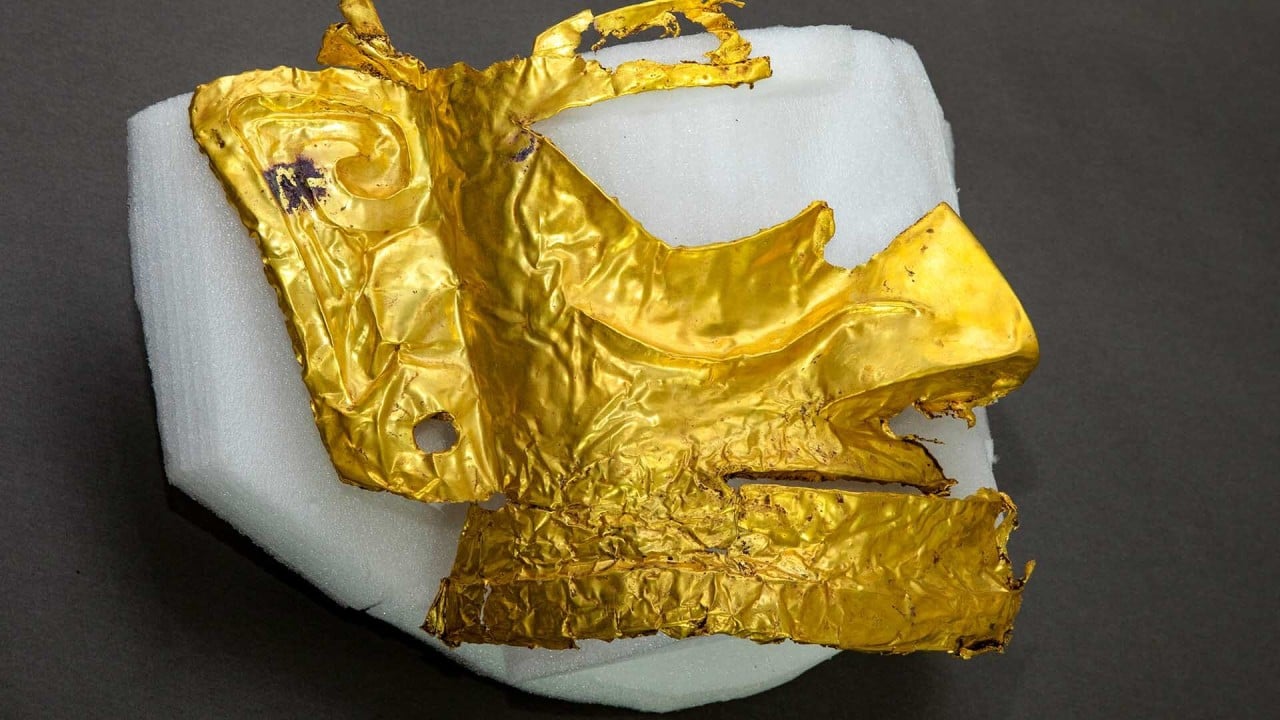 03:06
Archaeologists find treasures from mystery civilisation that could rewrite Chinese history
Archaeologists find treasures from mystery civilisation that could rewrite Chinese history
With a high-resolution scanning electron microscope, archaeologists have identified and excavated traces of fabrics in the soil and on the surface of bronze in six newly discovered pits, even though the material is not visible to the naked eye.
"It's a big breakthrough academically," said Lei, who oversaw the excavation work.
The ruins are from an ancient kingdom called Gushu, which did not exist in the historical records, only in legend or ancient poems.
Back then, the archaeologists moved quickly and removed about 1,700 pieces of ivory, bronze, pottery within two months. The speed of the excavation left many details of the surrounding environment missing.
In 2019, the Sichuan government decided to fund studies on Gushu. The government funding and strides in science have allowed archaeologists to perform their work with unprecedented levels of precision and care in recent years.
The latest remarkable discoveries at Sanxingdui – such as a 3,000-year-old, 1.15-metre-tall bronze figure holding an ancient wine vessel revealed in May – are thanks to efforts from Lei and his team to re-examine an area that had been deemed thoroughly scavenged.
The pits had even been covered with glass windows so tourists could look inside.
Lei's team found a piece of bronze in the corner of one of the pits using a metal detector. The glass displays were promptly removed, and a new round of excavation began.
"It was the discovery of a lifetime," Lei said.
To further explore the ruins, 34 teams of researchers from universities and research institutes of different fields across China work together on various projects, including experiments as detailed as analysing soil in the pits.
In March, the world was aghast when the scientists revealed a broken gold mask.
Leaving no stone unturned
A sterilised room was built surrounding each pit to keep the artefacts in an environment maintained at 80 per cent of humidity and 20 degrees Celsius. The environment also includes a concentration of carbon dioxide and ultraviolet light monitored and controlled with a mobile app.
Laboratories have been built on-site to analyse both organic and inorganic artefacts. Researchers work with protective suits and wear hairnets to avoid contaminating the site with their dust, hair and fibres.
A structure was built above the pit to allow researchers to move around without touching the artefacts.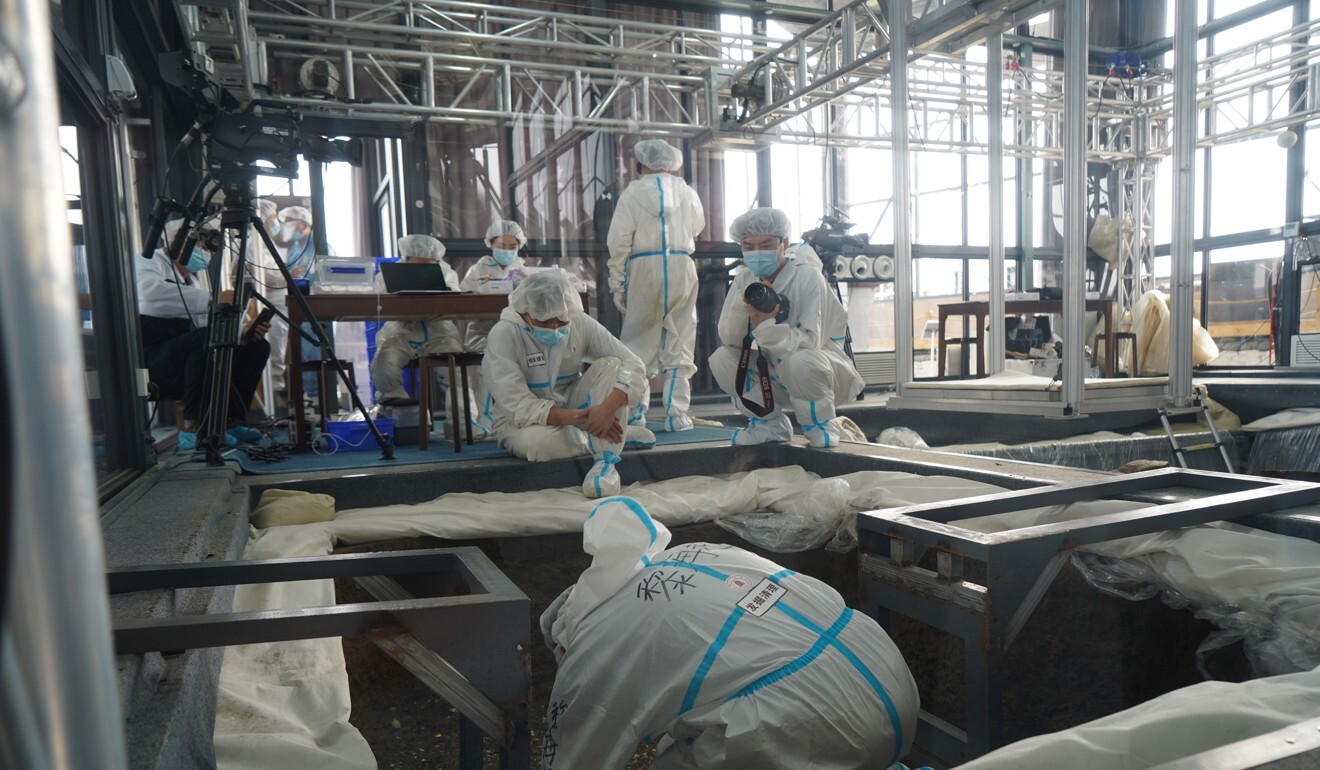 Xu Danyang, a researcher with Sichuan Provincial Institute of Cultural Relics and Archaeology, said, "This is the first time we are exploring how to make the best use of the existing conditions and obtain as much information as possible."
"With this goal in mind, we have designed several programmes, prepared a number of proposals and approved research projects in advance," said Xu, who is in charge of excavation work in one of the pits.
When artefacts are ready to be removed from the pit for conservation, workers 3D-print a tightfitting, protective coat of silicon, so researchers cause minimal contamination when they handle the pieces.
Li Sifan, a researcher with the institute specialised in artefacts conservation, said: "We want to make sure the artefacts are protected during the excavation, so we need to do a lot of work on a moving board as well as kneeling or lying on our stomach. We need to change shifts every 40 minutes and the excavation process is very long."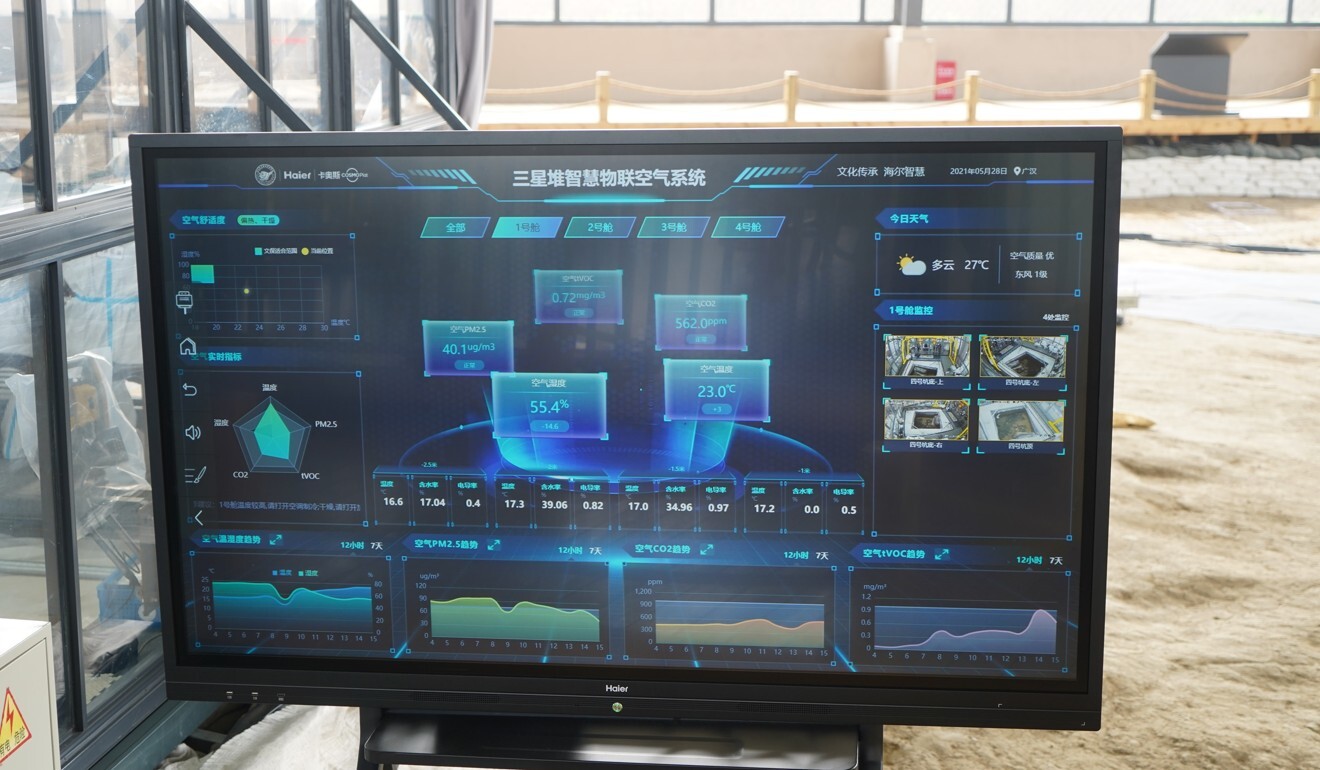 Li said there is often mould growing near organic artefacts, so researchers need to analyse soil samples surrounding such artefacts.
"They will also analyse layers of soil to see whether they were different or whether there are any seeds," she said.
The way to preserve artefacts after they have been excavated has changed over the years, too, Li said. For example, following the logic of minimal intervention, rust on the bronze will be left alone if it does not affect the safety or research of a piece.
The theories of Sanxingdui
Because of the strange appearance of the Sanxingdui artefacts, the site has become a source for all sorts of theories, including one that suggests the area used to be inhabited by extraterrestrial civilisations. The archaeologists dismissed this idea as "an association that crosses the line".
But what Chinese archaeologists agree about is that the artefacts from Sanxingdui ruins point to a civilisation heavily influenced by the culture of the central plains in China, centred around modern-day Henan province during the Shang dynasty in central China.
Archaeologists do disagree with Lei about the possibility of finding text in Sanxingdui.
Wang Wei, the director of the Institute of Archaeology at the Chinese Academy of Social Sciences, said there was little chance text could be found in the excavation because it might not have existed back then.
"The culture of Sanxingdui is demonstrated in religion and sacrifice, which does not need writing to inherit. Sacrifice rituals can be inherited from a culture without the help of writing," Wang said.
"In archaeology, we cannot say for sure that no text will be found, but the chance is very low."
Lei, however, is convinced that if bronzes in the central plain areas were inscribed with writings, the Sanxingdui culture would have written language.
Furthermore, the discovery of walls and canals, believed to be used for irrigation, suggested that writing was possible, he said.
"The initial stage of writing must have existed, or a city of such a large scale, with complicated irrigation works and advanced bronze-making, would have had to rely only on word of mouth, which is hard to imagine."