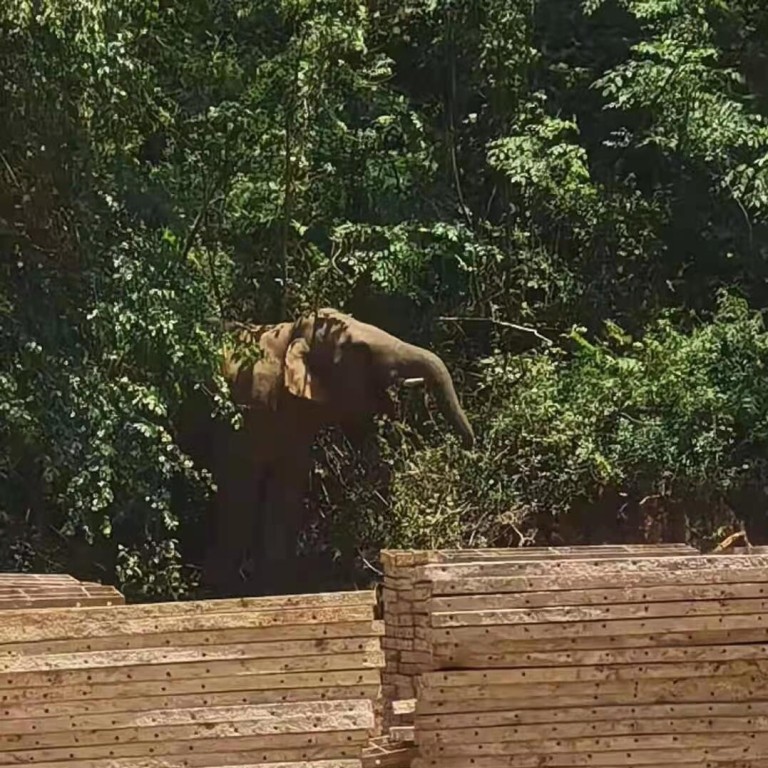 After a 500km journey, a herd of 15 elephants arrives at Yunnan capital in China
The elephants have become a popular story to track for many people in China
But experts say the journey is the result of human development and they are searching for new habitat
A herd of 15 elephants entered the periphery of Kunming, the capital of Yunnan province in southwest China, on Wednesday night after travelling nearly 500km on a journey in search for new habitat.
Governments of Kunming and its neighbouring city Yuxi deployed 675 policemen, 62 emergency trucks, 12 drones and 10 tonnes of food to block and
divert the herd's route
. Authorities are closely monitoring the path of the elephants, the Kunming Daily reported.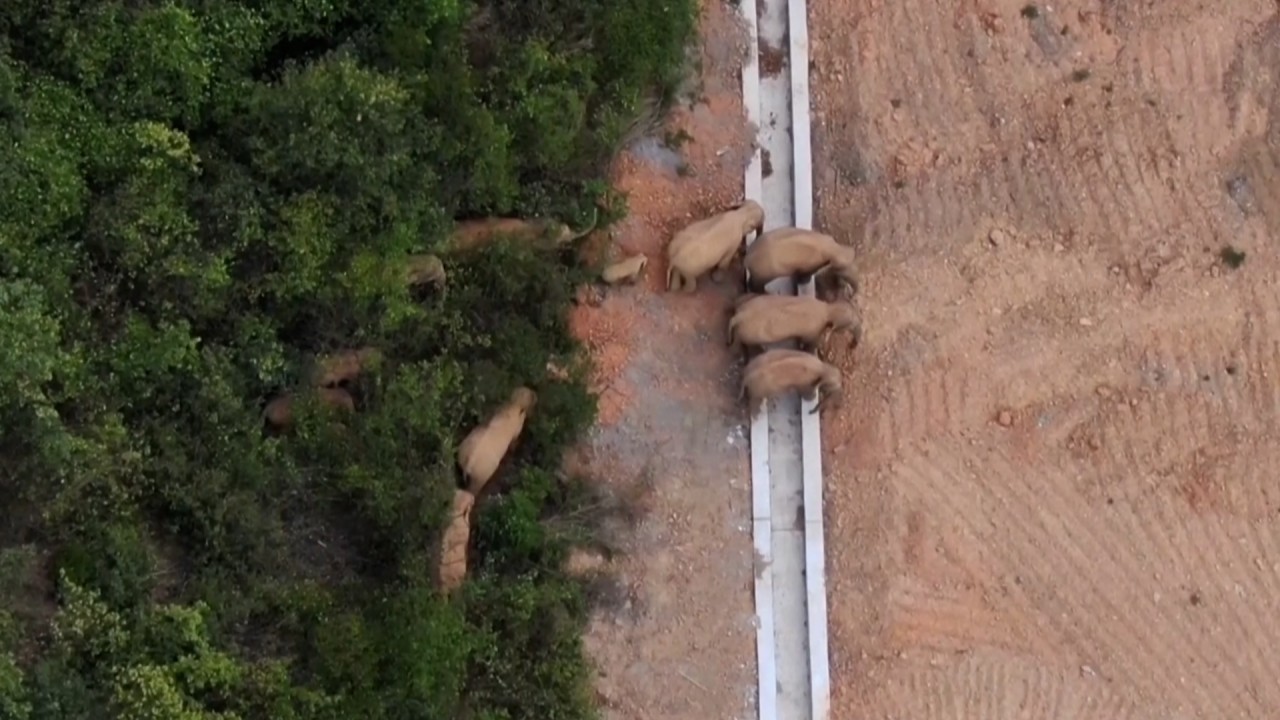 01:26
Authorities on alert as wild elephants close in on major city in China
Authorities on alert as wild elephants close in on major city in China
The elephants began this long journey months ago when they left the Mengyangzi Nature Reserve in Xishuangbanna, in the southwest corner of Yunnan. Public and government interests were first triggered when people spotted the herd nearly 100km north of Xishuangbanna in April, a Yunnan government notice said on Friday.
Initially, there were 17 elephants in the herd, but, on April 24, two appeared to have turned back while the rest moved to towns near the city of Yuxi, about 90km south of Kunming.
Last Friday, they entered Eshan village and walked along the main road, evacuated and blocked by police in advance. They also banged on residents' doors.
Social media was full of posts and videos of sightings of the elephants. One video on Douyin, China's version of TikTok, showed villagers shouting "They are coming" as a crowd ran down the main street in Eshan village, trailed by a police car that was then followed by the elephants.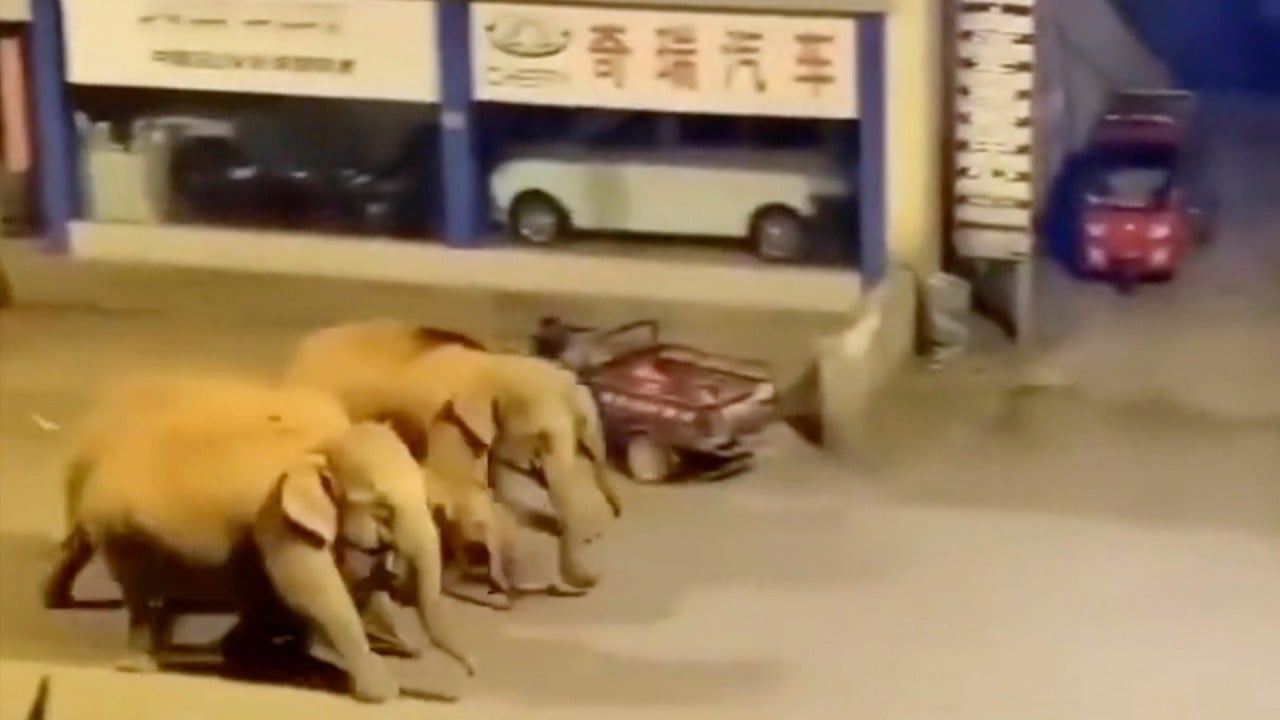 03:09
Wild elephants march on road in China
Wild elephants march on road in China
Over the course of 40 days in Yuxi, the herd had "caused trouble 412 times, destroyed 6 million square feet of crops, with an estimated economic loss of 6.8 million yuan (US$1.06 million)," the Yunnan government notice said.
On Monday, the Yunnan government announced that the elephants were 20 kilometres from Kunming and urged the capital to prepare.
On social media, the elephant's expedition has been romanticised, with little discussion about what caused their journey.
"They probably want to attend the UN Biodiversity Conference meeting in Kunming," one person joked on Weibo.
"Knock knock, anyone there? I want to eat a banana, or an apple or an orange will do," another said, making reference to one elephant banging on a villager's door with its trunk in an online video.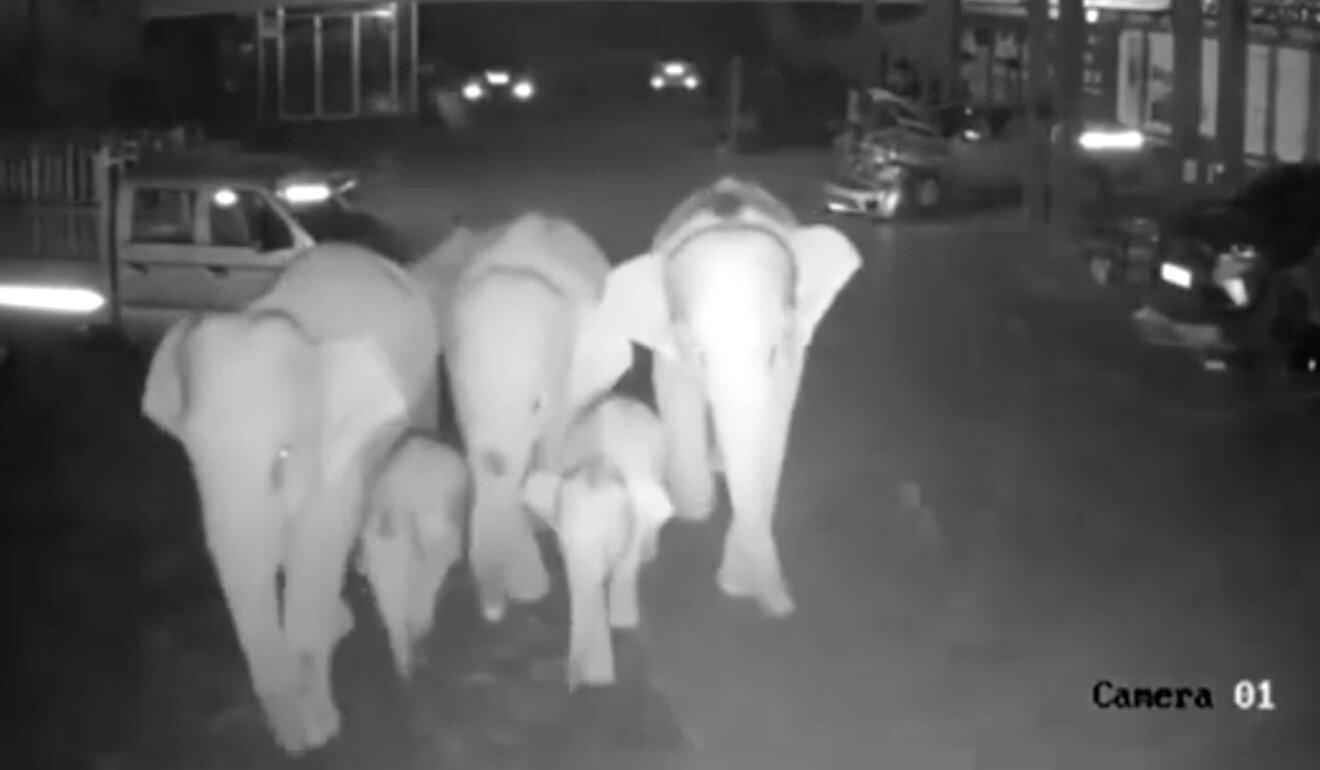 Asian elephants are a species that primarily inhabits South and Southeast Asia and have been listed as Endangered on the The International Union for Conservation of Nature's Red List of Threatened Species since 1986. The species is under first-level protection in China, the country's strictest for wild animals. There are about 300 wild elephants in China, mainly surviving in parts of southern Yunnan.
In recent years, scuffles between elephants and villagers in Yunnan have become increasingly frequent, with reports of crops being destroyed and the occasional deaths of villagers.
Zhang Li, a professor at Beijing Normal University and an elephant expert, told the South China Morning Post that the elephants' expedition is a normal phenomenon as they are searching for a new habitat.
"According to our research, in the past 20 years, inhabitable areas for Asian elephants decreased because forests were turned into rubber and tea plantations," he said. "Habitable areas outside the nature reserves were reducing fast, making habitats more deteriorated and fragmented."
He said the local governments took correct measures tracking and monitoring the elephants as well as evacuating and blocking roads in advance. Still, he said what's more important is to solve the imbalance between protection and development.
"It is more important to have proper planning on the macro scale for the protection of Asian elephants' habitat and the building of ecological passageways," he said. "That is the fundamental solution to the problems."