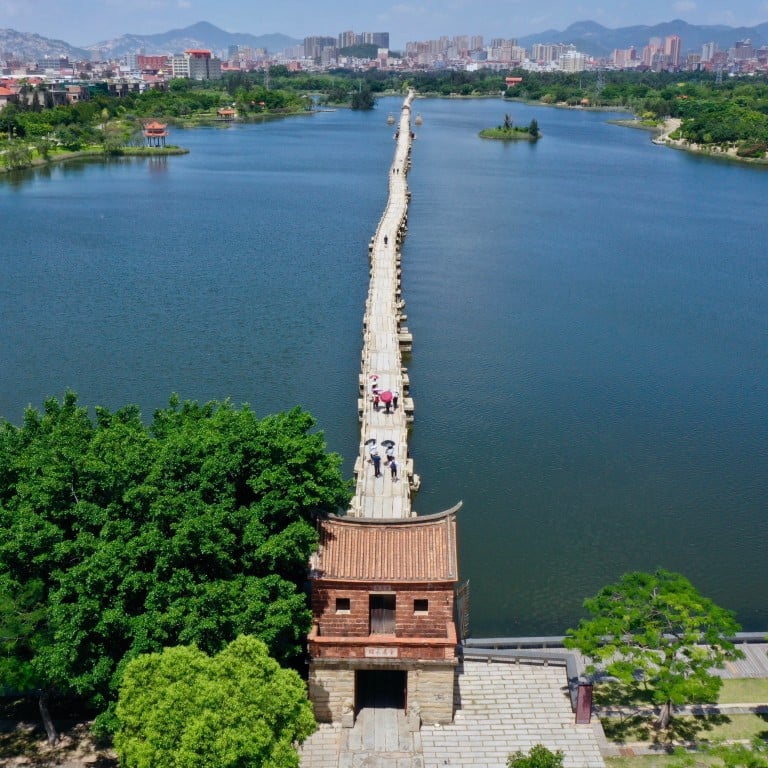 China's Maritime Silk Road port city Quanzhou wins World Heritage listing
Unesco decision recognises Quanzhou in southeastern China as the 'emporium of the world' in the Song and Yuan dynasties
The listing brings the country's World Heritage Sites to 56, one fewer than top-ranked Italy
The ancient Chinese port city of
Quanzhou
– once the starting point for the trading route known as the Maritime Silk Road – has been added to Unesco's World Heritage List.
Quanzhou, described by the UN body as the "emporium of the world" in the Song and Yuan dynasties – from the 10th to 14th centuries AD – brings China's World Heritage Sites to 56, one fewer than top-ranked Italy.
Quanzhou's listing includes 22 historical sites and monuments across the city, described by the 13th century Italian explorer
Marco Polo
as the largest port in the world. In a sign of its diverse history, among the protected sites are a massive statue of Lao Tzu, founder of Taoism, the Kaiyuan Buddhist Temple, and one of China's earliest mosques, as well as Islamic tombs.
The decision to list the city – also known as Zayton – in southeastern China's Fujian province, was made at the 44th session of the World Heritage Committee, which kicked off in Fuzhou, about 180km from Quanzhou on July 16. The gathering was postponed last year because of the Covid-19 pandemic.
"[The sites] not only record the prosperity of Quanzhou in the past, but also confirms a unique trade system created by the joint efforts of the central governments, local and overseas communities, which led to prosperous oceanic trade and cultural exchanges during that period," the city government said on its WeChat social media account.
China in recent years has promoted both the maritime and continental Silk Roads as part of its Belt and Road Initiative, saying its efforts to revive the ancient trade routes will bring new wealth and development opportunities to participating countries.
It was the second time the city applied for world heritage status – its application to have "Ancient Quanzhou" listed was deferred when the committee met in Bahrain in 2018.
After the deferral, which required the applicant to reapply with additional information, China's National Cultural Heritage Administration worked with "professional international institutions", to make major technical adjustments, according to Zhang Lei, a senior official in charge of the Unesco cultural heritage applications, at a press conference earlier this month.
Other Unesco heritage sites in China include the Mogao Caves – also known as the Thousand Buddha Grottoes – in northwest Gansu province, the Great Wall, and the Mausoleum of the First Qin Emperor in Xian, Shaanxi province, home of the world-famous terracotta warriors.