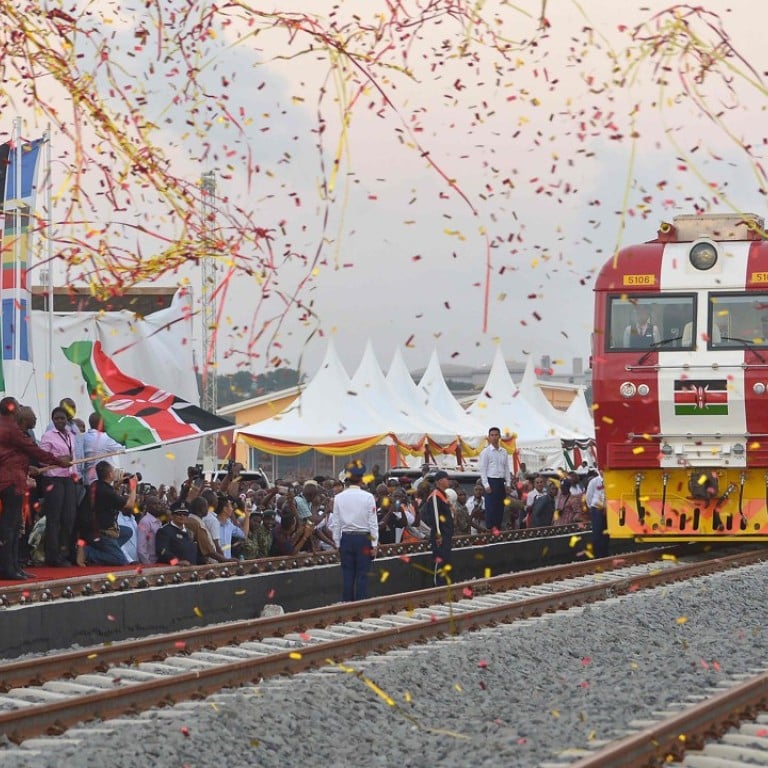 No longer the 'train to nowhere': Kenya president pins hopes for growth on new Chinese-built railway
Corruption and environmental concerns, and its US$3.2 billion price tag have dogged the project during construction
Kenya's President Uhuru ­Kenyatta on Wednesday ­inaugurated a Chinese-built railway, the country's biggest infrastructure project since independence that is aimed at cementing its role as the gateway to East Africa.
The boxy red-and-white diesel train left from a gleaming new station in the port city of Mombasa, carrying Kenyatta, Chinese dignitaries and citizens from around the country on its maiden journey to Nairobi.
The five-hour trip will take less than half the time to drive between the two cities, a hair-raising trip on a one-lane highway clogged with lumbering trucks and where accidents claim dozens of lives each year.
"Today we celebrate one of the key cornerstones to Kenya's transformation to an industrialised, prosperous, middle-income country," Kenyatta said at the inauguration ceremony.
Dubbed the Madaraka (Freedom) Express, the train can carry 1,260 passengers and replaces the so-called lunatic express – a railway built more than a century ago by colonial Britain which was known for lengthy delays and breakdowns.
The old railway, the construction of which became the stuff of legend as a pair of man-eating lions devoured some 135 workers, is credited with shaping Kenya into its current form.
The capital Nairobi was a swampy outpost with no particular attraction until it became the headquarters of Kenya Railways.
Recalling the criticism the ­British government faced while building a "train to nowhere", Kenyatta compared it to the ­controversy the new railway has faced since construction began in December 2014.
Accusations of corruption, concerns over the impact on ­wildlife and criticism of the US$3.2 billion price tag blamed on poor negotiations with the Chinese, have dogged the project.
"Despite a lot of criticism ... the Madaraka Express ... will begin to reshape the story of Kenya for the next 100 years," Kenyatta said.
The president is also betting on the legacy project to help him be re-elected in August elections.
Shortly before the launch, four people were arrested for vandalising the new tracks and stealing "assorted railway parts", according to court documents.
Kenyatta blamed "economic sabotage" and threatened the thieves with the death penalty.
This first leg of the railway is financed 90 per cent by China.
Transport Minister James ­Macharia said the government expects the railway to boost GDP by 1.5 per cent, allowing them to pay back the loan "in about four years".