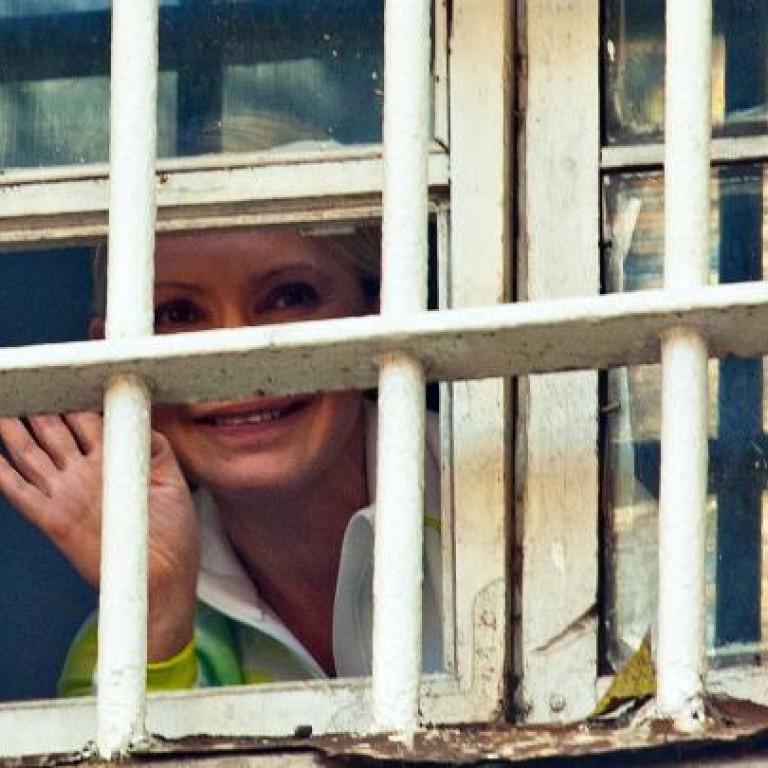 Ukraine court throws out Tymoshenko appeal
A Ukrainian high court on Wednesday rejected an appeal by jailed former Prime Minister Yulia Tymoshenko against her conviction for abuse of office, an outcome likely to complicate Ukraine's already poor relations with the West.
"The judges of the court have reached the conclusion that the appeal cannot be satisfied," judge Olexander Yelfimov said delivering an unexpectedly speedy ruling.
Western leaders condemned the seven-year prison term handed to the 51-year-old opposition leader in October as political persecution, and blocked strategic agreements with the European Union on political association and a free-trade zone.
But despite months of chiding by the European Union and the United States, which see Tymoshenko as a victim of selective justice, President Viktor Yanukovich has refused to act to secure her release. No-one had expected her to be released on Wednesday.
Tymoshenko, known in her heyday for a peasant-style hair braid and fiery rhetoric, was not present in court because of persistent back trouble which has kept her confined to a state-run hospital in eastern Ukraine.
About 300 of her supporters gathered outside the courtroom, chanting slogans such as "Yulia – Freedom!" and "Keep convicts inside and get Yulia out!"
In tough remarks last Friday, Yanukovich said he would not negotiate integration with the EU at the price of allowing it to interfere in her case.
The release of Tymoshenko – by far the most vibrant opposition figure on Ukraine's political landscape – had seemed even more unlikely given the approach of an October 28 legislative election.
Yanukovich's Party of the Regions goes into that election with the government highly unpopular over reforms that have increased taxes on small businesses and raised retirement ages, and it will have to work hard to retain its majority.
The abuse of office conviction relates to a gas deal that Tymoshenko brokered with Russia in 2009 when she was prime minister. The Yanukovich government says the agreement was reckless and saddled Ukraine with an enormous price for strategic supplies of gas which is taking a toll on the heavily stressed economy.
Ukrainian state prosecutors had urged the court to uphold her conviction, saying Tymoshenko's guilt was clearly established at her Kiev trial last year.
She has denied betraying the national interest. Her defence lawyers had argued that negotiating the gas agreement with Russia was a political act which did not amount to criminal action.
In Wednesday's judgment, the three-member panel said: "The judges believe that the previous courts reached correct decisions on the crimes of Tymoshenko."
Her daughter Yevgenia, who has been active in seeking international support for her mother's cause, and Arseniy Yatseniuk, a former foreign minister who has joined opposition forces with Tymoshenko, both attended the hearing.
The authorities have ignored Western criticism and piled up fresh charges against Tymoshenko for alleged past misdeeds.
In a separate trial, which has been adjourned several times because of Tymoshenko's health, she is accused of embezzlement and tax evasion going back to alleged offences when she was in business in the 1990s.
Lawyers for Tymoshenko pressed her case at the European Court of Human Rights in Strasbourg on Tuesday, arguing that her pre-trial detention had been unlawful and that she had been subjected to degrading treatment in prison.
"The only reason for her detention was to exclude her from Ukrainian political life and to prevent her running in the parliamentary elections," her defence counsel, Serhiy Vlasenko, told judges.
Tymoshenko's lawyers said she had been held in inhumane conditions – in permanently lit, unheated cells and tracked by surveillance cameras.
The former prime minister was a leader of the 2004 Orange Revolution protests against sleaze and cronyism in Ukraine that derailed Yanukovich's first bid for the presidency.
She served two terms as prime minister under President Viktor Yushchenko, but the two fell out and their partnership dissolved into bickering and infighting.
She narrowly lost to Yanukovich in a run-off for the presidency in February 2010 after a bitter campaign in which Tymoshenko heaped abuse on her opponent.