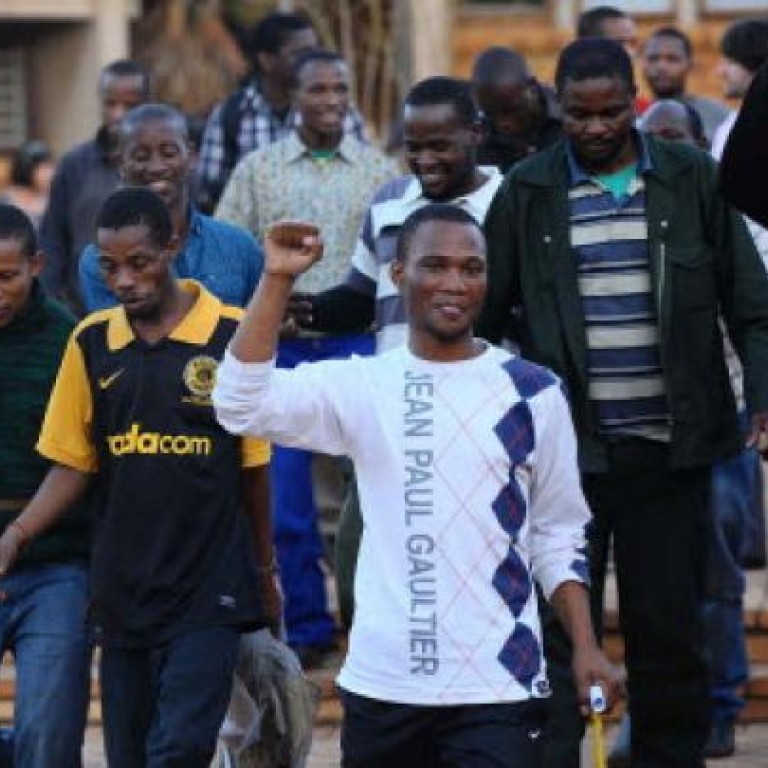 S Africa frees first batch of miners arrested for killings
A South African court freed the first batches of 270 miners on Monday, arrested for the killing of 34 fellow workers who were gunned down by police in a wildcat strike last month.
The court released 162 people after prosecutors provisionally withdrew murder charges against the group amid public outrage following the bloodshed at Lonmin's Marikana mine in the worst day of police violence in post-apartheid South Africa.
"The murder charges against the accused are at this point of time withdrawn," said Magistrate Esau Bodigelo as he released the first group of 47 miners in the court north of Pretoria.
"You may stand down," he added as applause broke out in the courtroom.
The freed workers sang and danced as they left the court after being processed in groups numbering a few dozen men, while 10 minibuses readied to take them back to Marikana where celebrations awaited.
"I'm going home now. I'm going to find my family in Marikana," Siyabulela Milo, 32, said.
The Marikana shooting, shocking footage of which was beamed around the world, conjured up images of apartheid-era police violence and cast the spotlight on crippling social inequality in South Africa.
Meanwhile, police said four people had been injured in a shooting at a gold mine in the east of Johannesburg, and a stayaway by 12,000 workers continued at another gold mine in the west of the city.
"We can confirm that there were four people who were taken to the hospital after they were injured," police spokeswoman Captain Pinky Tsinyane told AFP.
The violence erupted after fired workers, armed with traditional sticks and iron rods, gathered on Monday at the Gold One mine from which they had been fired during an illegal stayaway in June and attacked reinstated miners.
Four people were arrested for attempted murder.
The shooting follows the deadly police action at the Lonmin mine northwest of Johannesburg on August 16 during a wildcat strike. Earlier violence left 10 people dead, including two police officers who were hacked to death.
The decision to charge the miners with murder triggered outrage over what in fact was a police crackdown, with South Africa's justice minister demanding that prosecutors explain the charges.
Speaking Sunday, acting national director of prosecutions Nomgcobo Jiba said a final decision on whether to press murder charges would be taken after a series of investigations into the shootings.
These include a judicial commission of inquiry appointed by President Jacob Zuma, which has until January to present its findings.
The releases are being processed in batches, after the miners' addresses have been verified by police, with no bail required.
"I'm proud to be outside," said Edwin Ramahlokane, 31, who was released in the second group of 38 people, adding: "We are innocent."
But the group will return to court on February 12, next year on charges of public violence and holding an illegal gathering.
The strike since August 10 has crippled the world's third largest platinum mine where worker turnout slumped to 4.5 per cent on Monday, amid threats from strikers on returning workers.
"An indefinite strike will ultimately threaten the jobs of more than 40,000 workers," the company said in a statement.
"We cannot go on indefinitely without normalising operations and still escape the consequences of the mine not being operational."
As mediators sought to broker a breakthrough in the Lonmin deadlock, government ministers moved to calm jitters after strikes spread to the gold sector.
"The events at Marikana are not a reflection of the business environment in South Africa," said minister in the presidency Collins Chabane.
Police claimed self-defence in the shooting, after an escalating stand-off between rival unions had already turned deadly during an increasingly bitter strike over pay.
Julius Malema, South Africa's former youth leader who was axed this year by the ruling ANC over ill-discipline, meanwhile urged striking miners to bypass labour unions.
Malema told striking miners at a Gold Fields mine west of Johannesburg, where 12,000 workers have been on an illegal strike since Wednesday, that they should bypass the main mine union if their needs were not met.
"Leaders of the National Union of Mineworkers (NUM) should know that you can't act for workers without consulting them, and don't take workers for granted," Malema was quoted by the local Sapa news agency.
"If they fail you, you must lead yourself."
The company has said the strike is due to an internal dispute within the NUM, the country's biggest union and an ally of the ruling African National Congress.