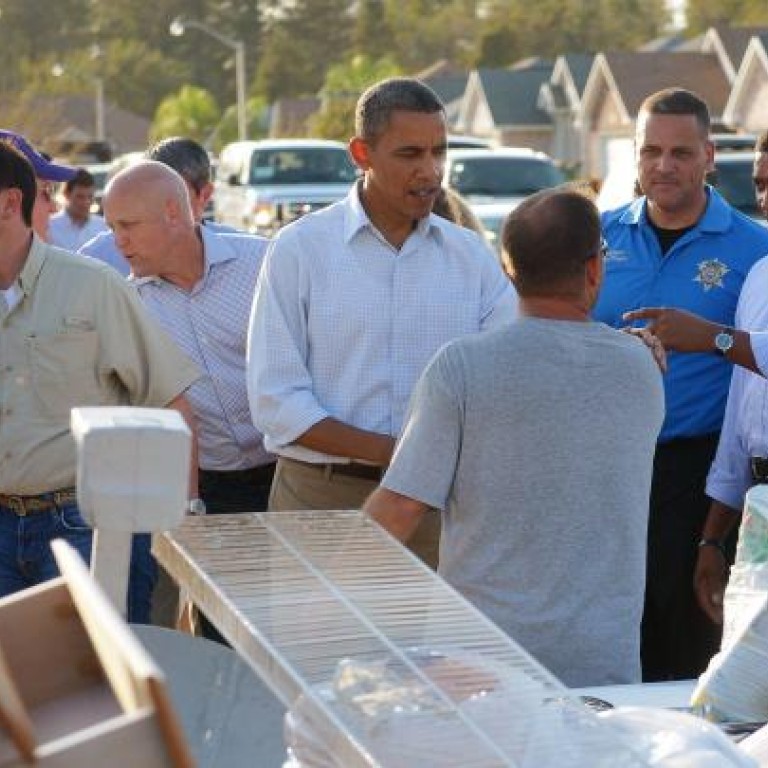 Obama visits hurricane-torn Louisiana
US President Barack Obama on Monday praised government agencies which he led to meet the threat from Hurricane Isaac, after touring "enormous devastation" in Louisiana.
Obama took time out of a packed campaign swing ahead of the Democratic National Convention this week to meet local authorities, rescue workers and victims of the big storm which ploughed in off the Gulf of Mexico last week.
"I want to commend everybody who's here in what they've done in ensuring lives were saved," Obama said in St John the Baptist parish, where many homes and businesses were flooded.
"Although there was tremendous property damage, people were in a position to get out quickly and as you can see, folks are on the ground clearing out the debris," Obama said.
"I want to particularly thank [the Federal Emergency Management Agency] and the state and local authorities because sometimes in the past we haven't seen the kind of coordination that is necessary in response to these kinds of disasters."
That was a reference to Hurricane Katrina in 2005, a bigger storm, which exposed a lack of co-ordination among state and federal authorities, as tens of thousands of people were trapped in flooded New Orleans.
Around 1,800 people died in Katrina, and the botched government response caused devastating political damage to the second term of former president George W Bush.
Obama made conspicuous efforts to avoid a repeat with Isaac, ordering federal relief teams into place ahead of the storm, and consulting repeatedly with local officials in areas in Isaac's path.
The White House earlier said as Obama flew to Louisiana that hurricanes were no time for politics, but took a shot a Republicans nonetheless.
White House spokesman Jay Carney denied to reporters aboard Air Force One that Obama's visit was intended to draw a contrast with Republican White House candidate Mitt Romney, who made a surprise visit to New Orleans on Friday.
"I think that disasters are apolitical and I think that the way we respond to disasters should be apolitical," he said.
Carney claimed however that Republicans, led by vice presidential nominee Paul Ryan, had tried last year not to fully fund a relief fund for people hit by disasters.
Obama's campaign spokeswoman Jen Psaki said that while the Obama and Romney visits provided a chance to meet local residents, "there also are some clear differences in what the different sides of this election are presenting".
Ryan spokesman Brendan Buck rejected Carney's claim, saying "apparently there's nothing the president's team won't politicise".
"Paul Ryan believes providing aid to victims of natural disasters is a critical obligation and should be treated as a high priority within a fiscally responsible budget.
"It's sad that the White House would stoop to using this heartbreaking event as an opportunity to distort his record and play politics," he said, adding a Romney-Ryan White House would always ensure adequate disaster funding.
The US president met local officials in Louisiana, including Republican Governor Bobby Jindal and Louisiana Senator Mary Landrieu.