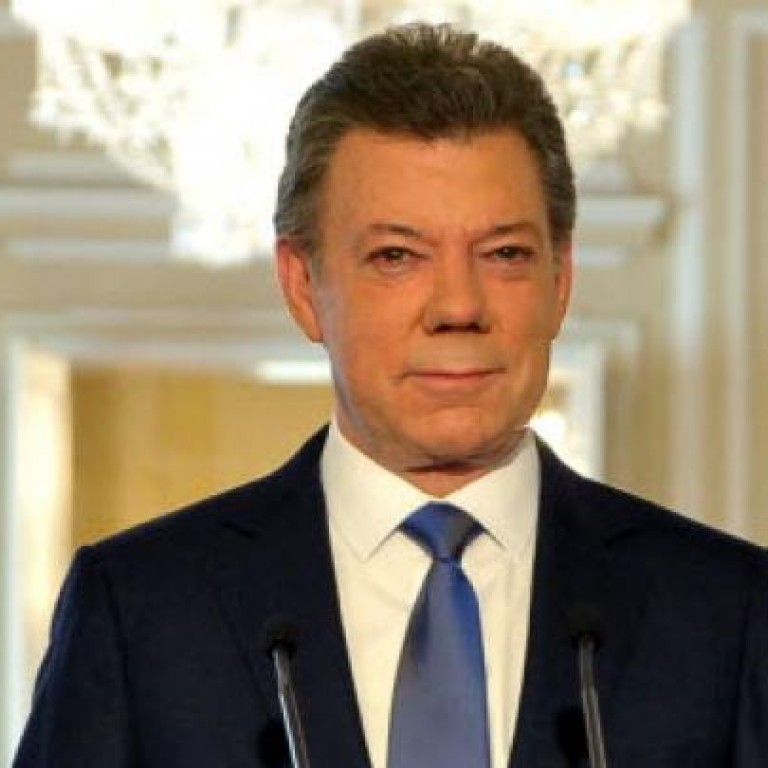 Colombia to hold peace talks with FARC
Colombia's peace talks with leftist FARC guerillas to try and end Latin America's longest-running insurgency will begin next month in Norway before moving to Cuba, President Juan Manuel Santos said on Tuesday.
Unlike past failed negotiations with the Revolutionary Armed Forces of Colombia rebels, however, there will be no ceasefire this time, Santos said in a national TV address.
"I ask the Colombian people for patience and strength," Santos said, announcing the talks would start in the first half of October. "There's no doubt it's time to turn the page."
While Colombians are hopeful Santos will succeed, he faces a monumental task to reach peace with the FARC, which has holed up in Colombia's jungle territory since 1964 and imposed tough demands in past peace negotiations.
In a video message broadcast to journalists in Cuba, the FARC's bearded leader Rodrigo Londono, known by his war alias Timochenko, urged a "civilised dialogue" to end the bloodshed.
Santos, 61, who is at the mid-point of a four-year term, had repeatedly said he would consider talks with the FARC only if he was certain the drug-funded group would negotiate in good faith.
"There are people like me that don't know a single day of peace," said Santos, son of one of Colombia's most influential families that founded the daily newspaper El Tiempo. "We have to take the dream of living in peace and make it a reality."
Established almost five decades ago as a communist-inspired peasant army, which later came to depend on drug-trafficking, the FARC joins talks this time from a severely weakened position.
Battered by a decade-long US-backed Colombian military offensive, the rebels have lost as much as half their fighting force, reducing their ability to launch major attacks on the government. The rebels number around 8,000 fighters now.
Still, they are by no means spent and in recent months have stepped up assaults on economic infrastructure like oil and mining installations in a bid, some analysts say, to come to the negotiating table from a position of relative strength.
Santos said Venezuela and Chile would support talks that would take place "without interruptions," although they would end if there were no advances.
Critics of the peace process are worried the rebels could use the time to build strength and prolong the war.
"The government has arrived at this dialogue from a position of weakness and terrorism from a position of resurgent strength," said former President Alvaro Uribe. "Security has deteriorated significantly in the last two years."
In the video shown in Cuba, Timochenko said Colombians deserved better than more years of conflict.
"How much death and destruction, how much pain and tears, how much useless bereavement and abuse, how many lives and smiles must be cut before we finally conclude that the end to this isn't conflict but civilised dialogue?" he said, dressed in an olive green uniform.
At the last peace talks in 1999-2002, former President Andres Pastrana ceded the FARC a safe haven the size of Switzerland to promote talks.
But the rebels took advantage of the breathing space to train fighters, build more than 25 airstrips to fly drug shipments and set up prison camps to hold its hostages.
Santos has been laying the groundwork for peace since he took office, creating a reform that would help return land stolen by FARC and paramilitary groups.
He also pushed through a constitutional amendment that set the legal basis for eventual peace with the rebels. The reform prohibits guerilla leaders accused of crimes against humanity from holding political office.
Around the region, Venezuelan President Hugo Chavez and US leader Barack Obama were among those wishing the talks success.
A White House statement praised Santos' "unwavering commitment" to peace and urged the FARC "to end its decades of terrorism and narcotics trafficking".
Among negotiating points, Santos said the two sides would discuss rural development and improved access to land, the integration of the rebels into civil society, the drugs industry and the rights of victims.
The choice of Norway and Cuba as venues, plus Venezuela and Chile as support countries, provide an ideological mix intended to make both sides feel comfortable with the process.
Norway is well known for its international mediation work, while Cuba and Venezuela are run by socialist governments with whom the FARC feel political affinity. Chile's conservative government is an ally of Bogota.
"It takes courage to seek peace," said Norway's Foreign Affairs Minister Jonas Gahr Store in a statement. "I would like to commend the parties for entering into a dialogue that could bring an end to the protracted armed conflict in Colombia."
While a peace deal with the FARC would enable Colombia to turn its sights on other problems, like rising criminal bands, and give greater security to the booming oil and mining sectors, it would bring complications of its own, analysts warn.
"The demobilisation and reintegration process of thousands of former combatants – many of whom are adolescents with little previous interaction with mainstream society – will be extremely difficult, and recidivism rates will probably be high," said Heather Berkman, of Eurasia political risk consultancy.