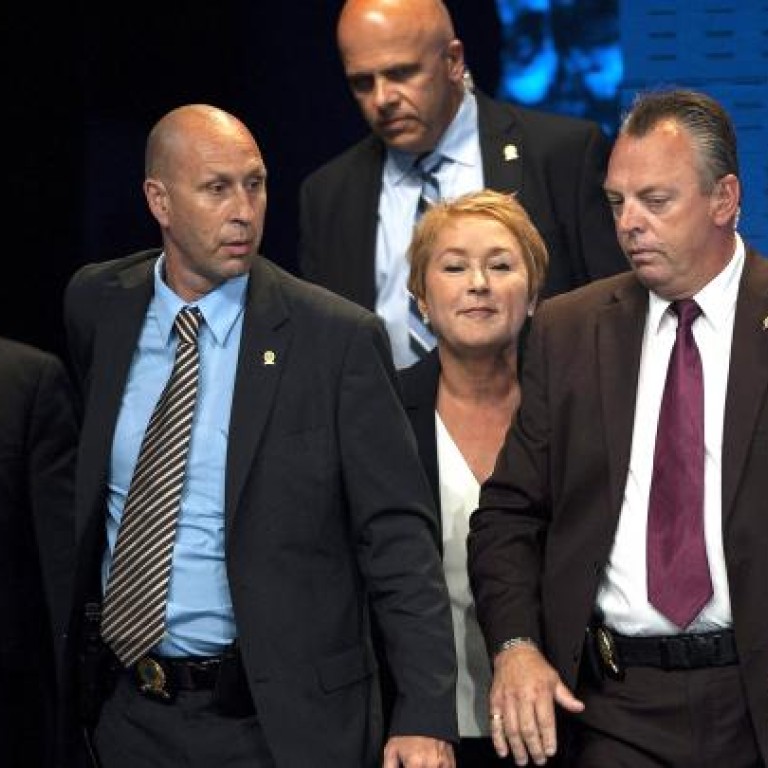 One killed in Quebec election speech shooting
A masked gunman shot dead one person inside a Montreal theatre where the leader of Quebec's separatist Parti Quebecois was celebrating a narrow election win in the Canadian province, police said on Wednesday.
The shooting eclipsed news that the Parti Quebecois had pipped the ruling Liberals in Tuesday's election and would have to be content with a minority government, effectively ruling out another referendum on breaking away from Canada.
Pauline Marois, newly elected as the first female premier of Quebec, had just told a rally of supporters the province would one day be independent when her bodyguards rushed her from the stage. She later returned to finish her speech.
The incident was shocking for Canada, where murder levels are around a third of those in the United States and political violence is extremely rare.
Montreal police said a man around 50 years old had entered the back of the Metropolis theatre just before midnight with a rifle and a handgun and shot two people. Police said a man in his 40s died on the spot, another was taken to hospital in a critical condition.
RDI television showed pictures of police subduing a large man with a rifle who was dressed in a black cape and a black face mask.
He appeared to shout in French the phrase "The English are waking up." Marois had promised to strengthen laws designed to ensure the dominance of the French language, which has worried some in the minority English-speaking community.
"We are appalled by this violence," said Carl Vallee, a spokesman for federal Prime Minister Stephen Harper.
newspaper cited security sources as saying Montreal police had cordoned off a truck they suspected contained weapons. Other Canadian media outlets said the dead man was a technician at the theatre and the badly wounded man was a driver of the PQ campaign bus.
The last political killing in Canada occurred in October 1970, when a radical Quebec nationalist group kidnapped provincial Labour Minister Pierre Laporte and a British diplomat. Laporte was later found strangled.
Almost lost in the aftermath of the Montreal shooting was the fact that the PQ won 54 of the 125 seats in the provincial legislature, ending nine years of rule by the Liberals.
Previous PQ governments held independence referendums in 1980 and 1995, but both failed.
Although Marois is promising another vote when the time is right, that could be years away. A recent poll showed only 28 per cent of Quebecers back separation from the rest of Canada.
Marois had promised to concentrate first on the economy, in particular tackling the province's large debt, imposing higher tax and royalty rates on mining firms and making foreign takeovers of Quebec companies more difficult.
The results showed the Liberals had won 50 seats, down 14. Premier Jean Charest, who lost his seat, emphasised that the PQ had only won a minority.
"The result of this election campaign speaks to the fact that the future of Quebec lies within Canada," he said.
The PQ won 31.9 per cent of the vote, compared to 31.2 per cent for the Liberals.
Nomura Global Economics analyst Charles St-Arnaud said that given the current lack of enthusiasm for independence, even a PQ majority victory would not cause much market unrest.
"We could see a slight depreciation of the Canadian dollar and a widening of spreads, but nothing meaningful. What will matter more for spreads will be the first budget," he said.
Under the Liberals, who want Quebec to remain part of Canada, relations with the federal government in Ottawa have been relatively stable since 2003.
That would change under a PQ government, since Marois wants a quick meeting with Harper to demand he give Quebec overall control of immigration policy and unemployment insurance.
Harper has often railed against Quebec separatists, and if he refuses to cooperate with Marois, that could boost support for the idea of independence.
Harper issued a statement congratulating Marois and added: "We do not believe that Quebecers wish to revisit the old constitutional battles of the past."
Minority governments in Canada are usually short-lived but Francois Legault, leader of the third-placed Coalition for the Future of Quebec party, indicated he would back Marois if she focused on fighting corruption and improving the financially strapped public healthcare system.
His party wants to freeze all talk of a referendum for a decade and focus on the economy.
The Liberals won three successive elections from 2003 to 2008, but became increasingly unpopular amid allegations of corruption in the construction industry that might be linked to the financing of political parties.