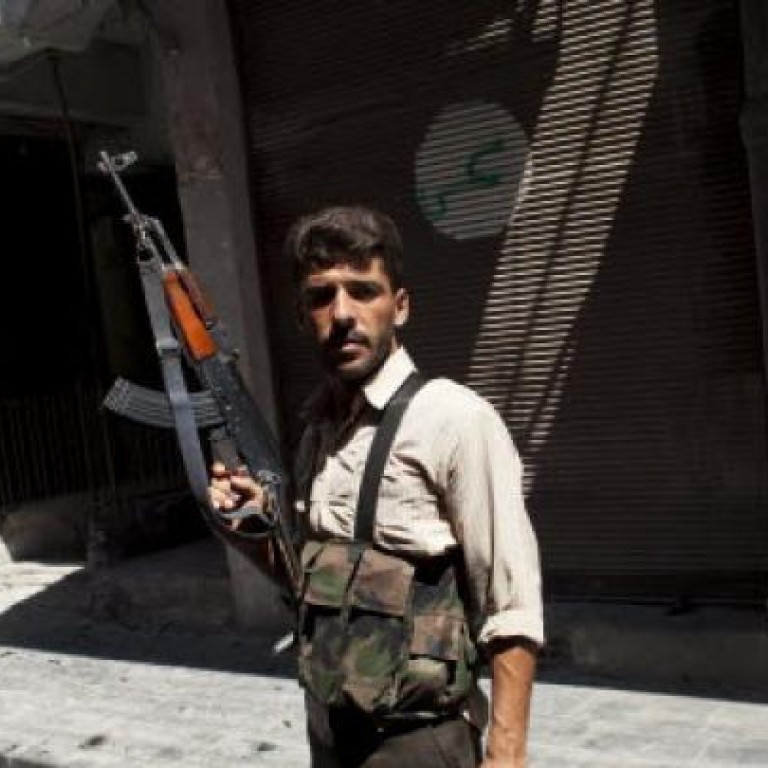 19 killed as Syrian troops batter Aleppo
Syrian forces shelled rebel-controlled zones of Aleppo before dawn on Wednesday, killing at least 19 people, as rebels also attacked a military airport in the east, the Syrian Observatory for Human Rights said.
Several blasts were heard in the Jubar district of the capital Damascus as it came under heavy bombardment, and explosions were also heard in the Yalda area just south of the city, the Britain-based watchdog said.
Ten civilians were killed in Aleppo's neighbourhood of Bustan al-Qasr while a total of nine bodies, including seven children, were found in the Marjeh and Hanano neighbourhoods, it said.
"Several people were also wounded, some of them seriously," it said.
Activists have reported relentless bombardments and food shortages in rebel-held neighbourhoods of the country's commercial capital, while a reporter who was in the northern city on Tuesday said life in the loyalist-controlled central area was relatively normal.
On Wednesday rebels also attacked Hamdan military airport in the town of Albu Kamal in the eastern province of Deir Ezzor near the Iraqi border, the Observatory said.
Having failed to persuade the international community to impose a no-fly zone over Syria, the rebel FSA has increasingly targeted airports used by regime attack helicopters and warplanes.
"Fighting has been going on for hours inside Hamdan airport between soldiers and rebels, who have taken over large sections of the site," Observatory director Rami Abdel Rahman told reporters, adding that at least six rebels died in the assault.
In Deir Ezzor city, two people were killed, one of them by sniper fire, the Observatory said.
The rebels on July 20 opened a new front in the Syrian conflict by attacking Aleppo.
The army has since dislodged them from several sectors, including one of their main strongholds Salaheddin, but pockets of resistance remain.
On Monday, a senior commander in charge of the government's military assault on the rebels in Aleppo predicted his forces would recapture the city within 10 days.
Several areas in Damascus province including Yalda village just south of the capital were bombarded by regime forces on Wednesday, said the Observatory, which also reported shelling of the southern district of Tadamun in Damascus itself.
Local activists reported plumes of smoke hanging over Tadamun after it came under artillery and mortar fire, and also helicopters overhead.
The Observatory said the bodies of nine men were also recovered in the eastern district of Jubar, saying such "incidents have seen an upsurge in recent weeks in Damascus, its province and other Syrian towns."
It said 37 bodies were found on Tuesday in Damascus province alone.
In the central city of Homs, the rebel bastion of Khaldiyeh came under fierce mortar fire, and three children were killed in bombardment by regime forces of the Ariha area in Homs province, it added.
New UN-Arab League envoy Lakhdar Brahimi said on Tuesday the death toll in Syria was "staggering" and the destruction "catastrophic".
The Algerian former foreign minister, who took up his post on Saturday, also warned that the situation across the country was "deteriorating steadily".
His comments came as International Committee of the Red Cross chief Peter Maurer launched a mission in Syria to seek greater protection for civilians and the UN refugee agency said 100,000 people had fled the country in August alone to seek refuge in neighbouring states.
The Observatory, which relies on information from a network of activists on the ground, says more than 26,000 people have been killed overall in Syria since the revolt against President Bashar al-Assad's rule broke out in March last year.
The United Nations says about 20,000 have died.
At least 33 people were killed nationwide on Wednesday, the watchdog said, 27 civilians and six rebels.
It said 119 people were killed on Tuesday – 79 civilians, 28 soldiers and 12 rebels, including a 15-year-old.