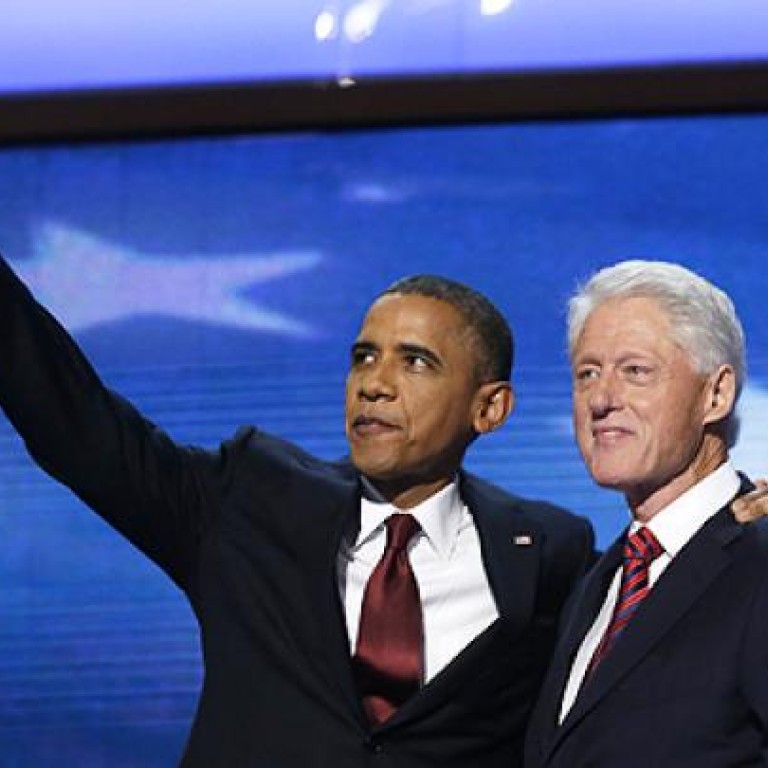 Bill Clinton urges Americans to stick with Obama at Democratic convention
Democrats turned on Wednesday to a hero of the past, Bill Clinton, to boost the shaky re-election prospects of Barack Obama, with the popular former president from the prosperous 1990s assuring worried Americans that he feels "with all my heart" that Obama is steering the country to an economic recovery.
Clinton's rousing address to a television audience of millions was the highlight of the second day of the three-day Democratic National Convention, which formally launches Obama into what is expected to be a tight race against Republican Mitt Romney. Obama's acceptance speech on Thursday night will mark the climax of the convention, though Democrats on Wednesday abandoned plans for Obama to deliver the address at a large football stadium, citing weather concerns.
[Full text of Bill Clinton's 2012 DNC speech]
Democrats have used their convention to push back against Republican claims at their gathering last week that Obama's devotion to big-government solutions has stifled the US economy and swollen the national deficit. Democrats have countered that Romney would go back to the economic policies that led to a recession, helping the wealthy while harming the poor and middle class.
Clinton, who formally nominated Obama as the Democratic candidate, was following through on the theme.
"If you want a you're-on-your-own, winner-take-all society, you should support the Republican ticket," Clinton said. "If you want a country of shared prosperity and shared responsibility – a we're-all-in-this-together society – you should vote for Barack Obama and [Vice-President] Joe Biden."
Clinton said the Republican campaign argument is "pretty simple: 'We left him a total mess, he hasn't cleaned it up yet, so fire him and put us back in'". He said Obama has "laid the foundation for a more modern, more well-balanced economy".
Clinton was a striking choice for one of the convention's prime speaking slots. He's had a checkered relationship with Obama, who ran against Clinton's wife, Hillary, in the 2008 primaries. The styles of the presidents are opposites: Clinton is outgoing, emotional and chatty, while Obama is cool, meticulous and reserved.
Whatever the past differences between presidents current and past, Obama and his top aides looked to Clinton as the man best able to vouch for him when it comes to the economy, his largest impediment to re-election.
And Clinton responded with a rousing endorsement of Obama, saying he feels "with all my heart" that Obama is steering the country to an economic recovery.
"I want to nominate a man who is cool on the outside but who burns for America on the inside," he said.
Few American politicians are more popular than Clinton. Even Republicans, who tried to force Clinton from office on charges he lied under oath about an affair, try to draw a contrast with Obama by praising Clinton's record balancing budgets and reforming welfare. Opinion polls show Clinton is especially well-regarded among white male voters, a group that favours Romney.
The personal tensions between Obama and Clinton have eased with Hillary Clinton serving as Obama's loyal secretary of state – and a potential presidential candidate in 2016. Hillary Clinton is on an 11-day tour of the Asia-Pacific region and was in East Timor as her husband spoke.
Clinton's speech followed a boisterous first day of the convention in which Democrats painted Romney, a wealthy businessman and former Massachusetts governor, as a privileged millionaire who doesn't understand the struggles of regular Americans.
First lady Michelle Obama was the star speaker
, talking about her husband's humble roots and speaking of his compassion.
The Democratic convention, like the Republican one in Tampa, was carefully crafted to avoid controversies. Still Democrats came under fire on Tuesday for adopting a platform, a nonbinding declaration of principles and positions, that had no mention of God and no reference to Jerusalem being the capital of Israel. Though the Jerusalem reference is offensive to many Arabs who see the city as part of a future Palestinian state, both parties have long included it in their platforms as a sign of their unwavering support for Israel.
On Wednesday, embarrassed Democrats amended the platform to include references to God and Jerusalem as the Israeli capital. Some delegates objected loudly, but Los Angeles Mayor Antonio Villaraigosa ruled them outvoted. Campaign officials say Obama personally intervened to make the change.
Despite the dispute, the often-fractious Democrats have generally maintained unity as they try to regenerate the excitement that surrounded Obama's candidacy four years ago, when his inspirational message of hope and change led to his election as America's first black president. But after almost four years of bitter partisan battles and unemployment hovering at 8.3 per cent, Obama's support has dropped. While polls show he is more widely liked than Romney on a personal level, Romney is seen as a better bet for improving the economy.
Romney framed the economic debate against Obama in an email to supporters Wednesday, writing that "no president in modern history has ever asked to be re-elected with this many Americans out of work."
In an interview on Fox News Channel, Romney said: "Anyone who wants him to try again will be making a big mistake."
Republicans also mocked the decision to move Thursday's speech from the 74,000-seat stadium to the 15,000-seat convention arena, suggesting a lack of enthusiasm, not the weather, was the reason. "Problems filling the seats?" Republican spokeswoman Kirsten Kukowski wrote in a statement.
The Obama campaign insisted they had no worries about filling the stadium. "Our concern was more about turning people away than about filling the stadium," Obama spokeswoman Jen Psaki said.
Whatever the reason, the shift ensured there would be no repeat of the extraordinary scene from 2008, when Obama accepted the Democratic nomination in a packed 84,000-seat stadium in Denver, complete with ivory columns. Republicans derisively called that "The Temple of Obama."
The move also reduced the likelihood of anti-Obama hecklers, since most of those in the crowd will be official convention participants.