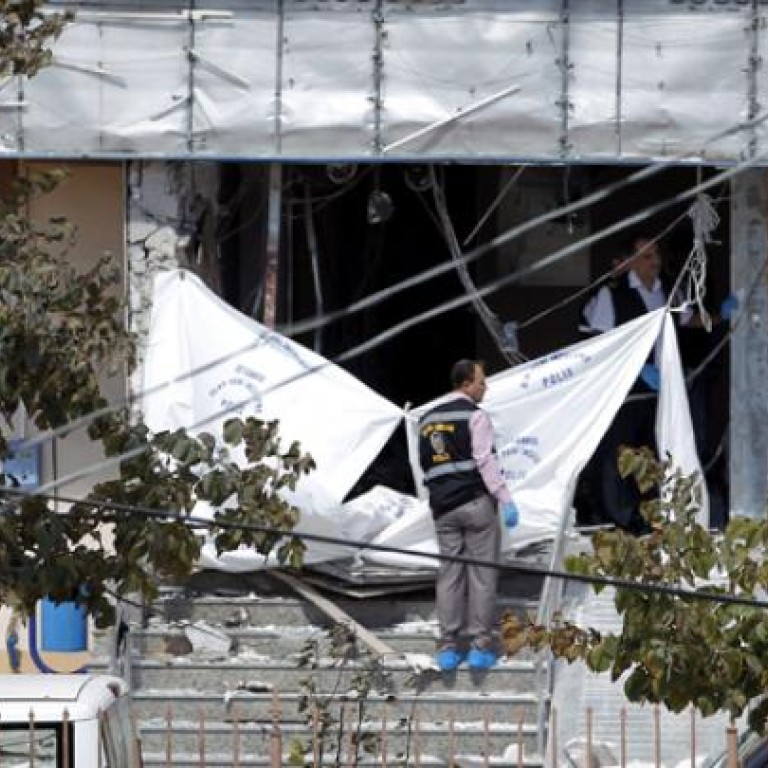 Suicide blast at Istanbul police station kills one
A suicide bomber threw a grenade into a police station in a suburb of Turkey's largest city Istanbul on Tuesday then blew himself up, killing one police officer and wounding at least seven other people.
There was no claim of responsibility and it was not immediately clear whether the attacker had acted alone. Separatist Kurdish militants, far-left groups and Islamic radicals have all carried out attacks in Istanbul in the past.
"First (the attacker) threw a grenade, then blew himself up at the entrance of the police station, where the X-ray machines are located," Istanbul police chief Huseyin Capkin told reporters at the scene.
"The policeman working at the entrance was killed. Another four personnel were wounded, as well as three others who are civilians," he said, adding that the attacker was aged around 25 but declining to comment further on his identity.
The front doors of the police station in Sultangazi, a working class and largely residential district on the northern edge of central Istanbul, were destroyed in the blast.
Medics ferried the wounded into a local hospital while armed police sealed off streets around the building.
The main domestic security threat in Turkey comes from the separatist Kurdistan Workers Party (PKK), deemed a terrorist group by the United States, European Union and Turkey. But the PKK has focused its campaign largely on targets in the mainly Kurdish southeast.
The Kurdistan Freedom Hawks (TAK), a group linked to the PKK, has claimed responsibility for previous bomb attacks in Istanbul and other cities around the country. Far-left groups and Islamic radicals have also carried out bomb attacks.
Turkey has seen some of the fiercest fighting this summer between PKK militants and the security forces since the separatist rebels took up arms in 1984 with the aim of carving out their own state in the southeast.
The clashes, which have involved air strikes on Kurdish militants in northern Iraq, have taken place hundreds of kilometres away from Istanbul in the mountainous border region with Iraq and Syria on the other side of the country.
More than 40,000 people have been killed since the start of that conflict almost three decades ago.
The most serious recent attacks in Istanbul occurred in November 2003, when car bombs shattered two synagogues, killing 30 people and wounding 146 in what the authorities said bore the hallmarks of al-Qaeda.
Part of the HSBC Bank headquarters was destroyed and the British consulate damaged in two more explosions a week later, which killed a further 32 people.