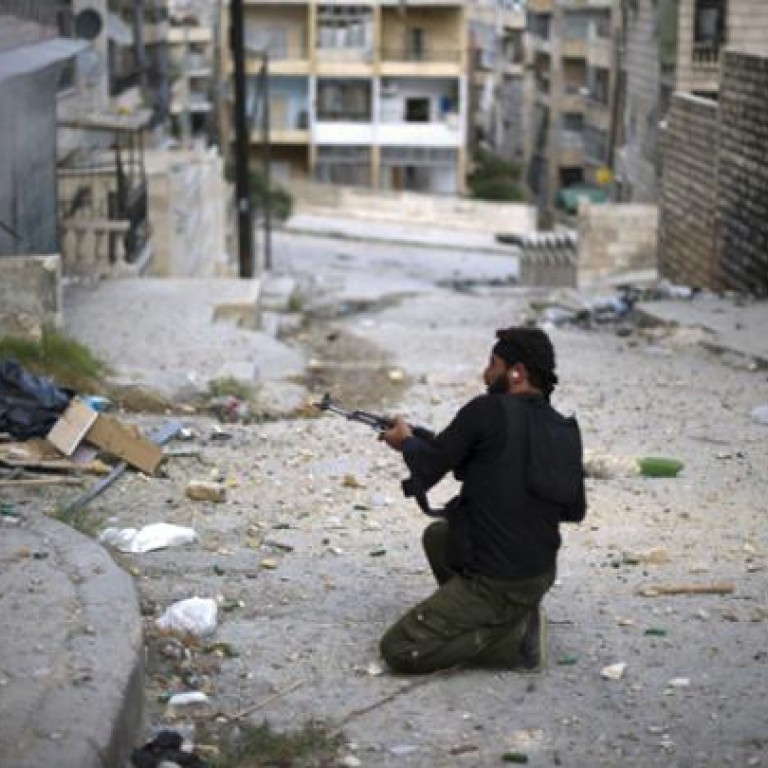 Syria rebels kill 18 soldiers, fighting rages near Aleppo airport
Syrian rebels killed at least 18 soldiers in a car bomb and ground attack on a military position in Idlib province on Wednesday, as fighting also raged in the country's commercial capital, Aleppo.
Four Armenian Syrians were killed and 13 wounded on the road home from the airport after a trip to Yerevan.
"There were 70 to 100 soldiers there when the attack occurred" in the town of Saraqeb, Rami Abdul Rahman, head of the Syrian Observatory for Human Rights, told reporters.
"Twenty soldiers escaped, and clashes are still going on," he added.
Abdel Rahman said the details of the incident were still sketchy, and that he could not say whether the car bombing was a suicide attack.
Outside Aleppo, fighting erupted at dawn in the Nayrab area, around five kilometres from the city's airport, which remained fully operational, the Observatory said.
Over the past several weeks, rebels have taken to attacking military airfields in an attempt to prevent them from being used for launching air strikes, while commercial facilities have been left alone.
However, this is not the first time there has been fighting around Aleppo airport, which serves the country's commercial capital.
A friend of the Syrian Armenians told reporters: "It's not obvious who opened fire, but the result is that five cars were attacked and four Armenians were killed and 13 or 14 others were wounded."
"Some say it was the FSA (Free Syrian Army), but it's not clear. We don't have proof and we should wait and see. I don't think the FSA would attack random cars in the street."
He said one of those killed "had left his family behind in Armenia, his wife and kids. He had gone back to take care of some things in Aleppo and then return."
Meanwhile, the army shelled a string of neighbourhoods in central Aleppo, including Suleiman al-Halabi, Sheikh Khodr and Qadi Askar, the Britain-based Observatory said.
Helicopter gunships also strafed the rebel district of Bustan al-Basha, a witness said, and the Observatory reported that rebels used rocket-propelled grenades to attack a security branch in the adjacent Midan neighbourhood.
Rebels had been trying for four days to enter Midan.
Elsewhere, a boy and a girl were killed and dozens of civilians wounded when the army shelled the rebel village of Latamneh in Hama province, said the Observatory, which gathers its information from a wide network of activists.
Also in Hama, the Observatory reported that eight bodies had been found in farmlands in Halfaya village, following an assault by government forces. It said the number of dead was expected to rise as many people were reported missing.
In eastern Syria, troops shelled several districts of Deir Ezzor city, and an unspecified number of people were killed in air strikes on the town of Albu Kamal, the Observatory said.
Rebels launched rocket attacks on a number of army checkpoints in the northwestern city of Idlib, the Observatory added, with locals reporting powerful explosions and columns of smoke rising from the targets.
On Tuesday, 138 people – 93 civilians, 19 rebels and 26 soldiers – were killed nationwide, according to the Observatory. Of these, 13 people died in Aleppo, mostly civilians in Sakhur, Sukari and Bustan al-Qasr.
More than 27,000 people have been killed since the revolt against President Bashar al-Assad broke out in March last year, according to Observatory figures.
International peace envoy Lakhdar Brahimi was in Cairo on Tuesday to meet exiled opposition leaders ahead of a planned visit to Damascus.
UN chief Ban Ki-moon said Brahimi will meet Assad in Damascus and insisted that "the violence must stop by both sides."
He told reporters in Bern that he understood the frustration felt by many in the face of the UN Security Council's apparent paralysis in dealing with the spiralling crisis.
But "while we may be frustrated and troubled by not being able to address the situation in Syria, which has reached intolerable circumstances", he said, "we should not be overly pessimistic about the strength and the commitment of the international community, especially the international organisations."
"Those countries who might have influence over two parties should exercise" that influence and work towards "a political resolution reflecting the genuine aspirations of the Syrian people," Ban added.
Coupled with the violence is the humanitarian crisis caused by the large number of people fleeing the country or displaced within its borders.
The UN refugee agency said the number of civilians who have fled nearly 18 months of violence has reached more than 250,000.
And it says more than 1.2 million civilians, more than half of them children, have been displaced inside Syria.