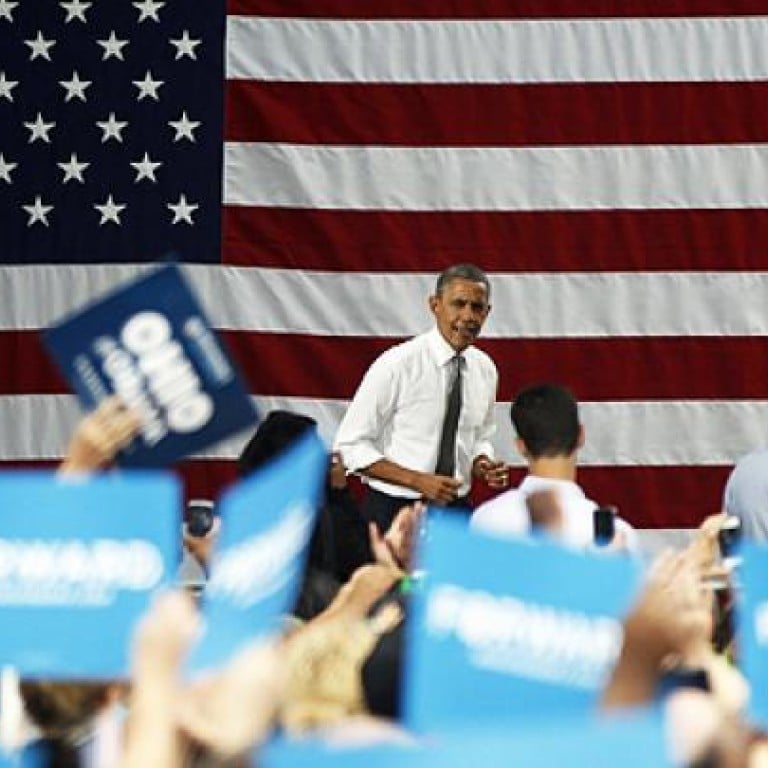 Seeking political gain, Obama fires new trade shot at China
US President Barack Obama fired a new trade shot at China on Monday, wooing blue collar workers and outmanoeuvreing his Republican foe Mitt Romney as Beijing took a pounding in the White House race.
Obama professed to "walk the walk" in making China play by global trade rules while implying Romney preferred to "talk the talk", using the power of incumbency to file a new WTO enforcement case against Beijing's auto subsidies.
Romney, who has vowed a much tougher stand against China if he wins November's election, complained Obama, who was visiting crucial swing state Ohio, had no credibility on trade and his move was "too little too late".
But the president renewed his charge that as a multimillionaire businessman at his firm Bain Capital, Romney was an early pioneer in advising American corporations to outsource blue collar jobs to low wage economies overseas.
"I understand my opponent has been running around Ohio claiming he's going to roll up his sleeves and take the fight to China," Obama said.
"You can't stand up to China when all you've done is send them our jobs," he said, in a battleground state that most analysts believe Romney must win if he has a chance to capture the White House on November 6.
"We don't need folks who during election time suddenly are worrying about trade practices, but before the election are taking advantage of unfair trading practices."
Romney, at a strategic disadvantage to Obama who can use the power of his office for political gain, condemned the president's new case at the World Trade Organisation as an empty gesture.
"President Obama has spent 43 months failing to confront China's unfair trade practices," the Republican said in a statement.
"Campaign-season trade cases may sound good on the stump, but it is too little, too late for American businesses and middle class families," he said, adding that Obama's credibility on the issue has long since vanished.
"I will not wait until the last months of my presidency to stand up to China, or do so only when votes are at stake."
The announcement will be seen as highly political as Ohio is home to thousands of workers in the auto industry and related auto parts sector.
Obama repeatedly touts his decision to offer the sickly US auto industry a government bailout in 2009 – which Romney opposed.
The US complaint, the latest in a string of enforcement actions against China, targets US$1 billion in Chinese auto and auto parts subsidies between 2009 and last year that Washington said were hampering the US$350 billion US auto industry.
The move represents something of a political trump card, following days of sparring between the campaigns over the threat rising China poses to the United States as an economic power.
No Republican has lost Ohio and gone on to win the White House, and Romney appears to be trailing significantly in the state less than two months before the election.
An NBC/Marist College poll last week found Romney behind Obama by seven points in Ohio, following a blizzard of Democratic advertising touting the bailout and critical of Romney's lucrative past life as a venture capitalist.
The US case will argue that China is providing impermissible export subsidies to auto and auto-parts firms and is violating World Trade Organisation prohibitions on export-contingent subsidies, an official said.
Washington argues that Beijing is also violating its own agreement to wipe out export subsidies when it joined the WTO in 2001.
China made a own move to censure US trade practices on Monday, calling on the WTO to mediate in a US$7.23 billion dispute over anti-dumping measures taken by the United States against 24 Chinese products.
Obama has repeatedly demanded that China play by fair "rules of the road" in global trade, sometimes in the presence of senior Beijing leaders.
But Romney has been hammering Obama's record on China, and last week renewed his promise to brand it a currency manipulator on his first day in office in remarks that drew a stern rebuke from Beijing.
China-bashing is a regular feature of US election campaigns, but once in office, presidents have a habit of following decades-long US foreign policy orthodoxy of seeking cooperation with Beijing.