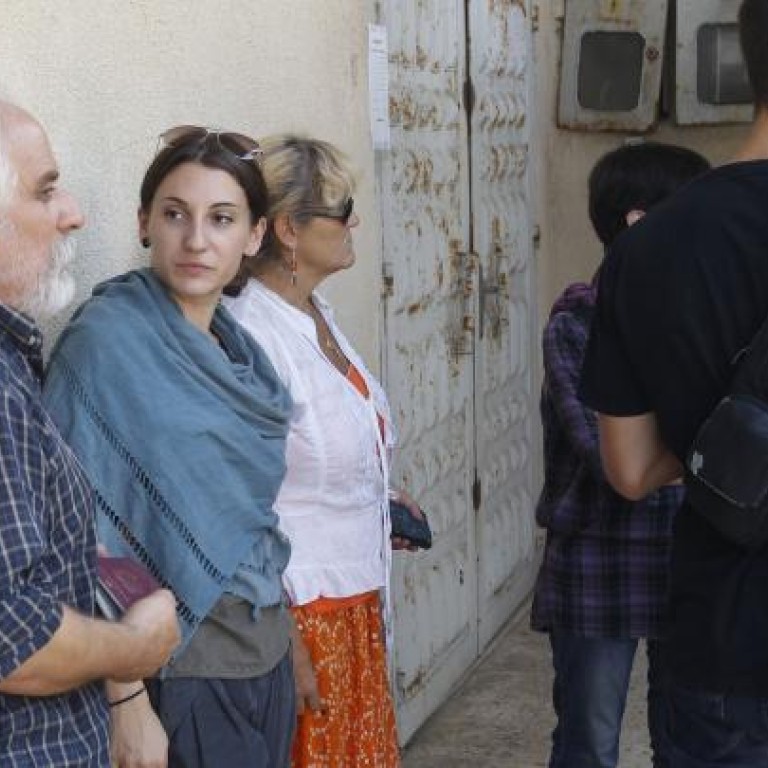 Gaza court gives life terms to 2 killers of Italian activist
Four Palestinian hardliners were jailed, two for life, on Monday after a Gaza military court found them guilty of the kidnap and murder of an Italian peace activist.
Mahmud al-Salfiti, 24, and Tamer al-Husasna, 26, were found guilty of kidnapping and murdering Vittorio Arrigoni last year and each sentenced by the court in the Hamas-ruled enclave to life imprisonment.
Another member of the Salafist group, Khadr Faruk Jerim, 26, received a 10-year prison term for kidnapping the Italian while a fourth, Amer Abu Ghola, 26, was jailed for a year for providing the house in which Arrigoni was found hanged.
The tribunal also ordered the dismissal of Salfiti, Husasna and Jerim from the police force they served on. Abu Ghola is a fisherman.
Arrigoni, 36, a long-time member of the pro-Palestinian International Solidarity Movement, was kidnapped on April 14, last year in Gaza by Salafist jihadists.
Shortly after his disappearance, a previously-unknown Salafist group released a YouTube video showing a bruised and bloodied Arrigoni and threatened to kill him within 30 hours if Hamas failed to release a group of jihadist prisoners.
Hamas security forces found Arrigoni's body shortly afterwards, ahead of the deadline, in an abandoned house in northern Gaza.
Among those held by Hamas the group demanded be freed was Sheikh Hisham al-Saedini, a leader of the Salafist group Tawhid wal Jihad. He was eventually released last month following Jordanian intervention.
Hamas quickly arrested several suspects in the case, and a week later raided a house where three more suspects were reportedly hiding.
Two were killed during the raid, and a third was arrested.
Following the sentencing, the Palestinian Centre for Human Rights, whose lawyers represented Arrigoni during the trial, welcomed the court's decision, in accordance with the family's wishes, not to impose the death penalty.
"PCHR, like the Arrigoni family, is satisfied by the sentences issued by the court, which can be described, under the circumstances surrounding the case, as fair and legitimate, and considers that the murderers of Arrigoni have been effectively tried," it said in a statement.
Arrigoni's death shocked local and international aid workers and activists in Gaza, where he had lived and worked for much of the three years prior to his death.
His murder was the first of a foreigner in Gaza since Hamas took over in 2007.
He was the third ISM member to be killed there – US national Rachel Corrie was crushed by an Israeli bulldozer in March 2003, and a month later Briton Tom Hurndall was shot and critically injured by the army. He died in January 2004.
Militant groups of Salafists, Sunni Muslims who promote a strict lifestyle based on the traditions of early "pious ancestors", have several hundred members, according to their leaders.
They defy the authority of the Muslim Brotherhood-affiliated Hamas, accusing it of insufficient opposition to Israel and not imposing sharia, the Islamic law code.
They complained about a wave of arrests of their members by Hamas security forces in the wake of an attack on August 5 against Egyptian guards in the adjacent Sinai.
Following the raid, in which attackers killed 16 Egyptian border guards, Egypt asked Hamas for information about members of a Salafist group in Gaza suspected of involvement, according to an Egyptian security official.
On Monday Hamas said no Gazans were implicated.
"Investigations conducted by the (Hamas) government and continuous contacts with Egyptian officials show that there is no relationship between the Gaza Strip and the bloody attack" in northern Sinai, Hamas interior ministry spokesman Ihab al-Ghussein said in a statement published by Hamas-run Palestine newspaper.