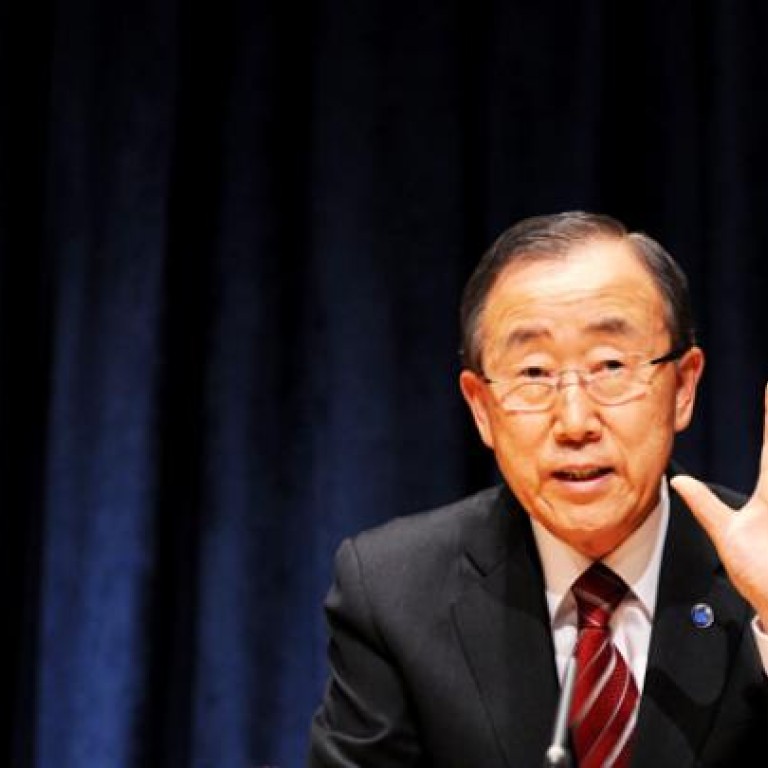 Syrian army, rebels set to fight to bitter end, says UN chief
UN chief Ban Ki-moon warned that the Syrian government and rebels seem intent on fighting to the bitter end, as opposition fighters seized a crossing on the Turkish border.
Ban said the conflict will top the agenda at next week's UN General Assembly summit of world leaders, even though there is no formal meeting on Syria, and that the international body may offer a new strategy for peace.
"Unfortunately both sides, government and opposition forces, seem to be determined to see the end by military means," said Ban, speaking 18 months into the uprising against President Bashar al-Assad's rule.
"I think military means will not bring an answer," he told reporters. He went on to call for "political dialogue reflecting the genuine aspirations and will of the Syrian people."
The new UN envoy on children in conflict, Leila Zerrougui, said the world body was investigating Syrian rebel groups as well as government forces for attacks that have killed children.
"We have received information concerning indiscriminate bomb attacks which have killed children in Damascus and other areas, and continue to document incidents committed by armed actors, such as the Syrian Free Army, who may have children associated with their forces," Zerrougui told the UN Security Council.
Assad meanwhile told the visiting foreign minister of key ally Iran that the uprising targeted both their governments and their allies across the region.
He said the war engulfing Syria was targeting the "axis of resistance", a term Syria, Iran and Lebanon's Shiite movement Hezbollah use to refer to their common opposition to Israel.
On the ground, Syrian rebels seized a crossing on the Turkish border on Wednesday, the fourth they have captured in recent months.
Turkish media footage showed rebel fighters pulling down the regime flag at a crossing on the main highway between the city of Raqa in northeastern Syria and the Turkish city of Sanliurfa.
Turkey's Anatolia news agency reported that the rebels tore down Assad's pictures to celebrate the capture, but an opposition activist in Raqa said that fighting was still raging as government troops tried to recapture the crossing.
Meanwhile, rebels withdrew from three southern districts of Damascus after weeks of heavy combat and shelling, while the army bombarded parts of the capital, the Syrian Observatory for Human Rights said.
The bodies of 11 people were found in the Jobar district of Damascus, some of them belonging to people who had been detained by security forces, the Britain-based Observatory said, adding that nationwide at least 68 people were killed in violence on Wednesday, 50 of them civilians.
A network of activists, the Syrian Revolution General Commission (SRGC), described the Al-Hajar al-Aswad, Qadam and Assali districts, as well as the Yarmuk Palestinian refugee camp, as "disaster areas".
Ban said that UN-Arab League envoy Lakhdar Brahimi, who just wrapped up his first visit to Syria and its neighbours since taking up his post earlier this month, may put a plan to Assad's government after next week's UN talks.
Iranian Foreign Minister Ali Akbar Salehi called for a Syrian solution to the conflict as he visited Damascus for talks with Assad.
Salehi said the country was "facing a problem, and we hope that this problem can be solved as soon as possible."
But he added that "Syria has very strong, solid ties with Iran, especially at the political level."
The former head of Syria's chemical arsenal, Major General Adnan Sillu, was quoted by British newspaper as saying he believed the regime would eventually use those weapons against civilians.
quoted Sillu as saying that before his defection three months ago he had been involved in "serious discussion about the use of chemical weapons, including how we would use them and in what areas."