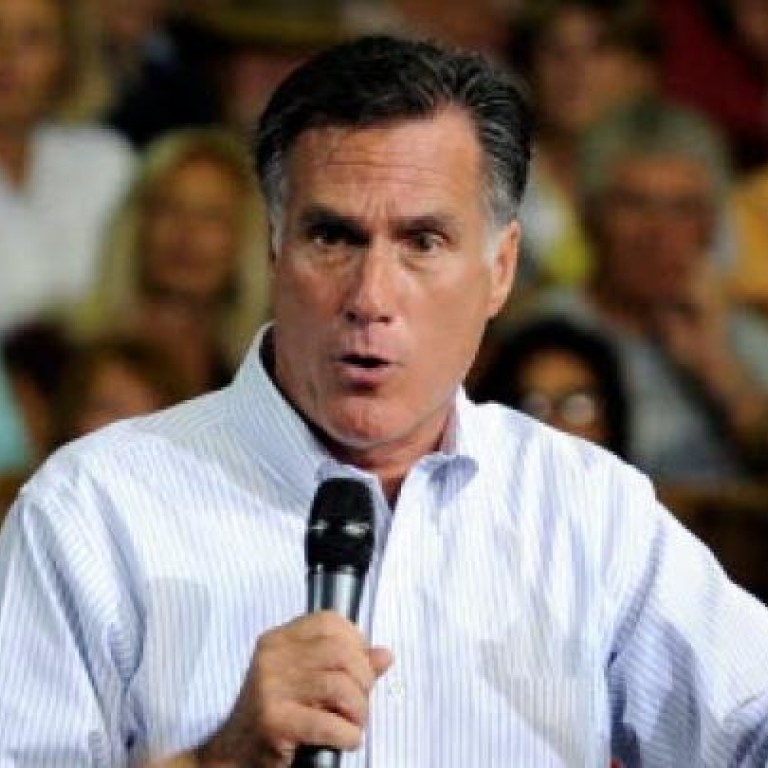 Romney releases new tax returns
Under-pressure White House hopeful Mitt Romney released his last year tax return and a 20-year summary of his payments on Friday, but failed to calm a clamour for more transparency over his finances.
Romney's refusal to reveal any of his tax returns from before 2010 has led to allegations that the multi-millionaire private equity baron has used sharp accounting practices to protect his fortune from the US tax authorities.
The Republican challenger insists his arrangements are entirely above board, but that he does not want his opponents to pick over the fine detail of a decade of family finances, despite fierce political pressure.
Friday's fresh data showed that Romney, who faces President Barack Obama in November's election, paid US$1.9 million in taxes on an income of US$13.6 million last year, an effective rate of 14.1 per cent.
The campaign also released a summary showing that Romney and his wife Ann paid taxes for each year between 1990 and 2009 at an average effective rate of 20.2 per cent, and that the lowest rate for any given year was 13.6 per cent.
Democrats have branded Romney a wealthy plutocrat who is out of touch with everyday Americans, is too secretive about his own income and taxes, and pays a rate lower than the average middle class US tax rate of 15 per cent.
Romney released his 2010 returns – which showed he paid a rate of 13.9 per cent on US$21.6 million in income – and promised he would do the same with last year before his October filing deadline.
But he has stressed he will not likely release full tax data for years prior to 2010. Most candidates in recent decades released several years of returns.
Romney's rates are far below the top marginal rate of 35 per cent because the bulk of his income is in capital gains, which are taxed at a lower rate.
With Friday's release, the campaign was clearly seeking to draw a line under the issue and refocus the race for the White House on the state of the US economy.
"Mitt Romney has now released more than 1,200 pages of tax returns, giving voters an incredibly detailed look at his finances," said Senator John McCain, who lost to Obama in the 2008 election.
"It's time to get back to discussing the issues that voters care about."
The Obama campaign wasted little time getting in its jab, saying Romney's tax rate was so low "because of a set of complex loopholes and tax shelters" for the wealthiest Americans.
Romney has pledged to slash income taxes by 20 per cent across the board if he is elected, but Obama deputy campaign manager Stephanie Cutter said Romney "wants to give multi-millionaires an additional US$250,000 tax cut at the expense of middle class taxpayers who will see their taxes go up."
She said the release of the last year returns masks Romney's true wealth and income from Bain Capital, the private equity firm he headed for 15 years, but "it does confirm that he continues to profit from millions of dollars invested overseas."
Romney bristled over a Vanity Fair report in July that said part of his vast fortune, estimated at US$250 million, is hidden in opaque offshore investments including in the Cayman Islands.
The campaign said the Cayman investments are in a blind trust and are "taxed in the very same way they would be if the shares were held in the US rather than through a Cayman fund."
"There are no offshore accounts," it added. "These are investments in funds that are organised outside the US."
Brad Malt, trustee of the Romney blind trust, said the Romneys donated $4 million to charity last year, nearly 30 per cent of their income.
"The Romneys thus limited their deduction of charitable contributions to conform to the governor's statement in August, based upon the January estimate of income, that he paid at least 13 per cent in income taxes in each of the last 10 years," Malt added.
Senate Majority Leader Harry Reid, who in July said he had inside information from someone linked to Bain that Romney paid no taxes for 10 years, blasted that move as manipulation.
It "reveals that Mitt Romney manipulated one of the only two years of tax returns he's seen fit to show the American people -- and then only to 'conform' with his public statements," Reid said.
With the release window rapidly narrowing, Team Romney likely saw this week as the best option to drop their tax news, given that the series of three Obama-Romney debates begin on October 3.
This week has already been seen as a disaster for Romney after secret video emerged showing him demeaning "47 per cent" of Americans as government-dependent freeloaders.
Obama on Friday took a political sledgehammer to Romney over the remarks.
"I don't believe we can get very far with leaders who write off half the nation as a bunch of victims - who think that they're not interested in taking responsibility for their own lives," he said in the swing state of Virginia.