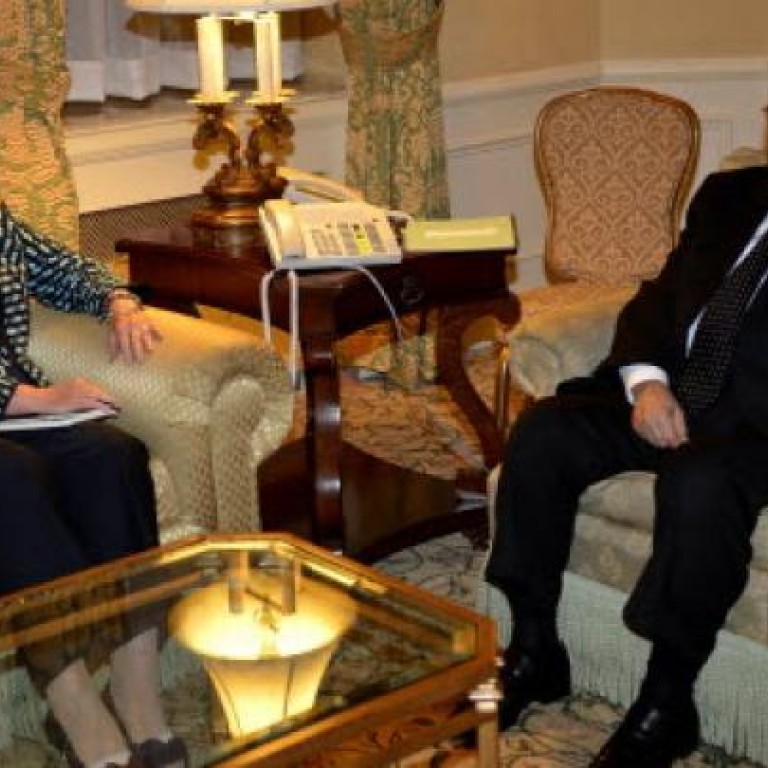 Clinton reassures Mursi on US support
Secretary of State Hillary Clinton reassured Egypt's new Islamist president on Monday that the United States would forge ahead with plans to expand economic assistance despite anti-American protests that cast new shadows over US engagement with the region.
Clinton met Egyptian President Mohamed Mursi in New York, where both are attending this week's UN General Assembly meeting, and reinforced the Obama administration's continued commitment to provide both military and economic aid for Cairo, a senior State Department official said.
"What he heard from the secretary is that she is committed to following through on what she has said we will do," the official said following the 45-minute meeting.
US officials said earlier this month they were close to a deal with Egypt's new government for US$1 billion in debt relief to help Cairo shore up its ailing economy in the aftermath of its pro-democracy uprising, which ousted autocratic President Hosni Mubarak.
The aid package had languished during Egypt's 18 months of political turmoil and progress appeared to reflect a cautious easing of US suspicions about Mursi, who was elected in June.
Egypt was among the countries swept by violent anti-American protests over an anti-Islam video made in California, and some US lawmakers have raised questions about the future of US assistance to the region, particularly given sharp budget constraints at home.
The senior official said Clinton, who has personally lobbied lawmakers to keep US aid to Egypt and other Arab countries on track, believed these concerns had been laid to rest.
"Of course we understand that there may be [of Congress] who have questioned [the aid], but there is strong bipartisan support for Egypt being a democratic success because it's in our national security interest that that occur," the official said.
The United States was a close ally of Egypt under Mubarak and gives US$1.3 billion in military aid a year to Egypt plus other assistance
Mursi will use his New York trip to appear at former President Bill Clinton's annual philanthropic summit but has no plans to meet US President Barack Obama, who is forgoing individual meetings with world leaders during his own brief stop at the United Nations on Tuesday.
In his talks with Clinton, Mursi outlined his government's plans to enact economic reforms as part of a broader push to win a $4.8 billion loan package from the International Monetary Fund, which the United States supports, the official said.
"The Egyptians have a lot of tough road in front of them to take the budget reforms that will be necessary and to do it in a way that helps them to move their democratic process forward," the official said.
Clinton and Mursi also discussed security issues including a rising militant threat in the Sinai Peninsula, a region critical to relations with neighbouring Israel.
The US official said Clinton and Mursi also touched on the issue of Iran but indicated the United States would be slow to support Mursi's proposal that Iran, Egypt, Turkey and Saudi Arabia form a new group to try to find a solution to the violence in Syria.
"The Egyptians themselves would say that it's a new initiative and no one is sure whether it is going to head toward an end point or not," the official said. "We always have concerns when Iran is engaged."
Obama's rival in the US presidential race, Republican Mitt Romney, called for a tougher line with Egypt after protesters scaled the Cairo compound wall and tore down the US flag in one of series of protests that also saw the US consulate attacked in the Libyan city of Benghazi, killing the US ambassador and three other Americans.
Obama created doubts this month when he told a Spanish-language television network that the United States considered the new Islamist government neither an ally nor an enemy.
The US official said Clinton's meeting with the Egyptian leader was relaxed and warm and waved away suggestions that the president's "ally" comment reflected broader uncertainty in the relationship.
"We've moved past that," the official said.