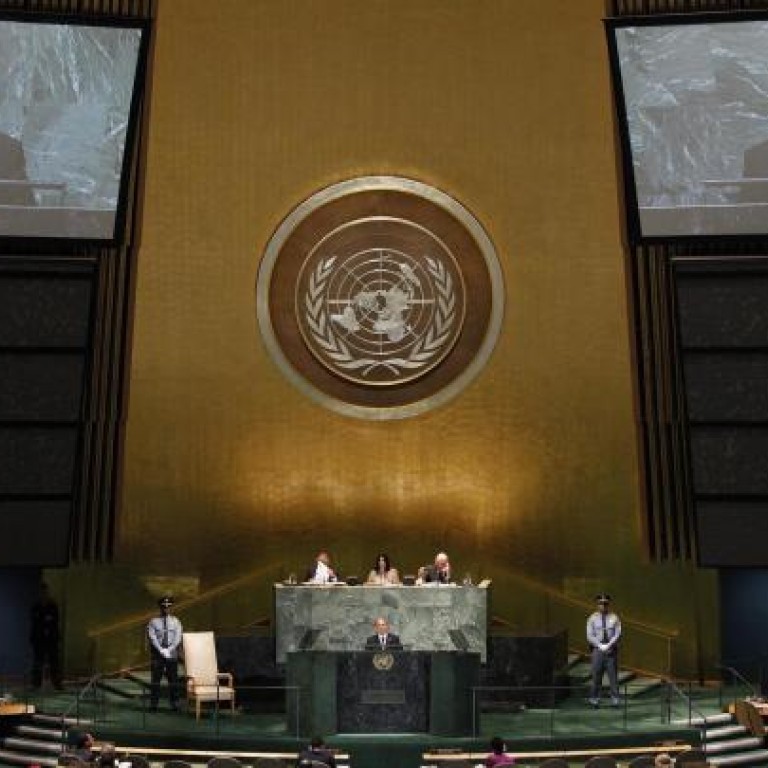 Myanmar's Thein applauds Suu Kyi's dream
In a landmark speech, Myanmar's president - an ex-junta general - pays tribute to opposition leader at the UN for lifelong struggle for democracy
Myanmar's President Thein Sein yesterday made an unprecedented tribute at the United Nations to opposition icon Aung San Suu Kyi's "efforts for democracy".
In a landmark speech to the UN General Assembly, Thein Sein also said he wants to "completely end" a long running war with ethnic rebels in Kachin state.
Thein Sein, a former junta general now driving through speedy reforms in his impoverished state, spoke as Suu Kyi ended a triumphant tour of the United States, which some feared could overshadow the president.
But he told world leaders: "This week she is also in New York. As a Myanmar citizen, I would like to congratulate her for the honours she has received in this country in recognition of her efforts for democracy."
Less than two years ago, his comments would have been unthinkable.
Nobel laureate Suu Kyi spent 15 years under house arrest during the junta's rule. She was freed in November 2010 and is now a member of parliament pressing for domestic change, as well as the lifting of international sanctions. The US eased its trade sanctions on Wednesday.
After recent elections, the release of political prisoners and the ending of media censorship, the president stressed the "mutual tolerance" and "magnanimity" that now marked politics in the nation also known as Burma.
During Suu Kyi's US tour she has met President Barack Obama and received the Congressional Gold Medal, the highest honour of the US Congress.
The opposition leader met Thein Sein at his New York hotel on Tuesday and has expressed cautious optimism about the changes underway.
"While we are not yet in any way near our goal of a truly democratic society... there has been change, not yet all the changes necessary to make sure we are going to be a genuinely democratic society, but there have been changes," she said in one speech this week.
Thein Sein also stressed the efforts being made by the nominally civilian government to end ethnic strife in Myanmar and indicated he was hopeful that an end to the war with Kachin rebels in the north of the country could be reached.
The rebels have been fighting government forces since the country's independence in 1948.
The president said an agreement has been reached with 10 ethnic armed groups in the country and that peace negotiations will "continue to reach a final peace agreement that would completely end the armed hostilities".
The government and the Kachin Independence Army have held several rounds of talks and Thein Sein said the two sides are "working to further strengthen confidence building measure".
"We consider any loss of life and property from either side in the armed conflict as a loss for the country," he said, in comments which again highlighted the startling changes in Myanmar.
The president said that deadly unrest between Buddhist and Muslim communities in Rakhine state was one of the "unfortunate and unexpected issues" that his government had to confront.
Dozens of people have been killed in the unrest and an estimated 70,000 people, mainly Rohingya Muslims, have been left displaced in government-run camps and shelters.
The government has been criticised by Muslim nations for its handling of the crisis, but Thein Sein said an independent commission would report on the strife. He said: "People living in our country, regardless of race, religion and gender, have the right to live in peace and security."
Answering the international critics, he added: "Myanmar has the right to secure our borders and also to safeguard and protect our sovereignty. We will do our utmost to solve this issue in line with international norms."
This article appeared in the South China Morning Post print edition as: Thein applauds Suu kyi's dream