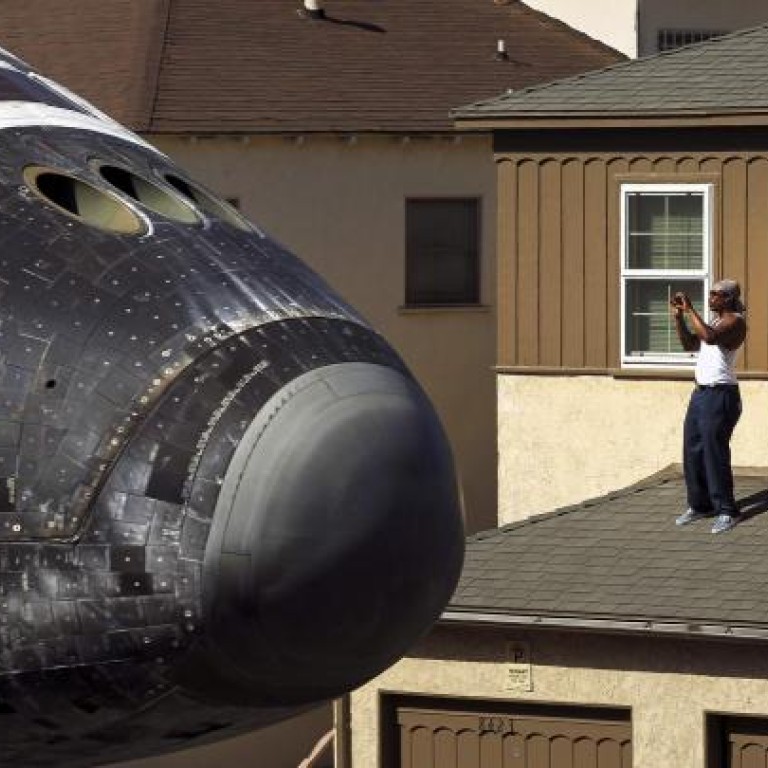 Space shuttle Endeavour arrives at new home
In thousands of orbits of the Earth, the space shuttle Endeavour travelled 198 million kilometres at speeds of up to eight kilometres per second.
But it took its own sweet time travelling its final few kilometres on Sunday, as it wheeled triumphantly onto the grounds of its new home - the California Science Centre in Los Angeles.
"Mission 26 - mission accomplished," Los Angeles Mayor Antonio Villaraigosa announced before thousands of spectators.
However, its final journey through the suburbs of Los Angeles was slowed by unexpected maintenance issues and last-minute manoeuvres to avoid obstacles like trees and utility poles. The 85-tonne orbiter survived the trip with nary a scratch.
Endeavour arrived at Exposition Park, where the science centre is located, more than 16 hours late, after a three-day, 19-kilometre journey from Los Angeles International Airport.
In preparation for the move, the city of Los Angeles felled 268 trees to make room for Endeavour's wings, while public works crews temporarily removed 223 traffic lights and raised more than 100 power and utility lines.
Even so, the journey was halted repeatedly so crews could do last-minute trims on branches. At one point, workers lowered the shuttle so it could sneak under a leafy tree. The trip was also lengthened when crews spotted a hydraulic leak from one of the wheeled trailers under the spacecraft and hit the brakes.
Despite the delays, the crowds watching the snail's-pace procession remained buoyant. Many had waited through the night or rose long before dawn to view a piece of history.
Guy Quesada, 42, began his stake-out at the California Science Centre at 4pm on Saturday. But after hours of waiting, he walked west on Martin Luther King Jr Boulevard for about an hour and squeezed through the crowd. "The actual wing was right over us," Quesada said.
The California Science Centre said the total bill for transporting Endeavour to its new home could top US$10 million, covered by donations. Officials have stressed that none of the costs will be paid with taxpayer dollars.
This article appeared in the South China Morning Post print edition as: Endeavour completes slow trip to new home