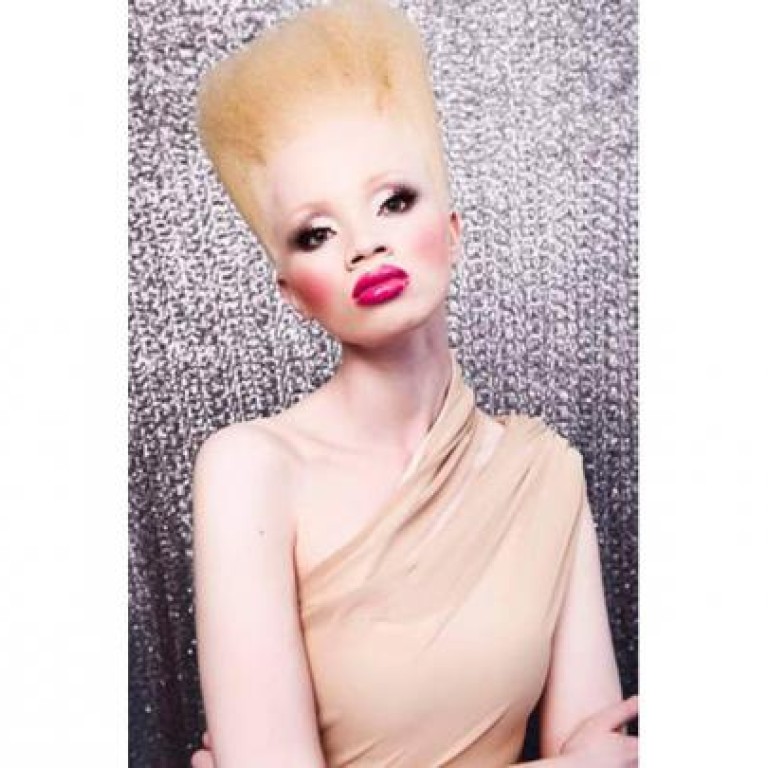 Model Thando Hopa helping to defeat prejudice against albinos
Albino South African model helping to defeat prejudice against condition across a continent
As a child with albinism, Thando Hopa was called names by her peers and regarded with superstition by the elderly.
"Some saw me as good luck," she says, "and some saw me as bad luck." Recently all eyes were on Hopa again. This time she was striding confidently down the catwalk and earning accolades as South Africa's new face of fashion and "fashion's new colour".
Hopa, 23, is among a growing number of models with albinism challenging prejudice on a continent where the genetic condition, a lack of pigmentation, which affects the eyes, hair and skin, can lead to discrimination and even death.
Hopa grew up south of Johannesburg, with constant reminders to wear hats and sunscreen to protect her sensitive skin. A full-time legal prosecutor, she had no thoughts of modelling until a chance meeting with the fashion designer Gert-Johan Coetzee at a shopping mall.
"He said, 'Hi miss, are you interested in modelling?' I was open to it. SA fashion week was an overwhelming experience, a different world altogether with so much creativity," Hopa said.
One in 4,000 people in South Africa has albinism. They suffer prejudice from employers and lack of recognition by government, activists say.
There are hopes that positive portrayals of albinism can make a difference. "I received some very positive feedback from young girls with albinism," Hopa said. "If you don't see positive examples, you wallow in self-pity. I just hope it turns into another shade of normal."
Coetzee said he was bowled over when he first ran into Hopa. "It was amazing, like somebody was shining a light at the side of my head," he said.
"She was beautiful, with the perfect body and the perfect bone structure. I've always wanted to do a show with someone with albinism and never found the right girl. When I saw her, everything I was working on came together. There are endless possibilities."
Hopa follows Refilwe Modiselle, a model with albinism from Soweto, who has been modelling since she was 13 and is now the face of the fashion chain Legit.
She told the BBC recently: "I'm a black girl who lives in the skin of a white person and that alone should embody what a human being as a whole should represent."
But in east Africa, particularly, people with albinism are believed by some to have mystical power, putting them at risk of abduction and mutilation. Body parts are used in witchcraft, or buried under businesses, supposedly to bring wealth.
An advocacy group called Under the Same Sun estimated that 71 people with albinism were killed in Tanzania between 2006 and this year, while 31 survived machete attacks. In June this year the body of a man was discovered with several of his body parts missing.
This article appeared in the South China Morning Post print edition as: Thando shows beauty is more than skin deep