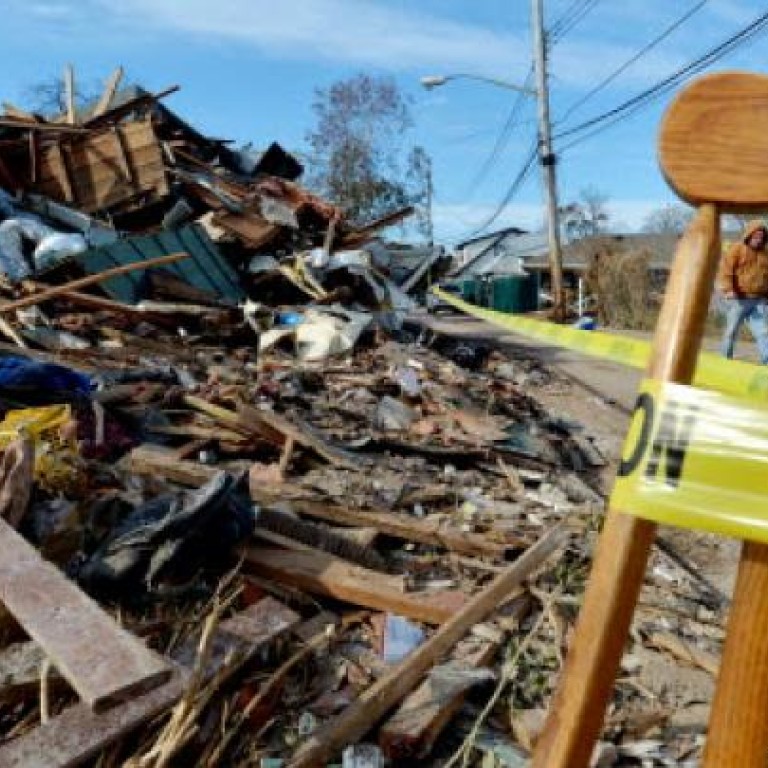 Sandy's aftermath causes housing crisis
Commuters battled unruly crowds and snarled traffic to return to work on Monday, a week after superstorm Sandy devastated the US Northeast, as authorities scrambled to clear debris ahead of more bad weather and put special measures in place to ensure residents could vote in Tuesday's presidential election.
Many of Sandy's victims were still suffering, and living conditions were harsh for tens of thousands of people unable to return to their homes. Some 1.4 million homes and businesses were due to endure another night of near-freezing temperatures without power or heat.
The devastation could also send ripples through Tuesday's presidential election, with President Barack Obama and Republican challenger Mitt Romney locked in a close race.
New York Governor Andrew Cuomo announced that New Yorkers would be able to vote in any polling place - instead of just their assigned location - by presenting an affidavit, while in New Jersey storm-affected residents will be designated as overseas voters, allowing them to submit an absentee vote by fax or email.
An exhausted region now faces the prospect of a new storm. A strong "Nor'easter" was forecast to bring freezing temperatures and more rain and wind by the middle of the week, possibly flooding coastal areas that have yet to recover from Sandy.
"A 60-mile-an-hour wind with a street filled with all sorts of personal belongings and glass and fixtures, you could have a lot of dangerous material flying around," Cuomo said. "This storm on any other given day I don't think would have been life threatening. In this situation it's serious."
Cuomo also ratcheted up his criticism of the state's power companies. "The progress is unacceptable. To say that I am angry, to say that I am frustrated, disappointed, would be the understatement of the decade," he said.
The US death toll rose to at least 113, and thousands of homes were destroyed or damaged by the gigantic storm, which slammed into the US East Coast a week ago, bringing a record storm surge that flooded low-lying areas with seawater.
Hurricane Sandy killed 69 people in the Caribbean before turning its 80 mph (130 kph) winds on the United States. More than 217,000 people have registered for assistance from the US Federal Emergency Management Agency and about $199 million in has been provided, FEMA Administrator Craig Fugate said.
With the ground in coastal New Jersey towns still saturated with ocean water, officials feared the Nor'easter could flood them again.
In Belmar, Lake Como and Spring Lake, they were taking the precaution of pumping three lakes in these towns nearly to the bottom so groundwater would leak into them and lawns could better absorb the rain.
"By draining the lakes, we're lowering the water table in the neighbourhoods around them," Mayor Matt Doherty of Belmar said on Monday. "We did this last year with Hurricane Irene and we found it made a difference."
Further help to disaster victims should be on its way from New Jersey native Bruce Springsteen and other music stars who raised $23 million from a benefit concert on network television.
Most of New York City's 15,070 schools reopened but 57 suffered structural damage and needed to be relocated, 19 lacked power and another 16 were closed because they were being used as shelters, education officials said.
Mayor Michael Bloomberg appointed a director of housing recovery operations to assist the 30,000 to 40,000 people in need of shelter.
"We cannot call our recovery complete until every New Yorker has a place to call home again," said Brad Gair, a former FEMA senior official.
Some 750 construction workers resumed rebuilding at the World Trade Center site known as "Ground Zero" since the attacks of September 11, 2001. Sandy's record storm surge caused the Hudson River to pour into the Sept. 11 memorial and museum and temporarily stopped construction on two skyscrapers that have nearly topped out.
New York State Attorney General Eric Schneiderman launched an investigation into post-Sandy price gouging after receiving hundreds of complaints from consumers across the state.
Consumers have reported possible gouging for petrol, emergency supplies such as generators, hotels raising rates due to "high demand," and increased prices for food and water, Schneiderman's office said in a statement. New York state has an anti-gouging law that prohibits merchants from selling goods at an "unconscionably excessive price" following disasters.
With sizeable legs of the region's public transportation network still hobbled by storm damage, people stood for an hour or more on train platforms or street corners in New Jersey, Long Island and Connecticut waiting for trains and buses, only to find many of them too crowded to board.
Service on many rail and bus lines was reduced, and the New York City subway was running at about 80 per cent of its normal service. The Metropolitan Transportation Authority of New York appealed to commuters on the Long Island Rail Road to delay travel until after the evening rush hour to avoid overcrowding.
The commute from New Jersey was particularly trying.
As a Northeast Corridor Line train on the New Jersey Transit network pulled into Newark, passengers wondered aloud how the hundreds of people who crowded the platform would squeeze into the already-packed train.
Federal agencies were trying to secure about 350 buses to alleviate the nightmare commute from New Jersey to Manhattan.
Those who chose to drive had to brave long lines at the pump before joining the traffic jams. Service stations lacked electricity or petrol due to disruptions in the fuel chain.
"It's not pretty," said Sal Risalvato, executive director of the New Jersey Gasoline, Convenience Store Automotive Association.
"We've got about 80 per cent of the gas stations in the northern part of the state that don't have either electricity or gas. I've got guys that have electricity, but they don't have any gas left and I've got a lot of people that have gas in the ground but no electricity," he said.
New Jersey Governor Chris Christie imposed petrol rationing, while some New Jerseyans took to hiring school children to stand in line with gas cans.
In Maplewood, New Jersey, middle schooler Liam Kafrissen, 13, leapt at the $20 offer while staying home on his sixth canceled day of school.
Pulling a little red wagon with three gas cans totaling 5.75 gallons (21.8 litres), Kafrissen smiled on his second trip back from the Delta gas station close to his school, still shut without power.
"And I'm still in my pyjamas!" he said.
This article appeared in the South China Morning Post print edition as: Millions struggle with lengthy journeys to and from work