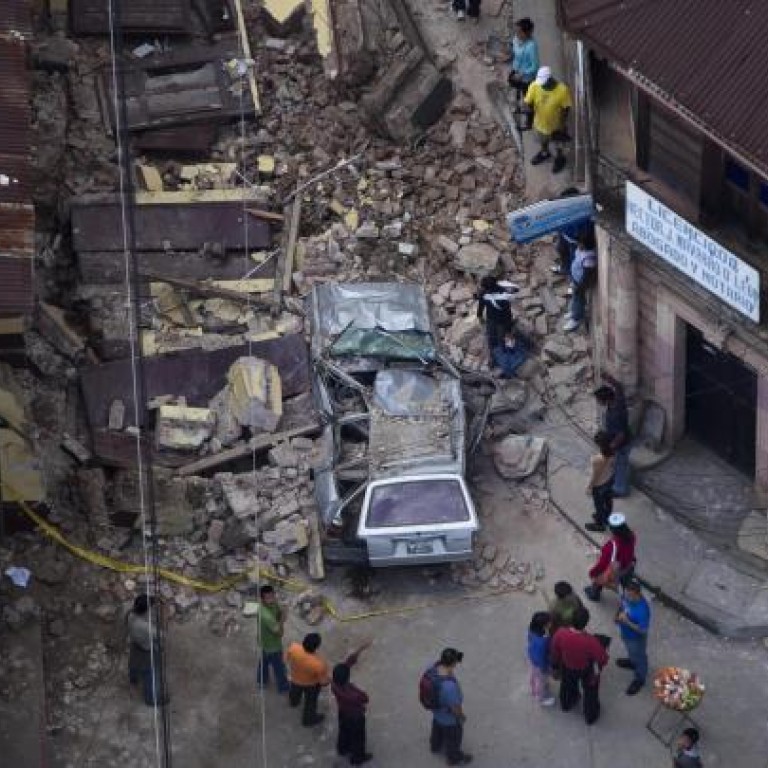 Violent Guatemala earthquake kills 48
Manhunt for 23 missing people after violent earthquake rocks towns from Guatemala to Mexico City and kills entire family of 10
A 7.4-magnitude earthquake has rocked southwestern Guatemala, killing 48 people and injuring another 150, with more suspected victims missing in the wreckage.
The earthquake, which struck Wednesday morning, also rattled nerves in neighbouring Mexico and El Salvador, sparking a tsunami alert on the Salvadoran coast and evacuations from offices, homes and schools as far north as Mexico City.
"We have to lament the death of 48 people, a figure that could rise because we still have 23 missing people," President Otto Perez Molina said in the capital, after visiting the disaster area. He had earlier reported 39 deaths.
Perez said 39 of the victims were in San Marcos department, located at the border with Mexico and some 250 kilometers west of Guatemala City. The nine others were in two regions which are also majority Maya.
In the village of San Cristobal Cucho, an entire family of 10 died when their home was buried in rocks and earth that slid from a hill after the earthquake, Mayor Pedro Cardona said.
"The whole village is in mourning because an entire family was taken by God's nature," he told local television.
The bodies - a couple, their six children aged between four and 15, and two other family members - were still on the street as night descended, waiting to be put in coffins.
Some 16,000 people were affected by the earthquake, Perez said. Several towns lacked drinking water or electricity after the country's most violent earthquake since 1976, when almost 23,000 people perished.
Authorities have opened 11 shelters, which can house 800 people.
The powerless city of San Marcos, a town dotted with colonial-style, single-floor homes, was pitch black and its main street was covered in debris. Older properties were in ruins, but newer ones withstood the shock.
Several aftershocks rattled residents, as they struggled to keep warm during the night.
Rescuers workers and residents dug into a sand quarry in a desperate search for survivors.
"We feel powerless in front of this quantity of sand, which fell on people, and not being able to dig them out quickly," said social worker Alfonso, 30. "You feel like your hands won't reach people."
Ofelia Guzman, 28, was relieved after her mother escaped unscathed, when her house collapsed. "The home is destroyed and all her things are gone. Not one cup made it, but she is safe," Guzman said.
The US Geological Survey said the quake struck in the morning off the Pacific coast, some 24 kilometers south of Champerico and 163 kilometers west-south-west of Guatemala City. Its depth was 41.6 kilometers.
The Mexican National Seismological Service reported dozens of aftershocks. The quake was strongly felt in Guatemala City and southern Mexico.
As the quake struck, people streamed out of homes, schools and office buildings all the way to Mexico City, but the sprawling metropolis of 20 million people avoided damage or casualties. The capital city's metro service was briefly suspended. Buildings were also evacuated in the southern Mexican states of Oaxaca and Chiapas, without reports of damage or victims.
"I was scared. It was horrible," said Uvita Mena, who lives in the Chiapas town of Tuxtla Gutierrez.
In El Salvador, President Mauricio Funes ordered evacuations in western coastal towns following a tsunami alert, but the waves never materialised.
The USGS initially measured the quake at magnitude 7.5.
The natural disaster comes two months after a magnitude 7.6 earthquake rocked Costa Rica, without causing any casualties or injuries.
This article appeared in the South China Morning Post print edition as: Deadly Guatemala quake kills 48