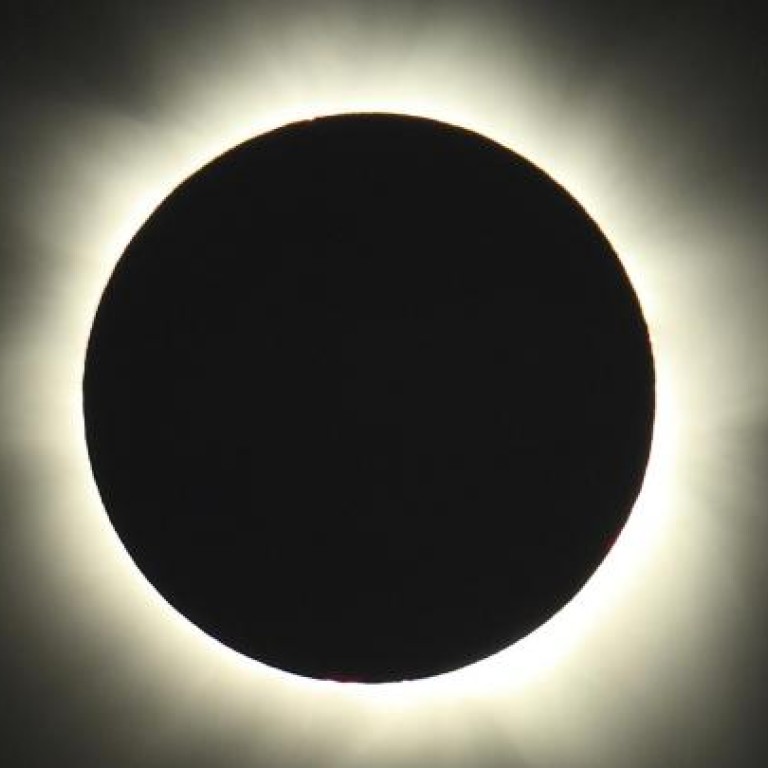 Total solar eclipse seen across northern Australia
First complete solar eclipse in country's north in 1,300 years draws over 50,000 visitors
From boats bobbing on the Great Barrier Reef, to hot air balloons hovering over the rainforest, and the hilltops and beaches in between, tens of thousands of scientists, tourists and amateur astronomers watched as the sun, moon and earth aligned and plunged northern Australia into darkness during a total solar eclipse yesterday.
Stubborn clouds that many feared would ruin the rare view parted - somewhat - in north Queensland, defying forecasts of a total-eclipse-viewing bust and relieving spectators who had fanned out to glimpse the celestial phenomenon.
"Immediately before, I was thinking, 'Are we gonna see this?' And we just had a fantastic display - it was just beautiful," said Terry Cuttle of the Astronomical Association of Queensland. "And right after it finished, the clouds came back again."
Spectators whooped and clapped with delight as the moon passed between the sun and the earth, leaving a slice of the continent's northeast in darkness.
Starting just after dawn, the eclipse cast its 150-kilometre-wide shadow in Australia's Northern Territory, crossed the northeast tip of the country and swooped east across the South Pacific, where no islands were in its direct path.
A partial eclipse was visible from eastern Indonesia, the eastern half of Australia, New Zealand, Papua New Guinea and southern parts of Chile and Argentina. Totality - the darkness that happens at the peak of a full eclipse - lasted just over two minutes in the parts of Australia where it was visible.
Gloomy weather had left many eclipse-chasers who had travelled to Australia from around the globe anxious that they wouldn't be able to see a thing. But the clouds moved in time for many to watch as the moon blotted out the sun's rays.
Hank Harper, 61, and his two children flew from Los Angeles to see the eclipse, and feared the clouds would ruin their adventure. The trio took a hot air balloon flight with other eager tourists from Hot Air Balloon Cairns, crossed their fingers, and were rewarded with a perfect view.
"We gambled everything - drove through the rain and didn't even know if the balloon was going to go up," Harper said. He and sons watched the sun's rays re-emerge from behind the moon while kangaroos hopped on the ground below. "It was everything I could have hoped for." The next total solar eclipse won't happen until March 2015, over the North Atlantic.
This article appeared in the South China Morning Post print edition as: Total solar eclipse stuns watchers in Australia