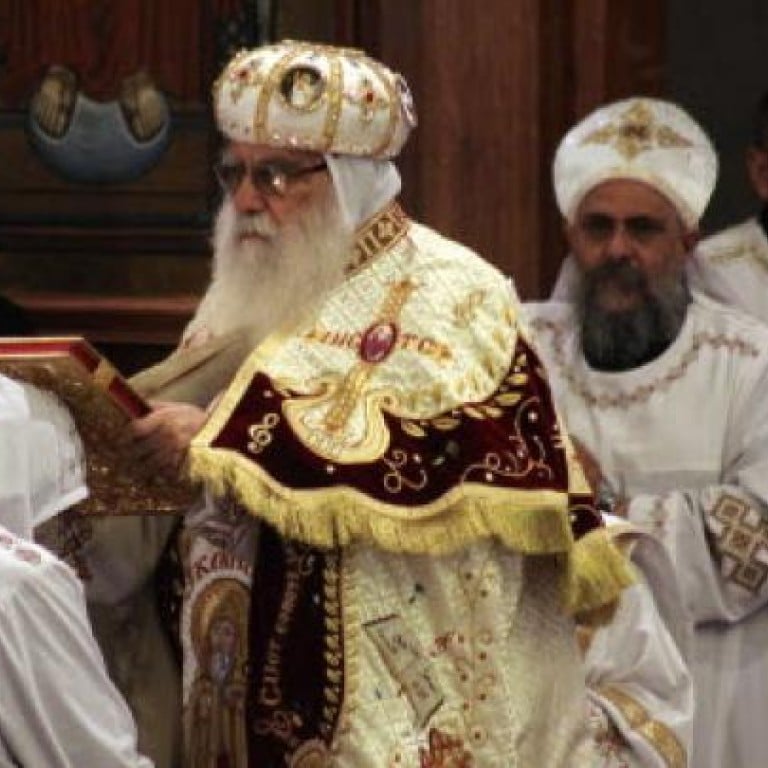 New leader of Egypt Coptic Christians enthroned
Pope Tawadros II was enthroned on Sunday as the new head of Egypt's Copts in an elaborate ceremony at Cairo's St Mark's Cathedral amid rising fears about the community in a country now ruled by Islamists.
Dozens of Coptic Christian clerics in flowing robes took part in the four-hour ceremony, the first in four decades, as the cathedral bells tolled.
Tawadros received the ornate crown and crucifix from Bishop Pachomius, who had served as the church's interim leader, before ascending the huge wooden throne of St Mark embossed with lions.
Arabic, English and Greek mingled with the ancient Coptic language of the church's liturgy in the psalms and prayers of the service and the tributes of well-wishers.
Tawadros, 60, was chosen on November 4 to succeed Pope Shenuda III, who died in March. He was chosen after a blindfolded altar boy picked his name from a chalice, according to church custom.
He becomes spiritual head of the largest Christian minority in the Middle East and 118th pope in a line dating back to the origins of Christianity and to Saint Mark, the apostle and author of one of the four Gospels, who brought the new faith to Egypt.
Shenuda, a careful, pragmatic patriarch, died at a critical time for the increasingly beleaguered minority, which has faced a surge in sectarian attacks after an uprising overthrew president Hosni Mubarak in February last year and saw Islamists rise to power.
The pope leads the Coptic Orthodox community in a country where Christians make up between six and 10 per cent of an 83-million population.
In Rome, Pope Benedict XVI urged Tawadros to strengthen relations between the Catholic and Coptic churches.
"It is with fraternal joy that I send greetings to your Holiness on the happy occasion of your enthronement," Benedict said in a message sent to Tawadros.
"I pray too that relations between the Catholic Church and the Coptic Orthodox Church will continue to grow closer, not only in a fraternal spirit of collabouration, but also through a deepening of the theological dialogue," Benedict said.
Amid increased fears about the community's future after the overthrow of Mubarak, Tawadros will be its main contact with Islamist President Mohamed Morsi who has repeatedly pledged to be a president "for all Egyptians".
Copts have suffered sectarian attacks for years, but since Mubarak's ouster dozens have been killed in sectarian clashes and during a protest in October last year crushed by the then ruling military.
Tawadros "seems like a wise man. God chose him at a good time because we need a person like him in the face of the Muslim Brotherhood," said Coptic dentist Jihan Refaat.
"We need someone strong to solve all the problems of the Copts at the moment," said Antwan Alfons, an information technology professional.
Morsi sent Prime Minister Hisham Qandil to the ceremony as his representative. The church had initially said Morsi himself would attend, but then said he would be absent as he dealt with the crisis in Gaza.
The president sent a letter of congratulations to Tawadros and wished the new pope "success in his efforts to achieve unity for the Egyptian people".
Tawadros's official biography stresses his wish for good relations with Muslims, saying he has warned that a draft constitution would be unacceptable if it enshrined a "religious state".
Egypt's three main churches have withdrawn their representatives from the Islamist-dominated constituent assembly preparing the disputed new charter to replace the one suspended after Mubarak's overthrow.
Under Mubarak, the constitution vaguely stipulated that the main source of legislation were principles of Islamic law. The draft charter is set to clarify that article with a stricter interpretation.
Tawadros also advocates further unity between Egypt's Copts and those of the diaspora, whose leaders have often been more outspoken against abuses suffered by the Christians in Egypt.