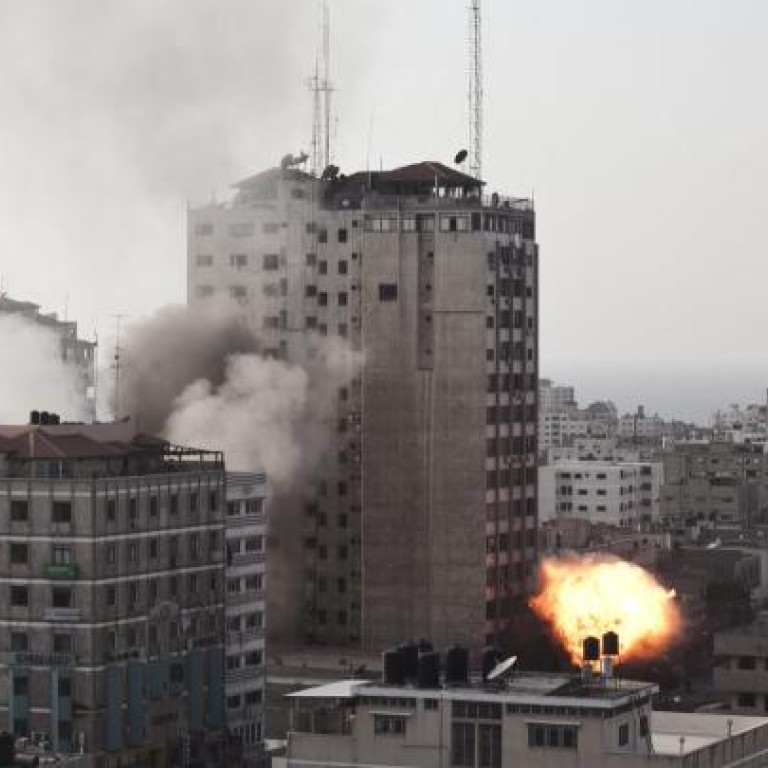 Three dead in new Israeli air strikes, media building hit
A senior Islamic Jihad militant was killed on Monday in an Israeli strike on a Gaza City building housing Palestinian and international media, the Islamist faction told news agency, AFP.
Israel confirmed the attack, with its intelligence services saying the strike had targeted "senior Islamic Jihad officials" who were on the premises.
It was the second time in as many days that Israel had fired on the Shuruq Tower in the city's upscale Rimal neighbourhood which is used by media outlets including Britain's Sky News, the Saudi-owned Al-Arabiya network, Russia Today and Iran's Press TV.
Smoke was seen billowing from the lower floors of the tower, also used by Hamas's Al-Aqsa TV whose offices were destroyed in the first strike on Sunday morning, officials said.
"One Palestinian was killed and three others injured in a strike on the Shuruq Tower," an ambulance services statement said.
Islamic Jihad sources named him as Ramez Harb and said he was a senior commander in its armed wing, the Al-Quds Brigades.
Three other people were hurt in the strike, including two cameramen - one who works for Al-Arabiya.
"One person was killed and lots of people were injured. Now there's a fire on the second, third and four floors," Saed Swerky, Russia Today's Gaza correspondent told AFP by phone just after the attack.
"The Israelis warned the foreigners to leave this building yesterday because they were going to attack it again," he said, speaking from inside the building.
In a statement, Israel's Shin Bet internal security services said it had targeted senior Islamic Jihad officials.
"In a joint activity between the Shin Bet and the IDF an attack was carried out on senior Islamic Jihad officials who were in the Shuruq building in Gaza City."
On Sunday morning, Israeli jets bombed two media facilities, including the Shuruq Tower, leaving at least eight journalists injured. One of them lost a leg.
Russia Today said its office was badly damaged in the incident, but none of its staff were hurt.
Israel's military defended the strike, saying it had targeted rooftop operational communications belonging to Hamas and had sought to minimise civilian casualties.
But the strikes were condemned by the local Foreign Press Association as well as international media watchdog Reporters Without Borders.