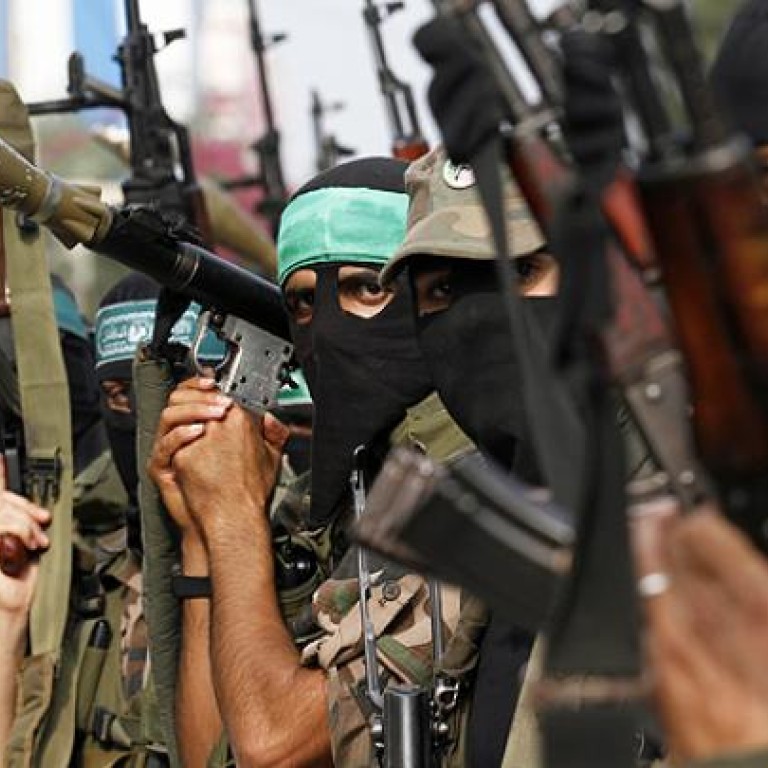 Gazans celebrate 'victory' over Israel as ceasefire holds
Gazans savoured the calm on Thursday after an Egyptian-brokered ceasefire halted eight days of Israeli bombardment that killed 162 people.
Gazans savoured the calm that pervaded their coastal enclave on Thursday after an Egyptian-brokered ceasefire halted eight days of relentless Israeli bombardment that killed 162 people.
Despite the death and destruction, many were buoyant, echoing assertions of the Gaza Strip's Islamist Hamas rulers that their rocket salvoes, which reached Tel Aviv and Jerusalem for the first time, had trumped Israel's military might.
"Congratulations on your victory," passersby said as they shook hands with Hamas traffic policemen back on the streets after days in hiding to avoid Israeli bombs and missiles.
But joy mingled with grief as many Palestinians walked by wrecked houses and government buildings, glimpsing shredded clothing, ruined furniture and cars half-buried in the rubble.
Fighting ended late on Wednesday after the Hamas movement and Israel accepted a truce, although doubt abounded on both sides that this would be anything more than a pause in a deadly struggle between deeply distrustful adversaries.
Jubilant crowds celebrated in Gaza, most waving green Hamas flags, but hundreds with the yellow emblems of the rival Fatah group led by Western-backed Palestinian President Mahmoud Abbas.
"Today our unity materialised, Hamas and Fatah are one hand, one rifle and one rocket," senior Hamas leader Khalil Al-Hayya told several thousand people in the main square of Gaza.
Nabil Shaath, a senior Fatah figure, even shared the stage with leaders of Hamas, Islamic Jihad and other factions.
The striking images of reconciliation broke a prevailing pattern of bitterness since Hamas gunmen drove Fatah from the Gaza Strip in 2007, politically reinforcing the territory's physical separation from the Israeli-occupied West Bank.
Abbas was sidelined in the Gaza crisis, taking no part in the indirect negotiations in Cairo that produced the truce.
But he called Hamas's Gaza chief and prime minister, Ismail Haniyeh, to "congratulate him on the victory and extend condolences to the families of martyrs", Haniyeh's office said.
Rifts remain between Hamas, an Islamist movement which rejects Israel's right to exist and espouses armed struggle, and Fatah, which has turned to non-violent methods in its quest for a Palestinian state in Gaza, the West Bank and East Jerusalem.
Neither strategy seems close to achieving its goals, but Hamas's muscular stance resonates more on Gaza streets.
"We have elected Hamas and the resistance to regain our rights. We have a land that we want back," said grey-bearded Abu Mohammed Shameya, 52, buying food in an outdoor market. "Each Jew should pack his things and leave. We are fed up with them."
The deal forged in Cairo under Egyptian and US pressure calls for easing a six-year-old Israeli-led blockade on the Gaza Strip, from which Israel withdrew unilaterally in 2005, 38 years after capturing the territory in the 1967 Middle East war.
Wrangling over how far curbs over crossing points into Israel and Egypt might be lifted has already begun, but for now, many of the 1.7 million Gazans crammed into a Mediterranean strip 40 km (25 miles) long were in celebratory mood.
"This is a victory for Gaza," said Sami Shbair, as he sold vegetables to residents flooding out of their homes to shop without the constant fear of explosions and flying shrapnel.
"The Jews should understand that we got the power in Gaza and next time the response will go beyond Tel Aviv," said the smiling 40-year-old. "Hopefully next time we will hit Acre and Haifa," he said, referring to cities in northern Israel.
Israel's military says it dealt devastating blows to Hamas's armed wing and its rocket arsenal, including longer-range missiles it says were supplied by Iran, in an assault that began with the assassination of the group's acting military commander.
Israel says its Iron Dome anti-missile system proved effective in intercepting militant rockets heading for towns and cities, limiting the Israeli death toll to five.
The ceasefire headed off a possible Israeli ground assault that would undoubtedly have proved costly for both sides.
Gaza was on the receiving end of such an offensive in the winter of 2008-09, when about 1,400 Palestinians were killed and Hamas had trouble convincing people that the battering meted out to them over 22 days constituted any kind of victory.
This time, the spirit is different, with Hamas feeling it now has a genuine friend in Egypt's new Islamist leadership and winning de facto recognition as Arab dignitaries flocked to Gaza on solidarity visits during the fighting.
"Israel learnt a lesson it will never forget" said 51-year-old Khalil Al-Rass from Beach refugee camp in Gaza City. "We are the spearhead, we don't want anything from Arab countries, we only need weapons. We have achieved what no other country did."
The Hamas authorities declared Thursday a national holiday, keeping closed whatever government offices survived Israeli attacks that flattened the Interior Ministry, police stations and official buildings, along with many apartment blocks.
A Palestinian flag flew defiantly over Gaza City's police headquarters, bombed into a mess of broken masonry.
Local economist Omar Shaban estimated overall physical losses at $250 million, saying he hoped sympathetic countries such as Qatar and Turkey would step in to help rebuild.
Hamas spokesman Sami Abu Zuhri said the group would focus on reconstruction, while observing the ceasefire as long as Israel reciprocated. "The ball is in the Israeli court," he added.
"Resistance has achieved and has imposed a new formula.. If you hit Gaza, we will hit Tel Aviv and beyond Tel Aviv."
He brushed aside the idea that Hamas might have trouble forcing smaller rivals to honour the truce, saying: "Just as factions coordinated the escalation, they also agreed on calm."
Nevertheless, Abu Mujahed, spokesman of the Popular Resistance Committees, active in firing rockets at Israel, said there was no time to relax, in case hostilities began again.
"If they hit, they will definitely be hit and hit hard," he said. "We are bracing for the worst," he said.