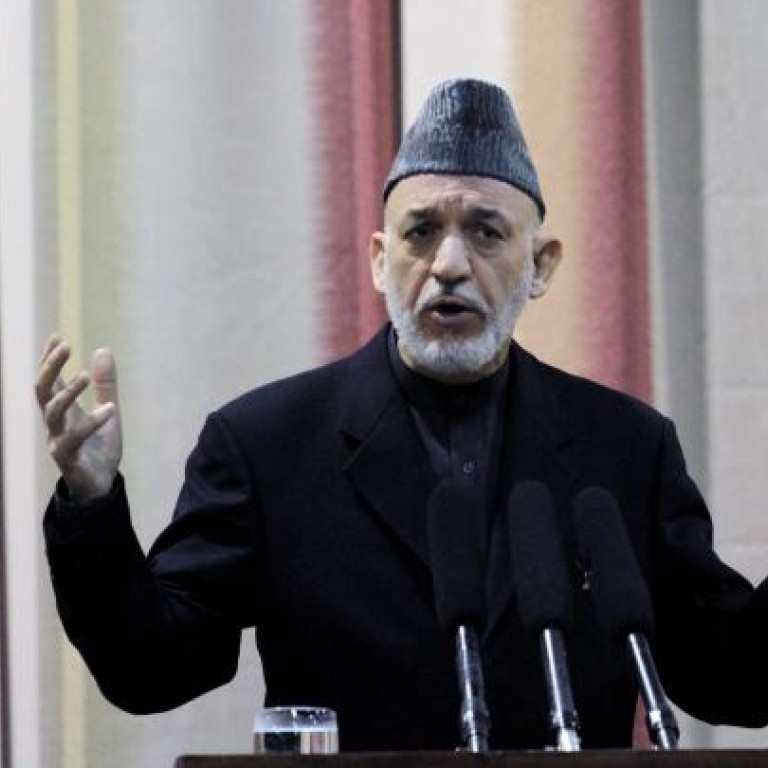 Afghan president to ban requests for foreign air strikes
If he issues the decree as promised, the move would pose a significant new challenge to government troops who have relied heavily on foreign air power to give them an advantage against insurgents.
Angry over civilian deaths, President Hamid Karzai announced plans on Saturday to ban Afghan security forces from requesting international air strikes on residential areas.
If he issues the decree as promised, the move would pose a significant new challenge to government troops who have relied heavily on foreign air power to give them an advantage against insurgents on the battlefield even as the US and other countries prepare to end their combat mission in less than two years.
The declaration came as anger mounted over a joint Afghan-Nato operation this week that Afghan officials said killed 10 civilians, including women and children, in northeast Kunar province.
"I will issue a decree tomorrow that no Afghan security forces, in any circumstances, in any circumstances can ask for the foreigners' planes for carrying out operations on our homes and villages," Karzai said in a speech at the Afghan National Military Academy in Kabul.
Civilian deaths at the hands of foreign forces, particularly air strikes, have been among the most divisive issues of the 11-year-old war and have complicated negotiations for a bilateral security agreement that would govern the foreign presence in the country after next year.
The US-led coalition has implemented measures to mitigate them, but the Afghan military also relies heavily on air support to gain an upper hand in the fight against Taliban militants and other insurgents.
Many Afghan and international officials have expressed concern that the impending withdrawal of international combat forces by the end of next year will deprive government security forces of that crucial weapon. President Barack Obama has announced that he will withdraw about half of the 66,000 US troops in Afghanistan within a year.
Karzai has frequently denounced air strikes and even demanded that they cease. But his speech Saturday was the first time he threatened to formalise his concern with a decree.
The US-led military coalition already said in June that it would limit air strikes to a self-defence weapon of last resort for troops. That followed a bombardment that killed 18 civilians celebrating a wedding in Logar province, which drew an apology from the American commander.
Afghan and coalition officials frequently offer differing accounts of military operations, with local residents claiming civilians were killed while foreign troops insist they targeted insurgents. The line is often blurred because insurgents don't wear a uniform and are usually part of the community, with air strikes and night raids hitting areas where women and children also are asleep.
The UN mission in Afghanistan said 83 civilians were killed and 46 wounded in aerial attacks by international military forces in the first half of last year. That figure was down 23 per cent from the same period of 2011, which was the deadliest year on record for civilians in the Afghan war. It said two-thirds of the casualties last year were women and children.
Jamie Graybeal, a spokesman for the US-led coalition, declined to comment on Karzai's remarks because alliance officials had not seen the decree.
But General John Allen, the former top commander of US and Nato forces in Afghanistan, said before leaving that the coalition can provide air support to troops on the ground anywhere in Afghanistan within 12 minutes of a request. He said Afghan forces would have to get used to not having the same abilities in the future.
Karzai said Allen's successor, US General Joseph Dunford, told him that Afghanistan's intelligence agency, the National Directorate of Security, had requested the air strike late Tuesday in Kunar's Shigal district, which borders Pakistan. When Dunford met with Karzai two days later, the coalition said the general expressed "his personal condolences for any civilians who may have died or been injured as a result of the operation" and said investigators were trying to assess what happened.
Karzai said Afghan forces were ready to take over their own security despite concerns about persistent violence that have cast doubt on their capabilities.
"We are happy that foreign forces are withdrawing from our country," he said. "We are happy for all their help and assistance so far, but we don't need foreign forces to defend our country. We want our Afghan forces to defend their homeland."
However, former Afghan General Amrullah Aman was surprised by the remarks, saying international air power is essential since one of Afghanistan's main weaknesses in defending itself is the lack of a fully developed air force.
"In a country like Afghanistan where you don't have heavy artillery and you don't have air forces to support soldiers on the ground, how will it be possible to defeat an enemy that knows the area well and can hide anywhere?" he asked.
"There must be air support to help all those ground forces on the battlefield."
The UN has said the number of civilian deaths and injuries attributed to foreign and Afghan forces, including air strikes, has declined as both groups strengthened policies to protect civilians, but it also expressed concern there could be an uptick as the summer fighting season approaches.
Local Afghan officials claim five boys, four women and one man were killed in the bombardment. Four insurgents also were reported killed, but Karzai said that did not justify the loss of so many civilian lives. He said the public had complained not only about foreign forces but about Afghans as well.
"The people must not be afraid of you," Karzai told the military audience. "They must feel safe when they see you in their areas and villages."