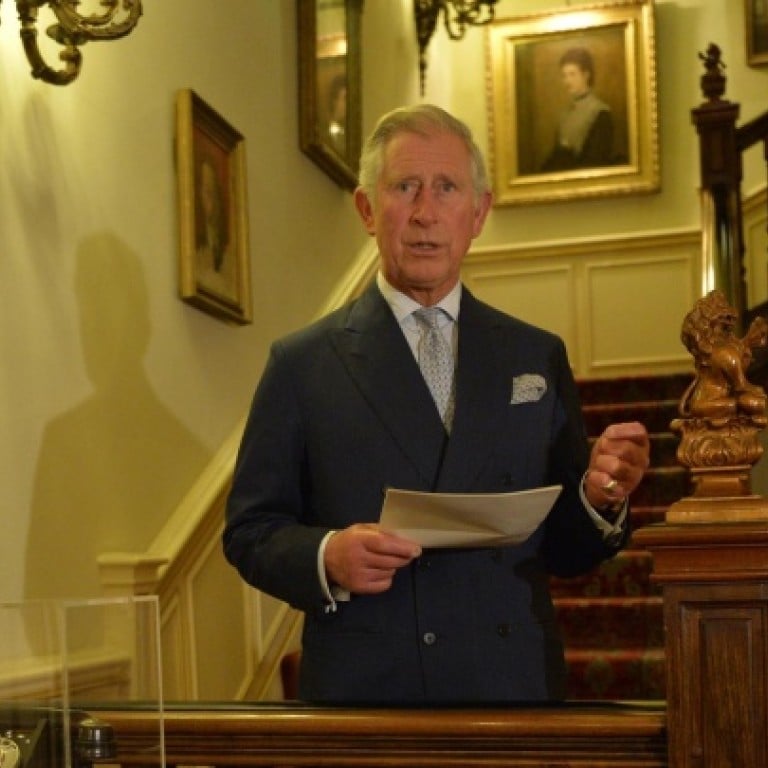 Prince Charles uses cash from unclaimed legacies to aid his charities
Prince Charles draws criticism over 'covert injustice' of spending unclaimed legacies
Britain's Prince Charles has used money from people who die without wills or family in Cornwall, southwest England, to fund his own charities and to support bursaries at his old private school in Scotland.
As Duke of Cornwall, a title that already provides him with a £18 million (HK$217 million) private annual income, a quirk of history means Charles becomes the owner of the assets of anyone living in the county who dies "intestate".
Last year that provided him with more than £450,000 and he is sitting on £3.3 million in cash from many years of collecting Cornish legacies, latest accounts show.
The benevolent fund he set up to use the money made one of its largest grants of £5,000 last year to the elite private school of Gordonstoun in Scotland where a place now costs £30,000 a year.
The biggest grant was £19,300 to Charles's charity Business in the Community, whose supporters include some of the biggest firms in Britain. Another £1,000 went to his London-based Prince's Foundation for Building Communities, which champions his controversial ideas about architecture and planning.
The donations have drawn particular criticism in Cornwall, where there were calls for the inheritances to be channelled into the public purse as they are in the rest of England.
Burt Biscoe, a councillor in Truro, said Charles was "abusing the loyalty" of Cornish people and the "privilege" of receiving the intestate assets.
"If he is using this money to fund his own charities and his old school in Scotland then a further covert injustice is being prosecuted against Cornwall," he said. "Think what he could achieve if he gave that £450,000 to Cornwall every year ... The area of giving should coincide with the area of taking."
John Angarrack, a Cornish nationalist who scrutinises the Duchy of Cornwall's activities, said: "We are one of the most impoverished regions in the UK and the money would be much better used here, where all sorts of youth projects are in need, than at Gordonstoun."
Rob Simmons, a member of the Cornwall search and rescue team who was standing for Mebyon Kernow, the Party for Cornwall, in council elections yesterday, called on Charles to instead help the food banks in Camborne and Truro, which he said were regularly running out of supplies.
A spokeswoman for the prince said his charities carried out work in the southwest and the money for Gordonstoun was intended to fund bursaries for Cornish children.
Charles has also been criticised for only distributing £100,000 - less than a quarter of the assets received from the deceased last year.
The benevolent fund made 151 grants last year. Others went to groups including several Cornish churches.
This article appeared in the South China Morning Post print edition as: Royal gives feudal cash to his own charities