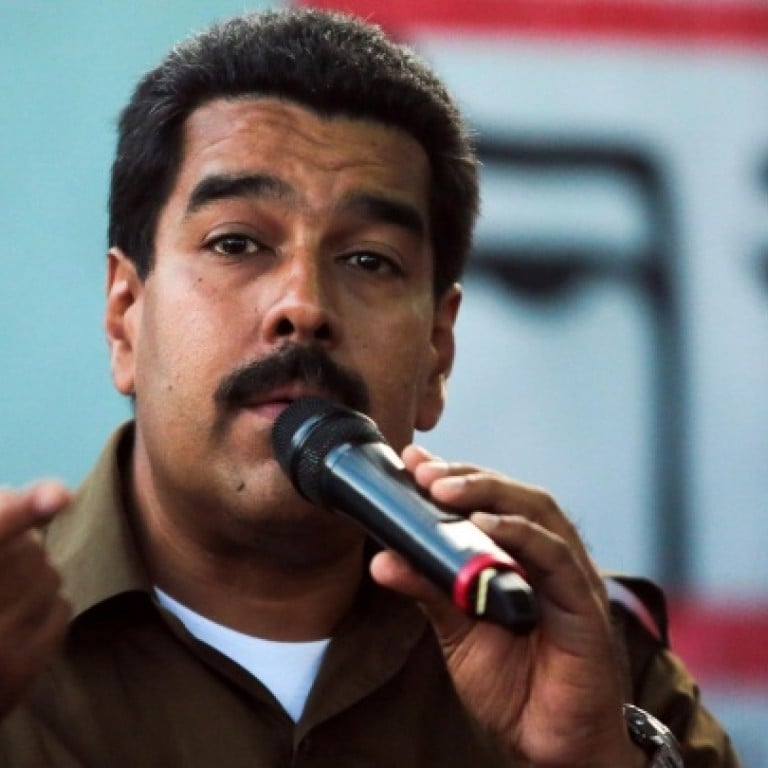 Venezuela's Maduro attacks 'devil' Barack Obama
Nicolas Maduro 's broadside recalls Chavez era as he accuses US of meddling in recent election
Venezuelan President Nicolas Maduro has taken a swipe at Barack Obama, calling him the "grand chief of devils" after the US president declined to recognise his contested re-election.
"Coming out of Central America, Obama let loose with a bunch of impertinent remarks, insolent stuff … He is giving an order, and his blessing, for the fascist right wing to attack Venezuela's democracy," Maduro said in a speech on Saturday.
"[But] we are here defending our institutions, peace, democracy, the people of Venezuela... and we can sit down with anyone, even the grand chief of devils: Obama," Maduro said.
The socialist's harsh attack recalled diatribes from his predecessor, the late Hugo Chavez, aimed at former US president George W. Bush, whom he also called a devil, among other insults.
During a visit to Costa Rica on Friday, Obama would not say whether the US recognises Maduro as the winner of last month's presidential election.
Obama told US Spanish-language network Univision that the entire region "has been watching the violence, the protests, the crackdowns on the opposition" following the April 14 poll.
Maduro, 50, officially defeated opposition leader Henrique Capriles, 40, by a razor-thin margin in the election to replace the late leftist leader Hugo Chavez.
Capriles, however, has refused to concede defeat, claiming there were irregularities. He has contested the results officially.
"I think our general view has been that it's up to the people of Venezuela to choose their leaders in legitimate elections," said Obama, who was in Costa Rica for a summit with Central American leaders.
Maduro, however, charged the United States with financially backing the Venezuelan opposition.
"It is Obama himself - as the puppet of the imperial power - who is behind the financing in dollars of this right wing that is seeking to destroy Venezuela's democracy," Maduro insisted.
Tensions have been running high since the election to replace the larger-than-life Chavez.
The government says nine people died in protests in the days after the election.
Opposition and pro-government lawmakers exchanged punches and kicks in a spectacular brawl at the National Assembly on Tuesday. Maduro said the fight was "planned" ahead of Obama's trip to Mexico and Central America.
Chavez, the most prominent face of the Latin American left for more than a decade, was Venezuela's president for 14 years before his death in March.
Maduro, a former bus driver and union organiser, was a member of Chavez's inner circle throughout the late leader's incumbency, serving as his vice president and foreign minister.
This article appeared in the South China Morning Post print edition as: Leftist leader attacks 'devil' in White House