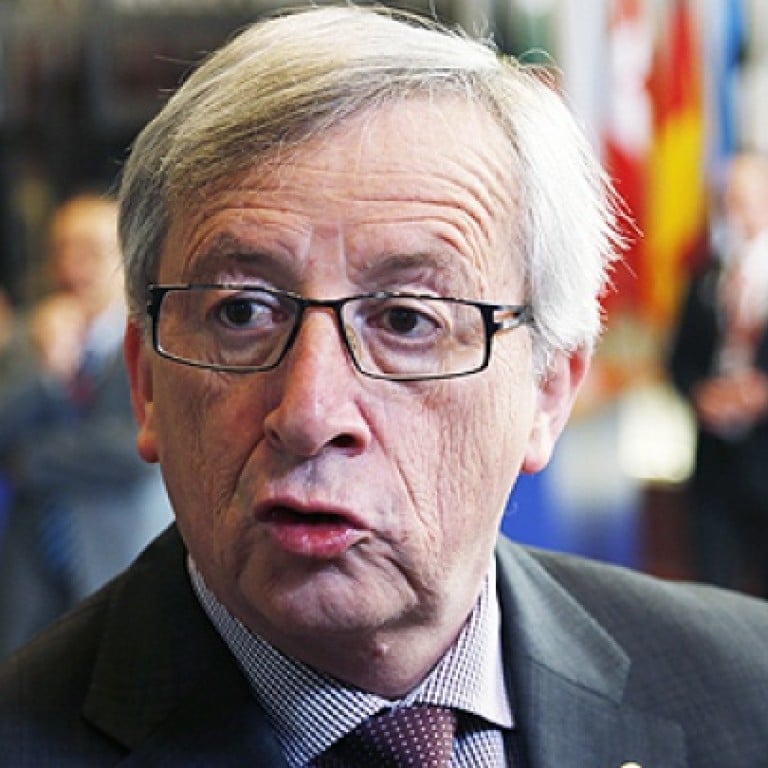 EU leaders face tough talks at tax-fraud summit
EU leaders tackle tax fraud said to cost a trillion euros a year at a summit on Wednesday in the hope that tightening up the rules will help restore faith in European integration and raise revenue.
But Austria and Luxembourg are both reluctant to sign up and share information on bank accounts automatically for fear of undermining their important financial services sectors.
The one-day summit also takes place as revelations about the tax practices of some of the world's biggest companies in their own backyard make it easy for critics to pick holes.
In Washington on Tuesday, Apple chief executive Tim Cook was closely questioned by US lawmakers on what were attacked as "sham" subsidiaries and "convoluted" strategies to shift profits offshore, with Ireland – the current chair of the EU – put squarely in the spotlight.
It emerged that some Apple units in Ireland pay only a 2.0-per cent tax rate, far short of the country's already low and much criticised 12.5-per cent corporate tax levy.
Such arrangements are legal, but popular criticism of them has grown in a time of austerity, tax rises and budget cuts.
EU leaders will also review energy policy, aware that a shale oil and gas revolution in the United States has brought prices there down sharply, threatening the bloc's competitive position.
"In times of tight budgetary constraints and expenditure cuts, combating tax fraud and evasion is more than an issue of tax fairness," said EU summit chairman Herman Van Rompuy in his letter of invitation to the bloc's leaders.
The fight for tax transparency "has become essential for the political and social acceptability of fiscal consolidation," Van Rompuy said.
At finance ministerial talks last week, Austria and Luxembourg refused to approve an EU-wide plan for the automatic sharing of bank account information.
Luxembourg Prime Minister Jean-Claude Juncker has warned that a new deal "is not possible Wednesday in Brussels."
An EU diplomat speaking on condition of anonymity said on Tuesday that "we are close to a solution" on tax, "but there are still reservations from countries dependent on banking secrecy."
Rather than sign up to the EU's 2008 plan to share information on savings accounts across borders on an automatic basis, Austria and Luxembourg insisted that the EU executive, the European Commission, first negotiate new transparency norms with banking havens Switzerland, Andorra, Monaco, Saint-Marin and Lichtenstein.
EU officials are adamant that the two issues – an EU-wide tax deal and one between the 27-state bloc and the five havens – remain separate.
"It's important that the two (Austria and Luxembourg) show signs of compromise at the summit to enable the EU to head into G8 talks ... next month with a common position on tax evasion," an official said.
In final draft conclusions, leaders were to call for the revised 2008 rules on savings accounts and information sharing to be adopted "before the end of the year."
Italian Prime Minister Enrico Letta meanwhile complained on the eve of the summit of the "incredible hypocrisy on a European level" in the fight against tax fraud.
"Many have raised the question of tax havens and I agree completely that more needs to be done (but) ... the problem is that there is incredible hypocrisy at a European level," Letta said.
The idea of cracking down on tax fraud "is not received well by some because of the loss of easy earnings," the premier said, without naming any particular country.
With Europe at risk of being left behind by the US shale energy revolution, EU leaders will review policy with a view to protecting and boosting the bloc's competitive position.
"Europe risks becoming the only continent to depend on imported energy," Van Rompuy has warned, putting the investment needed by 2020 also at one trillion euros.
The draft conclusions makes no direct mention of shale, referring only to European Commission plans to "assess a more systematic recourse to indigenous sources of energy with a view to their safe and sustainable exploitation."
Britain, Hungary, Poland, Romania and Spain favour developing shale energy but others, including France, are opposed, citing the environmental issues involved.
The problem and cannot be avoided.
EU leaders gather in the Belgian capital from 10am GMT with the summit proper held over a late working lunch scheduled to end at 3pm GMT.