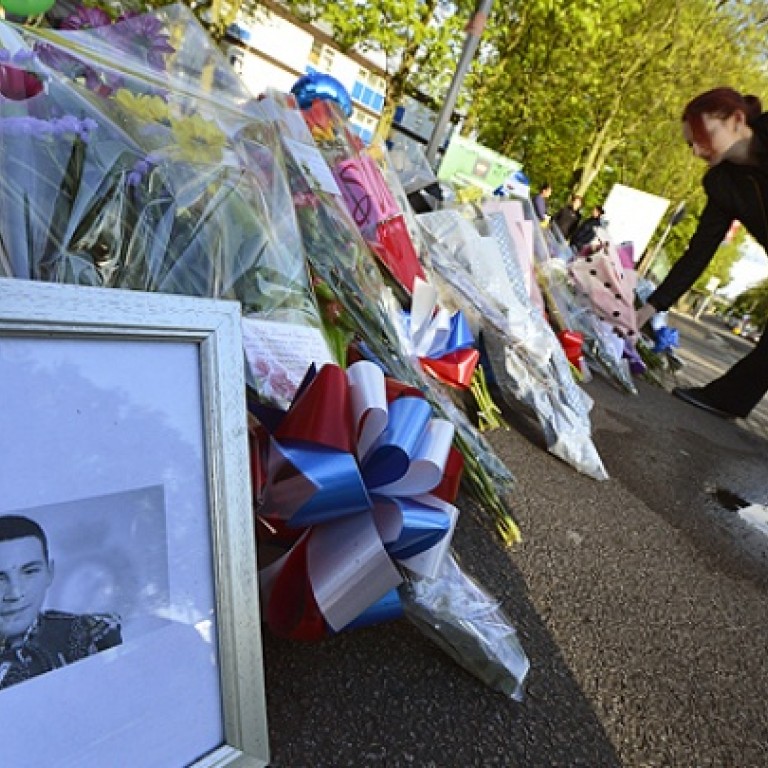 Britain names soldier killed in London attack
Soldier killed in Woolwich machete attack, named as 25-year-old Drummer Lee Rigby, had served in Afghanistan
Two British men of Nigerian descent accused of hacking a soldier to death on a London street in revenge for wars in Muslim countries were known to security services, a source close to the investigation said on Thursday.
One man, filmed calmly justifying the killing as he stood by the body holding a knife and meat cleaver in bloodied hands, was named by acquaintances as 28-year-old Londoner Michael Adebolajo - a British-born convert to radical Islam.
So frenzied was the attack, some witnesses thought they were trying to behead and disembowel the victim.
The attack, just a month after the Boston Marathon bombing and the first Islamist killing in Britain since local suicide bombers killed 52 people in London in 2005, revived fears of "lone wolves" who may have had no direct contact with al-Qaeda.
British media said police raided homes of relatives in the city and near the town of Lincoln. Adebolajo and the other man, who may have been born abroad and later naturalised as British, are both in custody in hospitals after being shot by police.
Prime Minister David Cameron held an emergency meeting of his intelligence chiefs to assess the response to what he called a "terrorist" attack; it was the first deadly strike in mainland Britain since local Islamists killed dozens in London in 2005.
"We will never give in to terror or terrorism in any of its forms," Cameron said outside his Downing Street office.
"This was not just an attack on Britain and on the British way of life, it was also a betrayal of Islam and of the Muslim communities who give so much to our country. There is nothing in Islam that justifies this truly dreadful act."
He said there would be a review of how intelligence had been handled – Adebolajo had been known to authorities for handing out radical Islamist pamphlets in Woolwich.
The two men had been considered to pose no serious danger to the public until the attack, according to a government source.
Another source close to the inquiry said the local backgrounds of the suspects in a multicultural metropolis – nearly 40 per cent of Londoners were born abroad – and the simplicity of the attack made prevention difficult:
"Apart from being horribly barbaric, this was relatively straightforward to carry out," the source said. "This was quite low-tech and that is frankly pretty challenging."
Anjem Choudary, one of Britain's most recognised Islamist clerics, said Adebolajo, was known to fellow Muslims as Mujahid – a name meaning "warrior": "He used to attend a few demonstrations and activities that we used to have in the past."
He added that he had not seen him for about two years: "When I knew him he was very pleasant man," Choudary said. "He was peaceful, unassuming and I don't think there's any reason to think he would do anything violent."
A man called Paul Leech said on Twitter he had been at school in the east London suburb of Romford with the man seen claiming the attack: "Michael Adebolajo u make me sick," he wrote. "How could someone who was a laugh and nice bloke at school turn out like that. I'm ashamed to have known u."
The two men used a car to run down 25-year-old Afghan war veteran Drummer Lee Rigby outside Woolwich Barracks in southeast London and then attacked him with a meat cleaver and knives, witnesses said. The pair then told shocked bystanders they acted in revenge for British wars in Muslim countries.
Rigby, who had a two-year-old son, was not in uniform. The bandsman had been working as an army recruiter in London
A dramatic clip filmed by an onlooker showed one of the men, identified as Adebolajo, his hands covered in blood and speaking in a local accent apologising for taking his action in front of women but justifying it on religious grounds:
"We swear by almighty Allah we will never stop fighting you. The only reason we have done this is because Muslims are dying every day," he said. "This British soldier is an eye for an eye, a tooth for a tooth."
The attack revived fears of "lone wolves". These may have had no direct contact with al-Qaeda but are inspired by radical preachers and by Islamist militant websites, some of which urge people to attack Western targets with whatever means they have.
Images of the blood-soaked suspect – who urged Britons to overthrow their government or risk having their children face the fate of the dead soldier lying just yards away – were splashed across the front pages of newspapers; so too were links to his clearly spoken, matter-of-fact video statement, made as the pair chatted calmly to bystanders before police arrived.
"We have all seen images that are deeply shocking," Cameron told reporters before visiting the barracks in Woolwich. "The people who did this were trying to divide us."
In Nigeria, with a mixed Christian-Muslim population and where the authorities are battling an Islamist insurgency, a government source said there was no evidence the Woolwich suspects were linked to groups in west Africa.
British investigators are looking at information that at least one of the suspects may have had an interest in joining Somalia-based Islamist al Shabaab rebel group which is allied to al-Qaeda, a source with knowledge of the matter said.
Al Shabaab said on Thursday that such attacks were inevitable and linked the attack to the Boston bombing and last year's gun attacks in the southern French city of Toulouse.
"Toulouse, Boston, Woolwich ... Where next? You just have to grin and bear it, it's inevitable. A case of the chickens coming home to roost!" the rebels said on Twitter.
The grisly attack took place next to the sprawling Royal Artillery Barracks in Woolwich, a south London working class district which has long-standing historic links to the military and is home to many immigrant communities, including Nigerians.
Rigby, who served in Afghanistan in 2009, was wearing a T-shirt reading "Help for Heroes", the name of a charity formed to help wounded British veterans. Britain has had troops deployed in Afghanistan since 2001 and had troops in Iraq from 2003-2009.
Witnesses said they shouted "Allahu akbar" – Arabic for God is greatest – while stabbing the victim and trying to behead him. A handgun was found at the scene.
Some onlookers rushed to help the soldier an one woman to engaged the attackers in conversation to calm them down.
"He had what looked like butcher's tools - a little axe, to cut the bones, and two large knives. He said: 'Move off the body,'" said French-born former teacher Ingrid Loyau-Kennett.
"He said: 'I killed him because he killed Muslims and I am fed up with people killing Muslims in Afghanistan.'"
A trained first aider and Cub Scout leader, Loyau-Kennett was on a bus which was held up by the incident and she got off to try to help the victim. She found he was already dead.
Her attitude and that of other passers-by who remonstrated with the attackers was held up by Cameron as an example of resistance to attempts to terrorise the population:
"When told by the attacker that he wanted to start a war in London," Cameron said, "She replied, 'You're going to lose. It's only you versus many.' She spoke for us all."