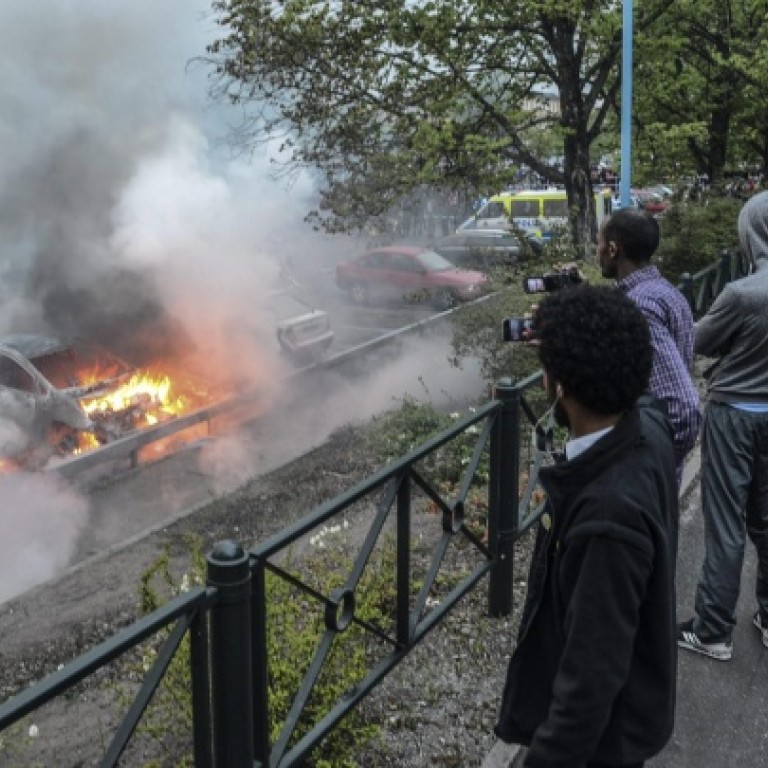 Segregation cited as root of riots in immigrant areas of Stockholm
Expert and locals blame Swedish unrest on poor education and lack of jobs for immigrant youth
Sweden has long been a bastion of generous social welfare and an egalitarian political culture. So many people were shocked when scores of youths hurled rocks at police and set cars ablaze during rioting in several largely immigrant areas near Stockholm this week.
Few dispute that the violence was probably touched off by the fatal police shooting of an elderly man who had locked himself in a flat wielding a knife. But some residents in the area accused police who responded to the violence of racism.
For some, the real reason for the unrest is the high unemployment and isolation of youths in the southern and western Stockholm suburbs where the violence occurred - ones who see little future for themselves or access to Sweden's prosperity.
"The segregation in Stockholm increases all the time, and it's happening fast," said Nina Edstrom, a social anthropologist who promotes integration at a centre for multiculturalism in Fittja, where some of the violence occurred. "There are very large social differences. There are many unemployed, frustrated young people. I'm not surprised something like this happens."
Still, Edstrom said, it would be a mistake to see the youths involved in the riots as political activists.
Overall, about 15 per cent of Sweden's 9.5 million people were born abroad, compared to 10 per cent 10 years ago. The influx has mostly come from war-torn countries such as Iraq, Somalia, former Yugoslavia, Afghanistan and Syria. Last year alone, Sweden accepted 44,000 asylum seekers, up by nearly 50 per cent from a year earlier.
During the rioting, 15-year-old Sebastian Horniak said he saw police firing warning shots in the air and calling a woman a "monkey".
Quena Soruco, a representative of Megafonen, a group that represents residents of Stockholm's suburbs, said she heard police say "rats, hobos, Negroes".
The unrest in the Fittja and Husby areas is a challenge for the centre-right government of Prime Minister Fredrik Reinfeldt, which after seven years in power is trailing in polls and has come under fire for failing to address social problems.
The rioting has also added fuel to arguments from the far-right Sweden Democrats party, which polls now show as Sweden's fourth-biggest party.
Some say one reason such immigrant areas can feel isolated is the growing disparity between the haves and have-nots in Sweden, as in many other Western countries.
In Husby, the district west of Stockholm where the violence started on Sunday, about 80 per cent of the 11,000 residents are either first- or second-generation immigrants. Still, the area appears well kept and nothing like a slum.
"We have such wonderful things. We have a mixture of cultures. You go out on the streets and you know your neighbours," said 26-year-old Soruco, who lives in Husby.
But youth unemployment was high there and nearly 50 per cent of the children in Husby finished junior high school with grades too low to get into high school, she said.
Outside a grocery store, local soccer coach Shain Akbari, 30, stood talking to a group of youths. He is upset that youths hurled rocks at police and firefighters, burned down buildings and set nearly 100 cars ablaze.
"It is tragic … it's wrong," he said. But Akbari, a Swede of Iranian background who grew up in Husby, said the area had changed drastically in the past 10 years.
"Before it wasn't like this. Before we had Swedish friends who played on the same football team. We went to school together and they helped us integrate into society. You got a job through friends. But it isn't like that now. Now they are locked in here. They don't leave the area … They have no possibilities."
This article appeared in the South China Morning Post print edition as: Isolation at root of Stockholm riots