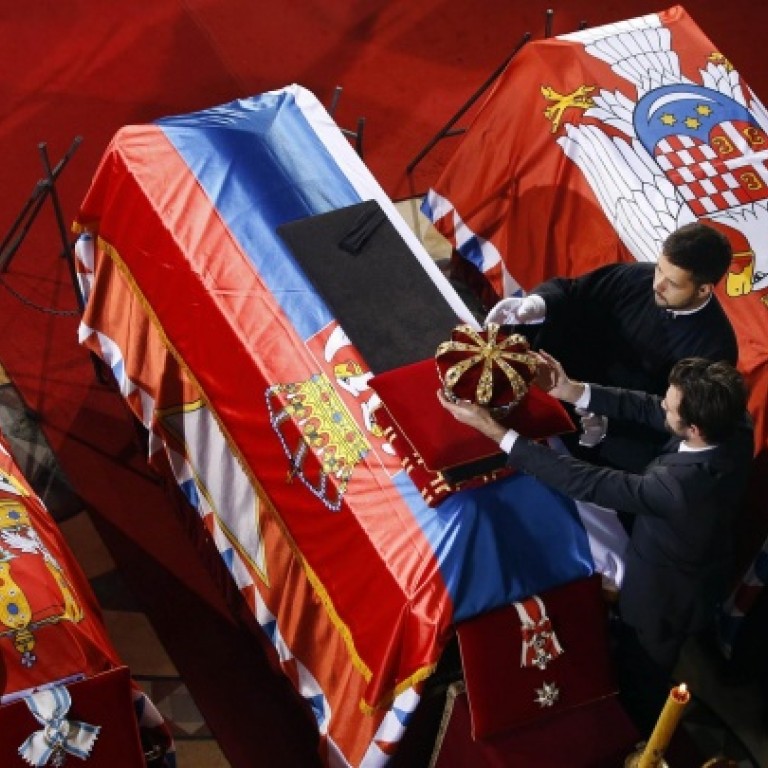 Yugoslavia's last king, Petar II Karadjordjevic, laid to rest in Serbia
Monarch who fled Nazis and was blocked from returning reburied with state honours in Serbia
Yugoslavia's last king - Petar II Karadjordjevic, who fled the Nazi occupation of his country just days after being proclaimed monarch at the age of 17 - was reburied with state honours in Serbia yesterday.
Serbian dignitaries joined hundreds of royalists who turned out for the ceremony in the central town of Oplenac to honour the king, 43 years after his death in the United States.
"Our king was forced to leave, he was forced never to set his foot back to his homeland, but now, finally, he is here where he belongs," Milka Radojicic, a 78-year-old from nearby Topola, said with tears in her eyes.
Petar was laid to rest alongside his mother Marija, a great-granddaughter of Britain's Queen Victoria, as well as his wife Alexandra, the daughter of King Alexander I of Greece, and his brother Andrej. Their coffins, draped in Serbian state flags, were laid out in the Orthodox church of St George during the liturgy, performed by Serbian Patriarch Irinej, before being taken to the royal family crypt in Oplenac.
Top officials including President Tomislav Nikolic and Prime Minister Ivica Dacic attended the ceremony along with members of the royal family and foreign dignitaries including Jordan's King Abdullah and Britain's Prince Edward.
Hundreds of supporters gathered to pay tribute to the royals, some spending the night outside the picturesque church to be able to watch the ceremony.
The third king of Yugoslavia, Petar ascended to the throne in 1934 after the assassination of his father King Aleksandar I in the French city of Marseille. But as he was only 11, his uncle Prince Pavle ruled in his stead.
On March 27, 1941, Petar was proclaimed king at the age of 17 in a coup staged in opposition to Yugoslavia joining the so-called Tripartite pact signed by Germany, Italy and Japan. But he was forced to leave the country with his family only 11 days later as Germany invaded Yugoslavia.
He spent the rest of the second world war in Britain but was prevented from returning home by the communist regime of Josip Broz Tito as the monarchy was abolished in 1945. He moved to the US, where he died in '70 aged 47, and his remains were returned to Serbia in January.
Hundreds of people, mostly elderly and some wearing former royal army uniforms, lined up to pay their respects to the late monarch. "This funeral is only a drop in the ocean that cannot amend countless sins that have been committed against the royal family," Djordje Zelenic said from Belgrade. "Young Petar did not even have a chance to show his people how would his rule, and I live for a day that his son Aleksandar will take the helm."
A survey published this month found that 40 per cent of the 1,615 people questioned considered that a possible restoration of a parliamentary monarchy was a good idea, while 32 per cent were opposed.
Aleksandar, who was born and lived in exile in London, returned to Serbia in 2000, but lives as a private individual. As the only son of the last king who never abdicated, he is considered the rightful heir to the throne should the monarchy be restored.
This article appeared in the South China Morning Post print edition as: Yugoslavia's last king laid to rest