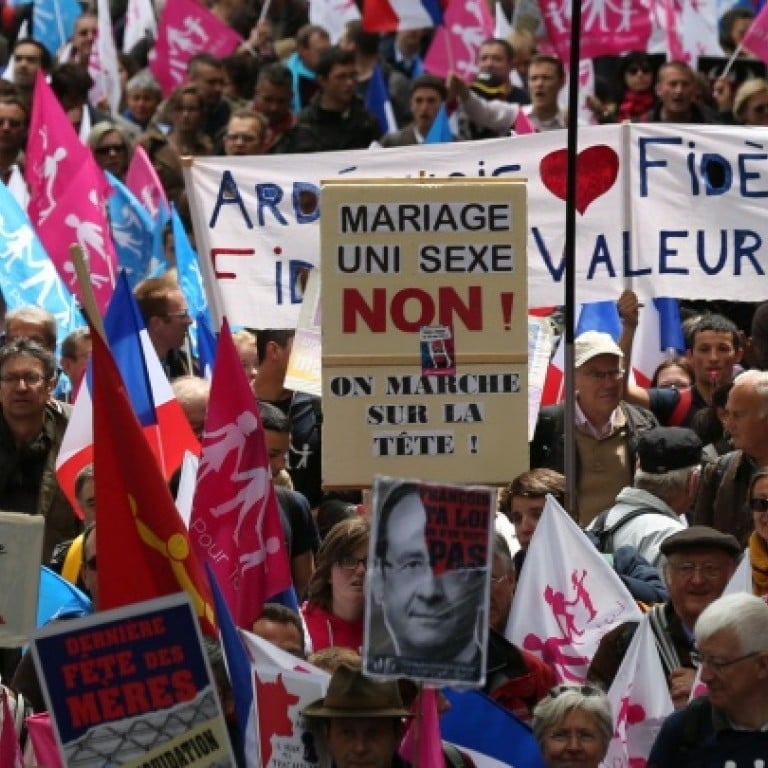 France's gay marriage law draws thousands of protesters to Paris
Some 4,500 security forces deployed amid fears hardliners could stir up trouble during protest
Tens of thousands marched through France's capital yesterday to protest against a new gay marriage law, with police on high alert amid warnings that hardliners could infiltrate the demonstration and cause trouble.
One of President Francois Hollande's campaign pledges, the bill allowing same-sex marriage and adoption was voted into law last Saturday after months of protests across a country that has been bitterly divided over the issue.
"Yes to human dignity", one banner read as protesters blowing whistles and horns marched. A man dressed in black, holding a scythe and wearing a mask of Hollande stood behind a coffin in which lay a mannequin dressed as Marianne, France's emblem.
Some 4,500 security forces were mobilised for the last-ditch show of force, which saw opponents of the law travel to Paris from across the country in chartered trains and buses.
In Poland, some 10,000 protesters marched in solidarity with the French to defend the traditional family structure.
Interior Minister Manuel Valls had warned that so-called ultras - many of them far-right nationalists - were expected to infiltrate the protest and cause unrest, and advised demonstrators not to take their children with them. Many in the protest had, however, ignored the warning, taking their children as others had in previous demonstrations.
"We keep hearing about a far-right movement, [but] I can see only families here," said a man called Raoul from the city of Dijon, some 300 kilometres away.
By mid-afternoon, no incidents had been reported, despite the presence of far-right activists, some of whom left the protest and briefly unfurled a banner urging Hollande to resign on the Socialist party's headquarters.
Supporters and opponents of the bill began protesting last autumn when it was adopted by the cabinet, and continued to do so at regular intervals throughout the country during the legislative process. But as the bill neared the final stages of approval, anti-gay-marriage demonstrations were often disrupted by radicals and at times descended into violence.
Fears of unrest yesterday had also been compounded by violence this month during celebrations marking football club Paris Saint-Germain's league victory that saw tourists attacked, and shop and car windows smashed. And late on Saturday, police detained 50 people involved in an anti-gay-marriage protest on the Champs-Elysees that saw some firing smoke canisters.
Yesterday's protest was organised by the "Manif Pour Tous" - the ringleaders of the movement - and was divided into three, separate processions that were set to converge on the Invalides esplanade in central Paris. One of the processions went through the Latin Quarter, an area popular with tourists.
"I know that a portion of French society is conservative. But to this point, it's not the image that we have of France," said Pilar, a Spanish woman.
This article appeared in the South China Morning Post print edition as: Thousands rallyin Paris against gay marriage law