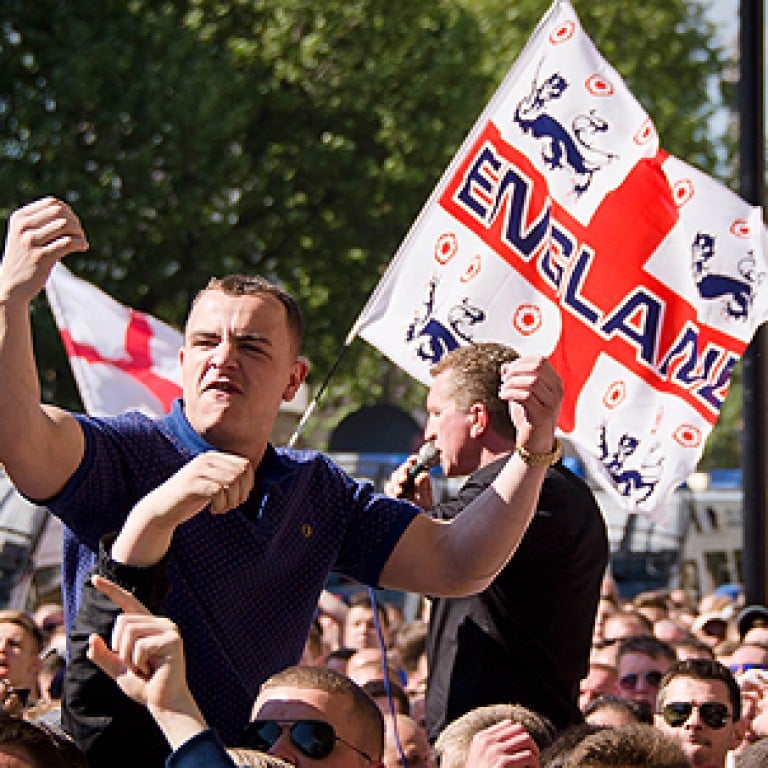 London police make 10th arrest in Woolwich attack
Police investigating the grisly murder of a soldier in London by two Islamists made another arrest on Monday, as 1,000 far-right protesters demonstrated near Prime Minister David Cameron's office.
A 50-year-old man, held on suspicion of conspiracy to murder, becomes the 10th person arrested over the hacking to death of 25-year-old Lee Rigby near a barracks in Woolwich on Wednesday.
This includes the two prime suspects, Michael Adebolajo, 28, and Michael Adebowale, 22, who remain under armed guard in separate London hospitals after being shot by police at the murder scene.
The attack by two men spouting Islamist rhetoric has sparked community tensions, with several mosques attacked in recent days and a charity reporting a surge in anti-Muslim incidents.
About 1,000 members of the English Defence League (EDL) staged a protest near Cameron's Downing Street office on Monday, waving red and white England flags and banners saying "no surrender".
Police said they had made 13 arrests in connection with the demonstration, which saw minor scuffles take place between EDL members and police.
EDL leader Tommy Robinson addressed the largely male crowd on Whitehall, many of them shouting "Muslim killers off our streets", saying: "They've had their Arab Spring. This is time for the English spring."
The crowd, about half the number who attended a protest in the northern city of Newcastle on Saturday, shouted "coward" as Robinson told them the prime minister was on holiday "because he doesn't care".
Cameron, who is spending a week in Ibiza with his family, last week joined calls by Muslim and Christian leaders for calm, saying: "We will defeat violent extremism by standing together."
A smaller group staged a counter-demonstration on Monday, a public holiday in Britain, holding up an "EDL racists" banner and trading insults with the EDL across a barrier of police vans.
Detectives are currently trawling through reams of CCTV footage, social media, forensic evidence and intelligence reports relating the murder, the first fatal Islamist attack in Britain since 2005.
They have yet to interview Adebolajo and Adebowale, who grew up in Nigerian Christian families and converted to Islam in their teens.
They are "in a stable condition and will be formally interviewed when it is possible to do so", Scotland Yard said.
Kenyan authorities on Sunday confirmed that Adebolajo had been arrested in the east African country in 2010 over links to al-Qaeda-linked Shebab insurgents fighting in Somalia.
They said he was handed over to British intelligence agents and deported, although they denied allegations he was tortured while in Kenyan custody, which Adebolajo's family and friends have cited as a reason for his radicalisation.
Monday's arrest came as four other men held for conspiracy to murder were released on bail. Another man arrested for the same offence on Thursday has also been bailed, while another remains in custody.
Two women arrested last week were released without charge.
"This remains an ongoing investigation, focused upon public safety and identifying any others that may be involved," said Stuart Osborne, Scotland Yard's head of counter-terrorism.
Separately, police won judicial approval on Sunday to question a 31-year-old man for another five days on suspicion of the commission, preparation or instigation of acts of terrorism.
Abu Nasaybah was arrested on BBC premises late on Friday shortly after giving an interview about his friendship with Adebolajo, in which he claimed Britain's domestic intelligence agency MI5 had tried to recruit the murder suspect.
An Islamic cultural centre in Grimsby in northeast England was hit by petrol bombs on Sunday night, resulting in two arrests, although police said it was "too early to speculate" on why the fire was started.
Eleven teenagers aged 16 or 17 were arrested for attacking the same mosque and parked cars on Thursday after a party, police said.
Meanwhile, police on Monday investigated after two war monuments in central London were graffitied with the word Islam.