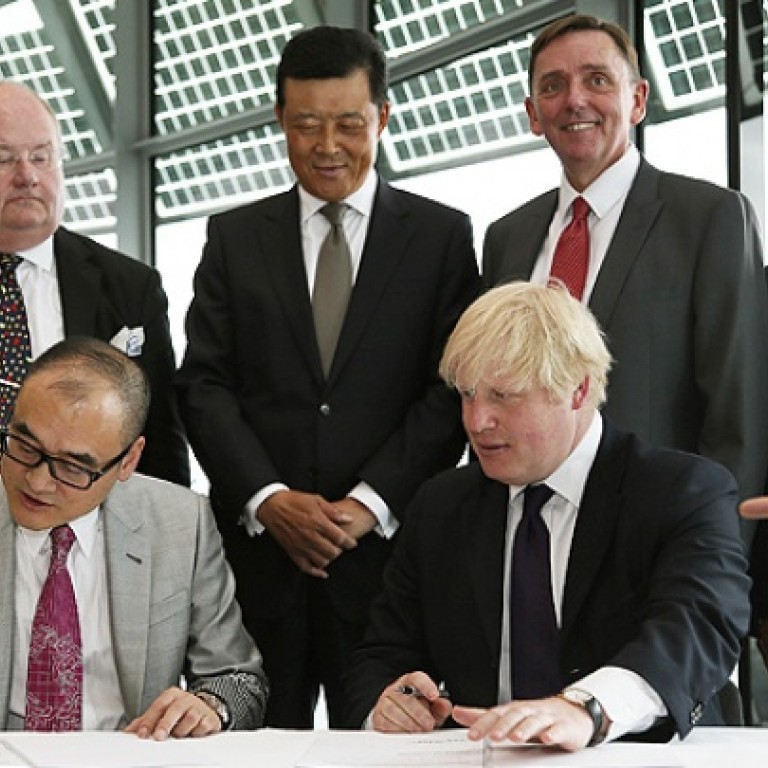 Chinese firm to develop London's third financial district in US$1.5b deal
Joint venture to turn dock into US$1.5b complex for Asian demand rivalling Canary Wharf
A Chinese developer has signed a deal to convert a derelict plot of land next to London's City Airport into the British capital's third financial district. It is aimed at Chinese firms and will be worth an expected US$1.5 billion when completed.
The 35-acre industrial site at the Royal Albert Dock will be redeveloped by Advanced Business Park (ABP) and British developer Stanhope into a 3.2 million sq ft complex of offices, homes and shops that will house mainly Chinese firms.
"Creating a third financial district in the capital, this development will act as a beacon for eastern investors looking west, bringing with it tens of thousands of jobs and billions of pounds of investment for the UK economy," London Mayor Boris Johnson said.
The scheme is the first project outside China for ABP, which has built a 15 million sq ft business park in southwest Beijing and is building two others in the coastal city of Qingdao and Shenyang in northeast China.
It is targeting Chinese and Asian businesses looking to set up in Europe, believing this will provide a strong source of demand at a time when many European and American firms are shelving office moves against a shaky economic backdrop.
The company will develop the site in five phases at a cost that was not disclosed.
It will build a minimum of 600,000 sq ft in the first phase and will receive the freehold once the complex is completed by 2021-22.
ABP has yet to sign up tenants for the scheme but has seen strong interest from Chinese firms looking to take space, ABP's chairman, Xu Weiping, said.
It hoped to sell 70 per cent of the space to Asian firms, as Chinese firms prefer to own rather than rent their offices, he said.
The Royal Albert Dock, which opened in 1880, was once Britain's largest and is one of three docks in east London which the mayor has pegged for economic regeneration.
The city hopes to emulate the eventual success of the 97-acre Canary Wharf financial district that was built on the city's docks in the 1990s. Its skyscrapers now house investment banks after a difficult spell during which its developer went bust.
The Royal Albert Dock is connected to the rest of London by a light railway and its transport links would further improve when the Crossrail scheme opens in 2018, Johnson said, adding the development would likely provide about 20,000 jobs.
This article appeared in the South China Morning Post print edition as: Chinese firm to build London financial hub