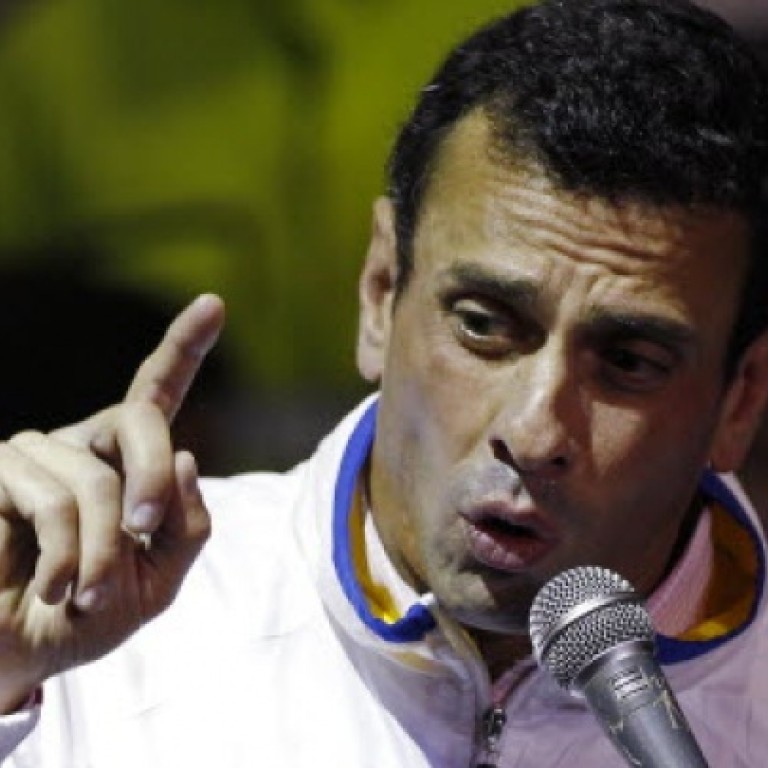 Venezuela threatens to end support for Colombia peace
Venezuelan opposition leader Henrique Capriles on Thursday denounced as "blackmail" a threat by Caracas to end support for Colombia's peace process with leftist rebels.
President Nicolas Maduro's government threatened to withdraw its support from the peace talks after Colombian President Juan Manuel Santos met with Capriles on Wednesday at the presidential palace.
A photograph of Santos and Capriles shaking hands triggered a swift and angry reaction from Caracas, which announced it was recalling its delegate to the peace talks in Havana.
"It is very difficult to work toward peace for a brother nation when the major institutions of that nation are provoking and stimulating the destabilization of Venezuela," Venezuelan Foreign Minister Elias Jaua said.
He said the visit had "derailed" bilateral relations between the two neighbours.
Capriles told Colombia's Blu radio that it was "unacceptable" for Venezuela to try to tell the president of Colombia whom he could meet with at his own presidential palace.
"Peace can never be the subject of blackmail," he said. "Either you want peace and work toward peace, or you don't want peace. There can be no middle position."
Capriles is seeking international support for a recount of April 14 presidential elections to replace the late Hugo Chavez, who died of cancer March 5.
Maduro was proclaimed the winner against Capriles by a 1.5 per cent margin, but Capriles insists the elections were stolen.
Colombia, which had tense relations with Caracas during most of Chavez's 14-year rule, has made an effort under Santos to put relations on a friendlier footing while opening peace negotiations with the Farc, the country's largest leftist guerrilla group.
Venezuela is a facilitator of Colombian peace talks, which have been under way in Havana since November between representatives of the Farc and Santos's government.
For years, Venezuela has sympathised and offered indirect support to the Colombian rebels. Venezuela is also Cuba's main economic benefactor and a source of badly-needed oil for the island.
The Colombian peace talks are currently in recess, and set to resume June 11 in Havana.
Separately, the Maduro administration filed charges against senior opposition leader Leopoldo Lopez, claiming that he swindled money in 2002 when he was mayor of the Caracas neighbourhood of Chacao.
"They won't lock me up, but they continue the persecution with a baseless, political indictment," Lopez wrote in a Twitter message as he left the Caracas courthouse.
Lopez, a 42 year-old charismatic politician with a winning smile, was a top contender to run as the candidate for the unified opposition in the last year presidential election, but bowed out in favour of Capriles.
In 2005, the office of the Comptroller General accused Lopez of corruption and banned him from politics until next year in the same case.