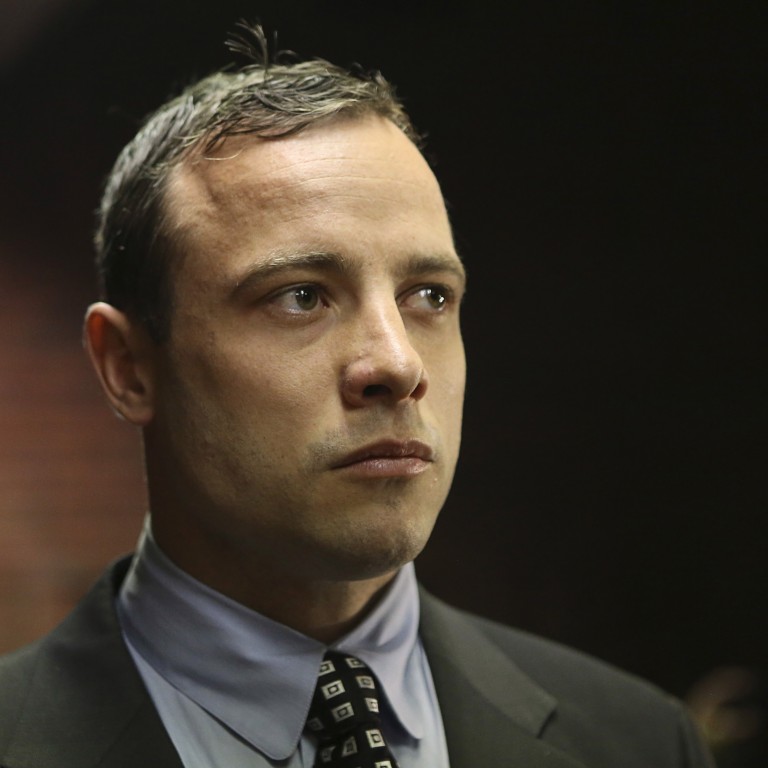 Oscar Pistorius briefly back in court for hearing
Oscar Pistorius appeared briefly in a South African court on Tuesday for a hearing ahead of the double-amputee Olympian's murder trial for the shooting death of his girlfriend.
Wearing a dark suit and black and white tie, Pistorius arrived through the front entrance of the Pretoria Magistrate's Court and stood in the dock for the entire hearing, which lasted just over 15 minutes before his case was postponed until August 19 on the request of the prosecution.
Magistrate Daniel Thulare granted the extension, which was agreed to by Pistorius' defence, so that police can complete their investigation into the Feb. 14 killing that shook South Africa and much of the world and left the runner facing a life sentence if convicted of premeditated murder in Reeva Steenkamp's death.
Pistorius, staring straight ahead and with his hands clasped together in front of him, spoke just once during the short appearance.
"Yes, your honour," he said after Magistrate Thulare asked him if he understood that he was released on the same bail conditions and he had to reappear in court on August 19.
Pistorius has said he killed girlfriend Steenkamp by mistake in the early hours of Valentine's Day, believing she was an intruder in his home. Prosecutors allege he shot her intentionally as she cowered in a toilet stall and that the couple may have argued before her death.
Making his first public appearance since he was freed on bail on February 22 in the same court, Pistorius stood expressionless for much of the proceedings, a contrast to the sobbing figure during the bail hearing.
The magistrate warned of "scandalous and possibly contemptuous" reporting by some media in Pistorius' case following the publication of pictures by a British television station last week that purport to show the blood-spattered bathroom where Pistorius had shot Steenkamp, firing his pistol through the closed door of the toilet stall.
Prosecutors didn't outline which areas of the police investigation were still ongoing, but the National Prosecuting Authority said police hope to complete the probe by August, nearly six months since Steenkamp, a model and budding reality TV star, was shot dead.