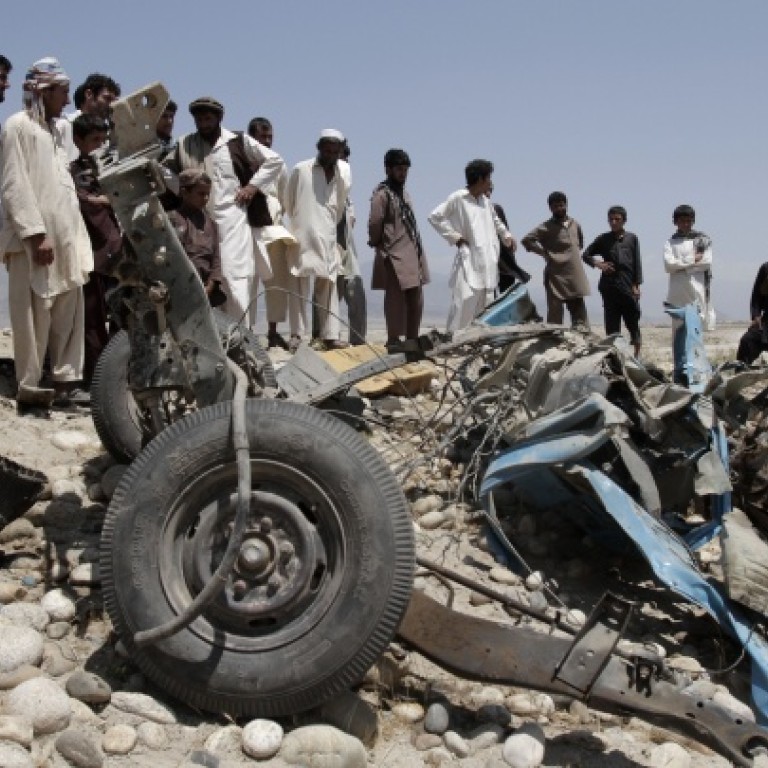 Seven soldiers killed by Taliban suicide bomb blast in Afghanistan
Georgian soldiers killed after Taliban suicide bomber detonated truck loaded with explosives
A suicide bomber detonated a small truck loaded with explosives in southern Afghanistan, killing seven Georgian soldiers, NATO and Georgian officials said on Friday, and the Afghan Taliban claimed responsibility.
The attack happened on Thursday evening in Nawzad district in the battlefield province of Helmand, officials said. On May 13, three soldiers from the ex-Soviet state were killed in a similar attack in the same province.
The explosives were detonated outside a Georgian military base in Nawzad, said chief of the Georgian army joint staff, General Irakli Dzneladze.
"I offer my deepest condolences to the families of our fallen heroes and to all of Georgia," Georgian President Mikheil Saakashvili said in a televised address. "Our duty to their memory is to continue our path towards NATO membership."
Qari Yousuf Ahmadi, a Taliban spokesman, claimed responsibility for the attack in a text message sent to reporters, saying a "truck bombing inside a US-NATO base has killed 20 foreign invaders and wounded dozens."
The Afghan Taliban, seeking to expel foreign forces and impose Islamist rule after they were ousted in 2001, routinely overstate casualties in their attacks.
The blast brings to 30 the death toll of Georgian soldiers serving in the International Security Assistance Force (ISAF) in Afghanistan.
With over 1,500 soldiers serving in Helmand province, Georgia has the largest non-NATO combat troop commitment in Afghanistan.
Georgian troops have been in Afghanistan since 2004, a commitment that underscores Tbilisi's ambition to join NATO, despite fierce opposition from neighbouring Russia, with which it fought a brief war in 2008.
Last month proved particularly bloody for members of the NATO-led International Security Assistance Force (ISAF), which is preparing to withdraw most combat troops by the end of next year.